Actor Terry Crews States He Was Sexually Assaulted By A Hollywood Executive Who Grabbed His Penis
October 11. 2017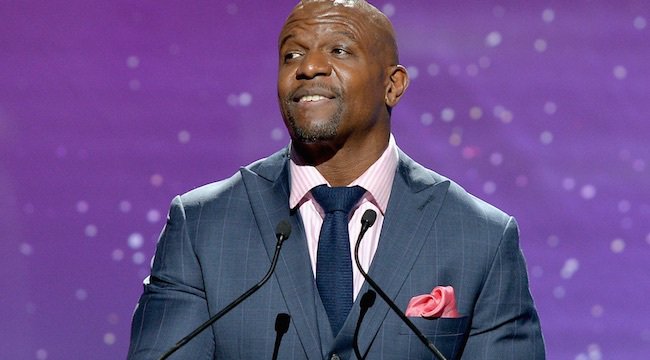 Terry Crews
As the Harvey Weinstein sexual assault and rape scandal churns, more victims of abuse in Hollywood have come forward to tell their stories. On October 10, 2017, Hollywood actor Terry Crews stated he was sexually assaulted by a "Hollywood Honcho." The tall, muscular, married father of five, famous for roles in the movies "The Expendables" and "White Chicks" wrote about the incident.
Crews stated of the sexual assault, "This whole thing with Harvey Weinstein is giving me PTSD. Why? Because this kind of thing happened to ME...My wife and I were at a Hollywood function last year and a high level Hollywood executive came over to to me and grabbed my privates. Jumping back I said 'what are you doing.' My wife saw everything and we looked at him like he was crazy. He just ginned like a jerk."
The Hollywood executive who did that should be in prison. His behavior is illegal, appalling and despicable. Hollywood executives treat people like slaves and livestock. It's one of the sickest things I have ever seen. Just because someone wants a career in entertainment does not mean they should be subjected to vile acts of sexual assault. You are criminals to do this to others. Many on social networking are appalled and condemning Hollywood executives for this terribly abusive behavior. Who do they think they are to do this to others.
In the October 7, 2017 Judiciary Report article "Harvey Weinstein Is No Different From Appalling Industry Men Like Jay Z And LA Reid Who Sexually Harass Women While Threatening Their Careers." I stated their are straight and gay executives in Hollywood sexually harassing and assaulting people. However, people are afraid of coming forward for fear of retaliation.
There is an attitude in Hollywood among some people that they are free to sexually assault and sexually harass others, who better not say anything or their careers will be destroyed and their families targeted for harassment and abuse by private investigators, such as Anthony Pellicano, among others. This behavior is criminal and cowardly.
STORY SOURCE
Terry Crews Has Detailed His Sexual Assault At A Party By An Unnamed 'Hollywood Honcho'
10.10.17 - In the wake of multiple, comprehensive reports of decades-long sexual assault allegations against Hollywood mogul Harvey Weinstein, the conversation within the industry today has turned almost entirely to the subject following Weinstein's firing. It's important to remember during the process of exposing one abuse of power, that many, many more often lie just beneath the surface.
Actor Terry Crews shared one such adjacent experience today, speaking out on his own assault by a Hollywood executive that he chose not to name. Of course, men can also experience sexual assault, and Crews' experience speaks directly to that point. At a party — in public — the unnamed executive approached Crews and touched his genitalia, and according to Crews, his wife witnessed the whole thing. For the record, groping and fondling firmly fall under the legal definition of sexual assault, which is "any type of sexual contact or behavior that occurs without the explicit consent of the recipient."...
RELATED ARTICLES
Social Networking Calls For A Boycott Of Donna Karan Clothes Over Her Defending Sexual Predator Harvey Weinstein In Stating Women Dress In A Manner That Asks For Sexual Assault
Harvey Weinstein Is No Different From Appalling Industry Men Like Jay Z And LA Reid Who Sexually Harass Women While Threatening Their Careers
Harvey Weinstein's Fall From Grace As Sexual Harassment And Charity Fraud Claims Surface