Americans And The Press Overwhelmingly Brand The FBI Corrupt Over The Agency's Refusal To Release Hillary Clinton Files
October 19. 2017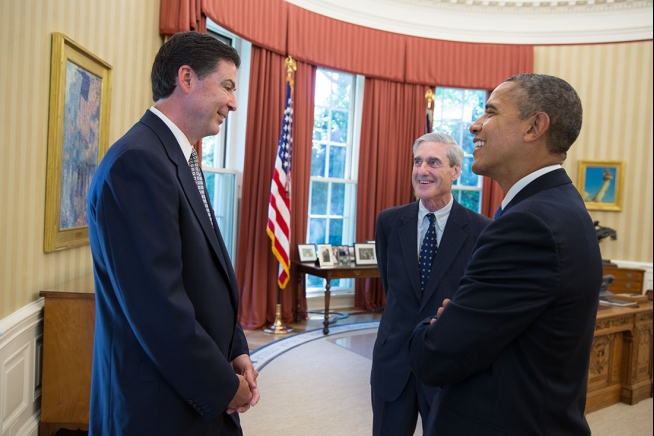 Left to right: former FBI Director James Comey, former FBI Director Robert S. Mueller and former President Barack Obama
The Federal bureau of Investigation (FBI) corruptly continues to refuse public requests that formally demanding the release of agency files regarding failed presidential candidate, Hillary Clinton. Recent polls revealed an overwhelming majority of Americans want the files on Clinton released for public viewing. Many are of the belief Clinton broke the law in the State Department email scandal and other instances of wrongdoing.
I broke the story first about
So corrupt is the FBI, its former director, James Comey, had fraudulently written a letter exonerating Hillary Clinton of all wrongdoing, before agents even completed their investigation. The investigation revealed Clinton did break U.S. law, but Comey, overstepping his bounds on television in unlawfully acting as the Attorney General of the Department of Justice, pronounced their would be no charges. He had no authority to do so. It set off a firestorm online with a few hundred thousand Americans slamming the FBI on social networking, branding the agency "corrupt" and correctly calling the Clinton investigation "a fix" and "rigged."
The FBI is known for corruption and a gross lack of transparency. Many times the Inspector General found wrongdoing regarding the FBI's behavior. However, neither Congress or the Department of Justice addressed the criminal abuses by the agency. It is a part of the reason the FBI continues to act in a lawless manner. There is absolutely no accountability at the FBI and it is going to be the agency's undoing.

STORY SOURCE
Most Voters Believe Clinton Broke the Law With Emails and Want to See FBI's Files on Her, Poll Shows
9/5/17 at 3:10 PM - A majority of people believe Hillary Clinton committed a crime by using a personal email address during her time as secretary of state, and more than 50 percent want to see the files from the FBI's investigation made public, a new poll shows. The Rasmussen Reports survey, released on Tuesday, shows 64 percent of likely U.S. voters believe Clinton is likely to have broken the law with her use of a private email server, while 30 percent believe it is unlikely she broke the law in doing so.
Of the 64 percent who believe Clinton is likely to have broken the law, 44 percent responded in the survey, conducted between August 31 and September 3, that it was "very likely" she did so, while 11 percent thought it was "not at all likely" Clinton broke the law. The poll also found that the majority of voters (54 percent) thought the FBI should release its files on the investigation of Clinton's unauthorized use of a private email server, while 32 percent did not believe the FBI should make those files public and 14 percent are unsure whether the files should be released.
The vast majority of Republicans (77 percent) want to see the FBI release the emails, although the bureau recently declined a request for the investigation files to be made public. Only a minority of Democrat voters (34 percent) believe the files should be released. The FBI's investigation of Clinton was widely discussed during the presidential election campaign, with then-FBI Director James Comey deciding against a recommendation of criminal charges against the former secretary of state...
America to the FBI: We Deserve to See Hillary Clinton's FBI File
Posted: Sep 06, 2017 9:15 AM - Last week the FBI refused to respond to a Freedom of Information Act request for Hillary Clinton's emails, citing a "lack of public interest." But according to new polling from Rasmussen, a majority of voters believe Hillary Clinton's entire FBI file should be released. Most voters still think Hillary Clinton is likely to have broken the law in her handling of classified information and disagree with the FBI's decision to keep secret its files on last year's Clinton probe.
A new Rasmussen Reports national telephone and online survey finds that 54% of Likely U.S. Voters believe the FBI should make public its files on the investigation of Clinton's unauthorized use of a private e-mail server while secretary of State. Thirty-two percent (32%) say the FBI should not make those files public, while 14% are undecided. These numbers come shortly after the Senate Judiciary Committee revealed Comey decided in April 2016, long before the criminal investigation into Clinton's mishandling of classified information had concluded, that he was going to issue a statement of exoneration for the former Secretary of State.
"According to the unredacted portions of the transcripts, it appears that in April or early May of 2016, Mr. Comey had already decided he would issue a statement exonerating Secretary Clinton. That was long before FBI agents finished their work. Mr. Comey even circulated an early draft statement to select members of senior FBI leadership. The outcome of an investigation should not be prejudged while FBI agents are still hard at work trying to gather the facts," a letter, signed by Chairman Chuck Grassley and Committee member Lindsey Graham states.
"Conclusion first, fact-gathering second—that's no way to run an investigation. The FBI should be held to a higher standard than that, especially in a matter of such great public interest and controversy." Last week former House Oversight Committee Chairman Jason Chaffetz called the FBI's refusal to hand over documents in compliance with the FOIA request "total crap" and "illegal."
Time for a Full Investigation... of the FBI
September 2, 2017 - What happens to a country whose most important police force — and its key investigators — is no longer telling the truth to the citizens of that nation? Nothing good, I'm sure most would agree. There's almost no point in going through all the analogies to despotic regimes. Writers from George Orwell to Arthur Koestler have already done it for us.
But those analogies come immediately to mind following two revelations regarding our Federal Bureau of Investigation that surfaced this week. In one instance, the FBI refused to turn over documents regarding the Hillary Clinton emails because of -- wait for it -- "lack of public interest." The head of the FBI Records Management Division wrote Ty Clevenger, a New York Attorney who filed the FOIA request in March 2016, to inform him that his request was being denied in late August.
"You have not sufficiently demonstrated that the public's interest in disclosure outweighs personal privacy interests of the subject," the letter, obtained by Fox News, reads. "Therefore, records regarding your subject are withheld pursuant to FOIA exemptions." It's hard to imagine what was going on in the mind of Records Management Division head David M. Hardy when he wrote -- or was forced to write by some unknown superior -- such a risible lie, but things have only gotten worse from there. Now we learn that then FBI director James Comey may never have planned to find Clinton guilty in the first place.
While the transcripts of those interviews are heavily redacted, they indicate that Comey started working on an announcement clearing Clinton in April or May of last year, before the FBI interviewed 17 witnesses in the case, including Clinton and some of her top aides. Clinton was interviewed for several hours on July 2, just three days before Comey's announcement...