Ashton Kutcher Has Been Cheating On Wife Demi Moore Again With Another Younger Woman
September 28. 2011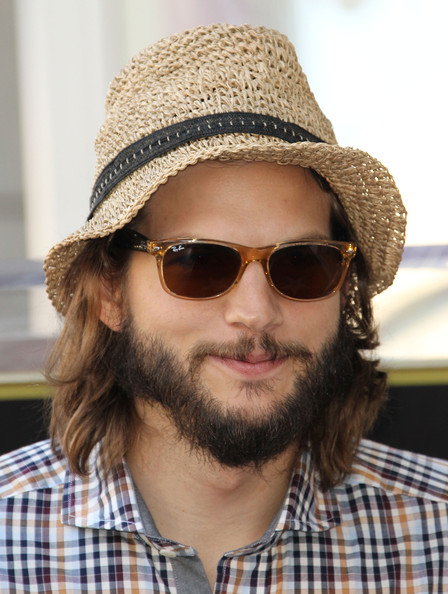 Ashton Kutcher looking shifty this week
Well, it's happened again. Hollywood actor, Ashton Kutcher, 33, has again cheated on his wife, Demi Moore, 48, with another younger woman and on their anniversary. Over a month ago the Judiciary Report warned this was going to happen (Will Ashton Kutcher Cheat On Demi Moore Even More With New Sitcom Job).
Several months ago, Kutcher was embarrassed by one of his mistresses going public about having sex in his home, while his wife was away. There was also another twenty something woman Kutcher met at a restaurant and had sex with behind Moore's back.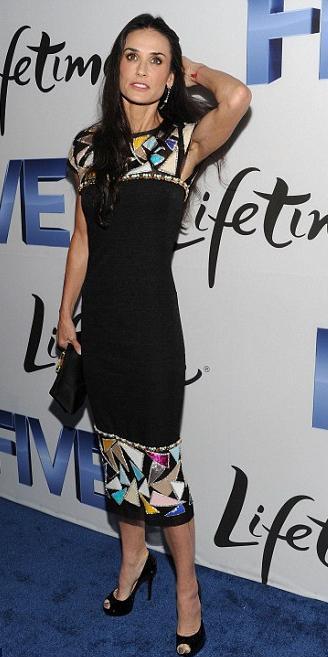 Demi Moore a few days ago, looking gaunt
This week, a third scandal has unfolded, regarding a third twenty something woman Kutcher has been having an affair with, greatly upsetting his wife. The 23-year-old, whose name is said to be Sara Leal, has reportedly retained an attorney.
Kutcher was also caught messing with his young stepdaughter. Paparazzi caught pictures of the two inappropriately touching each other, in practice many in entertainment circles say has gone much further. He is playing with fire in messing with her daughter.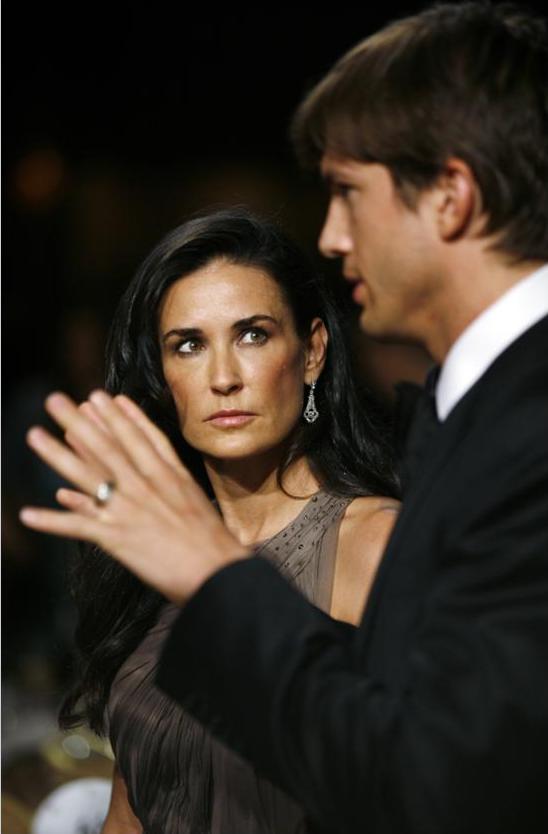 Demi Moore and Ashton Kutcher last year
It really was a bad idea for Moore to marry a Hollywood actor, especially one young enough to be her son, but she assumed their religious cult, Kabbalah, had him so brainwash, as they tried to do to Alex Rodriguez, that he would never stray. Guess again. People in the industry know of Kutcher's penchant for cheating on Moore and the fact he wants out of the marriage to the twice married actress.
Some industry individuals have encouraged the cheating, especially the males and a few females, who constantly remind him he is married to a much older woman, when he could have younger chicks. Kutcher's friends call Moore names behind her back in Hollywood and it has gotten around.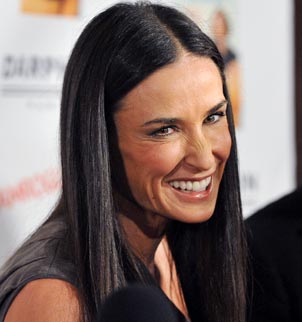 Demi Moore (with makeup but without Photoshop)
In reaction to the chronic cheating, Moore has been starving herself more than usual of late, making appearances in public looking anorexic and depressed. The age difference between them is significant and some men, especially those in a hedonistic environment, such as Hollywood, start to wonder what they are missing in not being with someone their own age.
STORY SOURCE
Ashton Kutcher accused of cheating on Demi Moore
RELATED ARTICLES
Madonna Pimping Her Underage Daughter Again For Publicity
Will Ashton Kutcher Cheat On Demi Moore Even More With New Sitcom Job
Report: Ashton Kutcher Involved With One Of His Stepdaughters
Demi Moore Treats Ashton Kutcher Like A Child
Ashton Kutcher And Demi Moore Look Defeated
Ashton Kutcher's Mistress: He And Demi Moore Have An Open Marriage
Ashton Kutcher Not Serious About Marriage To Demi Moore
Demi Moore Is So Desperate To Keep Younger Ashton Kutcher She Tolerates Cheating
Ashton Kutcher's Text Messages Betray Wife Demi Moore
Ashton Kutcher Cheated On Demi Moore With Two Women
Ashton Kutcher Cheated On Demi Moore