Authorities Reveal Grenfell Tower Fire Sparked In Fridge And Complete Death Toll May Not Be Ascertained Due To The Intensity Of The Blaze
June 28. 2017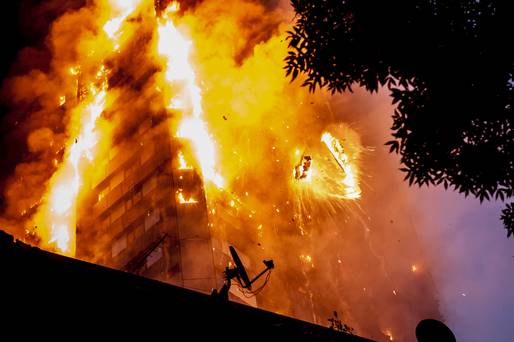 Grenfell Tower fire
Authorities in Britain have revealed the Grenfell Tower fire that killed scores of people, was started in a Hotpoint fridge in a fourth floor flat. The Hotpoint fridge model was not under recall and had no reported problems prior to the blaze. This indicates there was an electrical problem in the building, which could have been caused by power surges (the building had them as far back as 2013) or bad wiring. The investigation will further delve into what transpired.
Currently the death toll stands at 79 people. Due to the intensity of the blaze, many of the bodies were essentially cremated, making it difficult to ascertain the correct death toll. While the Grenfell Tower did maintain a list of tenants, a number of the flats were sublet to illegal immigrants from the Middle East, in the predominantly Muslim occupied building. It is also being stated that as it was the end of the Muslim practice, Ramadan, visitors were also present in the building. These factors all make it extremely difficult to finalize a correct count of the number of people who perished in the blaze.
The Grenfell Tower fire was a tragic incident. It was a perfect storm, as the building was renovated with cladding, that has since been discovered to be highly flammable. The residents also vetoed sprinklers during the refurbishment, as they would have drawn out the renovation process. It is understandable that residents wanted renovations to be completed as soon as possible, as it disrupts one's life and daily schedule. However, sprinklers could have stopped the fire.
In future, builders should forego cladding, as the risks are too high. Painting a building white can have a similar appearance to cladding. There are many council homes covered in pebble, which have been painted various colors to give it a fresh, updated finish and they look quite attractive.
In future, residents should evacuate in a quick and orderly fashion when the fire alarm sounds. Whether or not it seems like an emergency, evacuate just in case. Those inadvertently trapped, should flood their home with water from the kitchen and bathroom to increase their chances of survival, as one resident did in Grenfell Tower. The fire department maintaining inflatable balloon chutes could also prove helpful for those trapped, allowing them to jump and safely land.
Some tried to blame the fire on social cleansing, which was wholly unfair under the circumstances. As a courtesy, the British government has allowed many immigrants from all over the world to live and work in Britain. Many people have also received generous benefits. The British government pays out billions of pounds per year in benefits.
Years ago, I even suggested on this site that the British government stop housing immigrants in luxury accommodations in London districts such as Notting Hill, among others, as it would be more financially prudent to house refugees in more economical accommodations in places like the home counties, where properties are not as expensive as in the capital.
Overly generous benefits were also causing bad feelings among Brits born in the country, to see people come into the nation and get placed at the head of the queue, housed in posh districts in London, as they claimed political asylum and stated they have large families necessitating big properties.
Therefore, it really was unfair for anyone to call the fire social cleansing. One can see where the British government spends a fortune on the country and its citizens and residents. There are many nations in this world who cannot afford to offer their citizens and residents free education, healthcare, council housing if needed and financial welfare benefits for those struggling. Be thankful you live in a civilized nation that can afford to financially care for its people, as many nations simply do not have the money to do so.
STORY SOURCE
Grenfell Tower fire cause: faulty fridge freezer sparked blaze and insulation failed safety tests, say police
9 mins ago - Police considering manslaughter charges at 'all companies involved in refurbishment.' The full extent of failings behind the Grenfell Tower inferno were laid bare today as police revealed that a fire started by a faulty fridge freezer ignited cladding and insulation that has failed all safety tests.
Scotland Yard today issued a dramatic alert over materials used on the tower today after samples caught light easily during new independent tests. Officials were so concerned at the findings that the information was immediately shared with the Government which has, in turn, alerted local councils.
The tests on insulation samples taken from the tower were carried out by experts employed by Scotland Yard which is carrying out a criminal investigation into how the fire started and why it took hold so easily. Today police also said they will consider manslaughter charges as part of their investigation and revealed that officers had "started seizing relevant documents" from a number of different organisations.
The Met said officials had established that the terrifying blaze started in a Hotpoint fridge freezer, believed to be the fridge fire which began on the fourth floor of the North Kensington block. Police said the fridge freezer FF175BP had not previously been linked to any fires and had not been subject to any recall. At least 79 people died in the fire, but police fear they may never know the true picture...
London fire: Flats acquired for Grenfell Tower survivors
21 June 2017 - Sixty-eight social housing flats in Kensington, London, are to be made available to survivors of the Grenfell Tower fire, the government has said. The one, two and three-bedroom flats are located in two blocks that stand alongside a large luxury development, where private homes go for up to £8.5m.
At least 79 people died and many more were left homeless after fire engulfed the North Kensington tower a week ago. PM Theresa May has apologised for "State" failures after the blaze. "People were left without belongings, without roofs over their heads, without even basic information about what had happened, what they should do and where they could seek help," she told MPs in the Commons.
"That was a failure of the State - local and national - to help people when they needed it most. "As prime minister, I apologise for that failure." Theresa May on Grenfell fire: "As prime minister I've taken responsibility." Mrs May is expected to make a statement about the fire in the Commons on Thursday...