Beyonce And Jay Z Hiding Twins Health Problems While Her Fans Rage At Him
July 6. 2017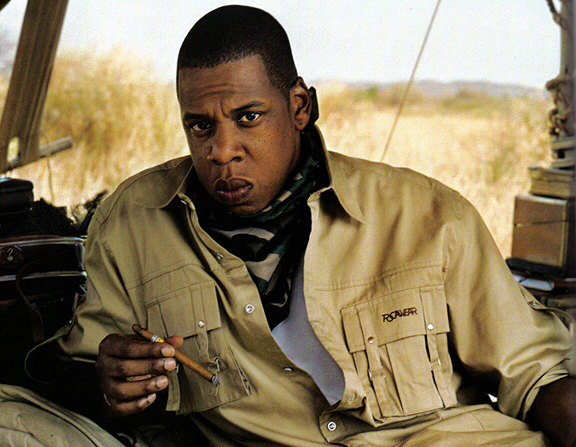 Jay Z
Adulterous rapper Jay Z and his wife singer Beyonce continue to hide the health problems of their twins, in a matter causing them sadness. The couple informed the website TMZ that the babies have jaundice, among other health issues, but stopped short of furnishing anymore information. One of my sources stated Beyonce is in denial regarding the health problems of the twins, but is oddly blaming herself, as she had two miscarriages in the past and trouble conceiving. However, many women have experienced miscarriages.
Rumors are rife in the music industry that Beyonce had IVF, which has far more complications than natural conceptions. Celebrities are having IVF in trying to choose the sex of their babies (a boy and a girl) and to have multiple live births in one pregnancy. However, it has increased complications for many women, as Beyonce is now experiencing regarding the twins health problems.
Last week Jay Z tried to claim it was a natural conception, free of fertility drugs or IVF, but people do not believe him, due to his chronic lying. Jay Z has a history of dishonesty about cheating on his wife, then finally telling the truth that he kept committing adultery. He lied about the value of his former failed company Rocafella. Jay Z fraudulently added $100,000,000 to the value of Rocafella on paper, in violation of FTC rules, which brands it fraud to overvalue a company.
Jay Z lied that he loaned Kanye West $20,000,000, but TMZ cleared it up yesterday stating a tour promoter/sponsor advanced West the money against future ticket sales. Jay Z is also lying that he is a billionaire, but the truth is going to come out in court proceedings. Jay Z also inflated his sales via Tidal and other outlets to gain a platinum certification from the RIAA in 5-days. He has been caught engaging in sales fraud several times in the past, namely via corrupting Billboard's Soundscan via a scam at select retailers in running the same copies of CDs through the register multiple times.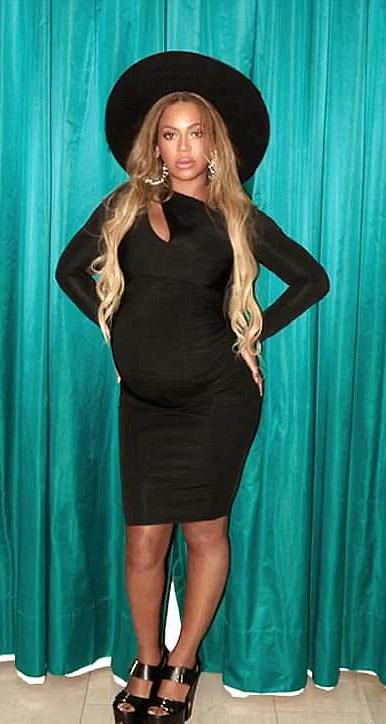 Beyonce
Rumors continue to swirl in the industry that Beyonce is unhappy with Jay Z, as he has repeatedly cheated on her with women such as singers Rihanna, Rita Ora and Blu Cantrell. He also cheated with designer Rachel Roy, who was married to Jay Z's business partner, Damon Dash. Jay Z also cheated with stripper Amber Rose. Jay Z cheated with beauty pageant winner Claudia Sheelen and in a separate incidents New York night club hostess Casey Cohen.
Jay Z also cheated on Beyonce with Shenelle Scott, who is said to be the mother of his look alike son. Scott's husband was mysteriously killed and one of their little sons shot in a 2013 hit at a car wash, allegedly meant for someone else. The boy suffered damage to his spine and required multiple surgeries.
Jay Z has really screwed up Beyonce's head with his cheating and abuse. Jay Z has beaten Beyonce. He has also cheated with famous and non-famous women. Some of the women are even Beyonce's friends. Jay Z has also cheated with groupies and propositioned aspiring female stars, some of whom turned him down, but others did not, for fear it would destroy their budding careers.
Beyonce's fans have a strong aversion to Jay Z and repeatedly post on Twitter, Instagram and Facebook that he is "ugly" "looks like a camel" and she should not have married him because their baby Blu Ivy came out looking "ugly" like him, which is sad as she is a child. Beyonce fans repeatedly keep writing they hope the new twins don't look like Jay Z as he is "ugly." Her fans have some very harsh words for Jay Z but the most common sentence is he is "too ugly to cheat."
The irony is Jay Z has told other rappers and athletes that certain women they are with or like are not pretty enough for them and their status as famous men, meddling in other people's relationships, yet all of social networking repeatedly calls him "ugly." He is in no position to judge anyone's looks.
Items from Twitter.com slamming Jay Z: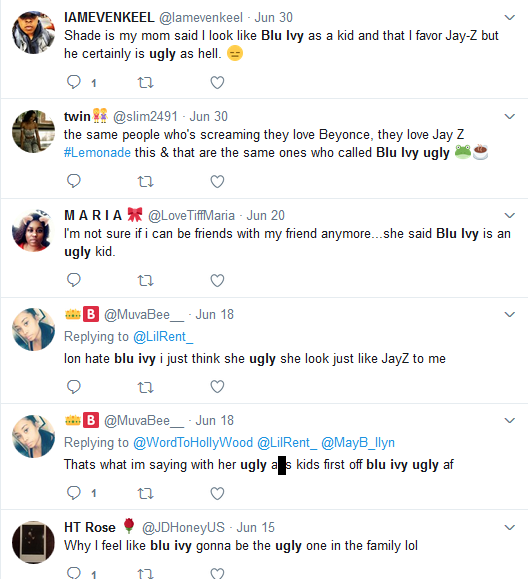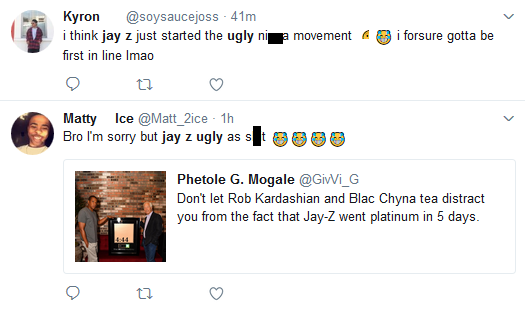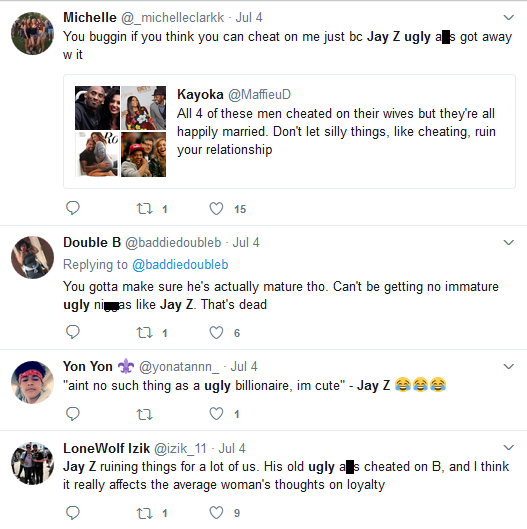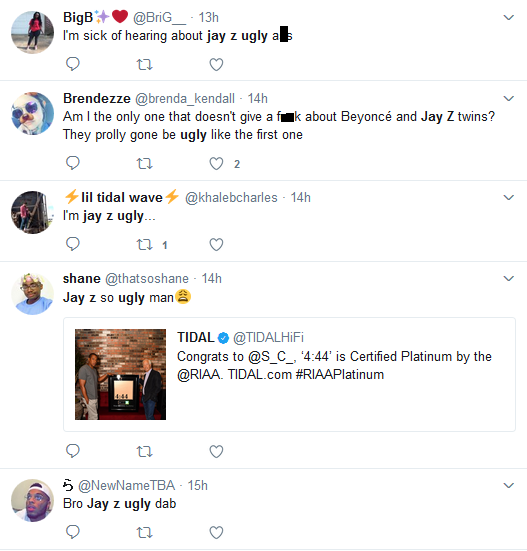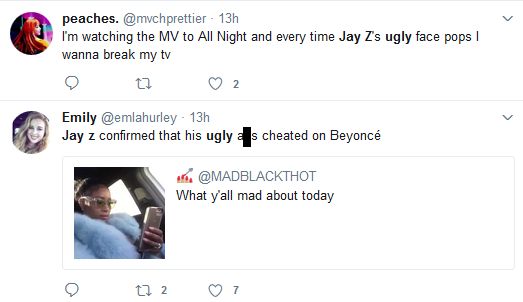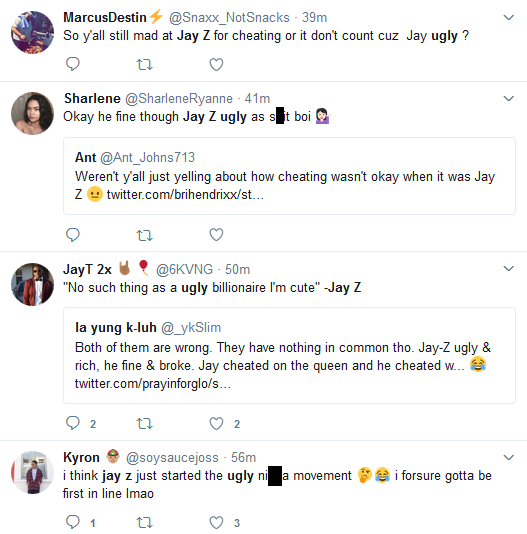 RELATED ARTICLES
Beyonce And Jay Z Twins Hospitalization Exceeds Standard Treatment Time For Jaundice Indicating There Are Other Health Problems That Necessitate Expensive Medical Care
TMZ Changes Story About Beyonce And Jay Z Buying A $40,000,000 House In Los Angeles And Are Now Stating They Have No Home
Beyonce And Jay Z Twins Born A Week Ago But Have Been In Intensive Care For The Past Several Days
Social Networking Brands Beyonce And Jay Z's Daughter Blue Ivy 'Ugly' At The VMAs