Beyonce And Jay Z Slammed Online For Hiring 6 Nannies To Take Care Of Their 3 Kids
July 28. 2017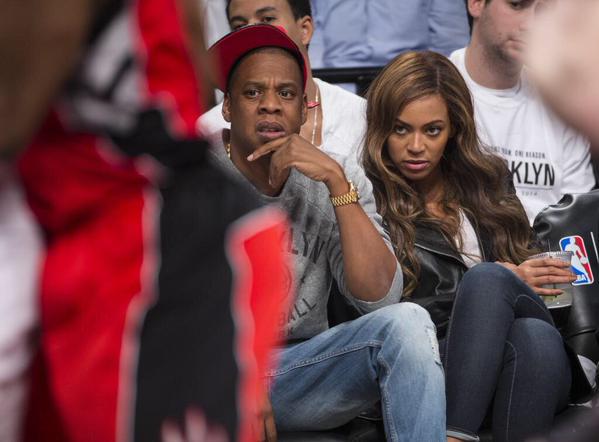 Jay Z and Beyonce
Beyonce and Jay Z are always doing something over the top and irrational. Items online indicate the couple have hired 6 nannies at a cost of $100,000 each per year, to care for their 3 unusually named children Blu, Sir and Rumi. People online are slamming the thieving couple for this decision (see related article feedback comments). It is particularly ironic, as Beyonce who sings and claims to be an "Independent Woman" can't even take care of her own kids. What's more troubling is all the nannies in the world can't save those children from their parents terrible, unethical example in life, as they are two thieves and frauds.
Jay Z was a crack cocaine drug dealer and continues to brag about it in music. Beyonce goes on stage half naked or strips. She claims to be about empowering women, but she and Jay Z are constantly sued for stealing from women, whose copyrights were criminally stolen. Jay Z and Beyonce are also quite dimwitted. They shunned education in favor of stealing and the limelight. With kids it cannot be do as I say and not as I do. Kids follow their parents' examples and sometimes to their detriment and destruction.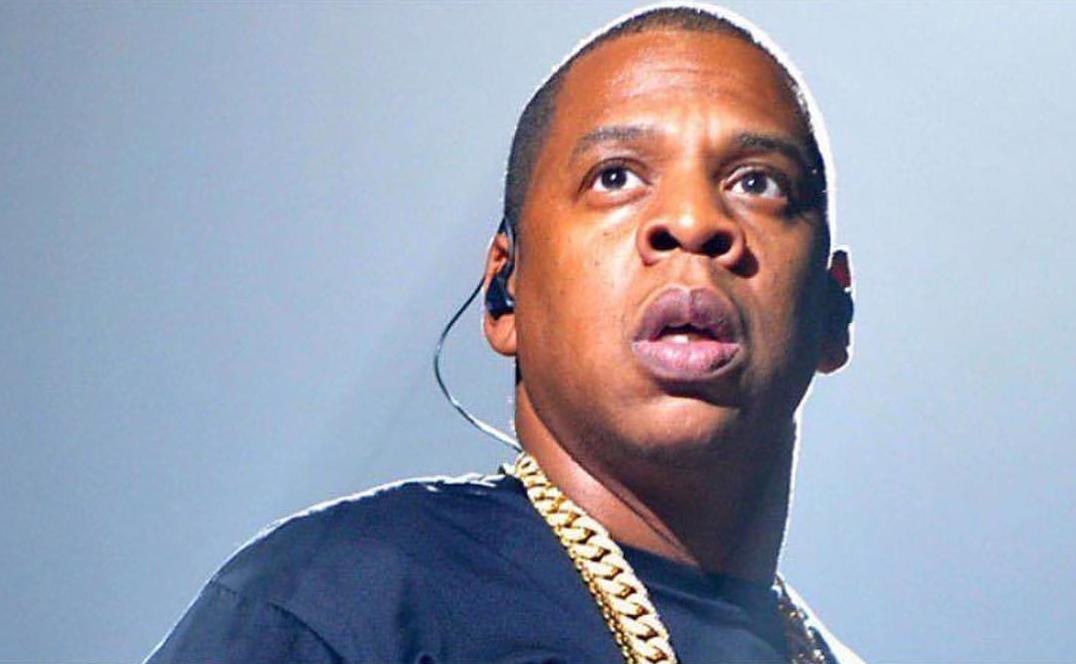 Jay Z
Other examples of Beyonce and Jay Z's over the top conduct includes lying about purchasing mega mansions, which leaves outlets embarrassed in having to backtrack on stories when the truth comes out. They lie about their net worth, when others with far greater revenues have less money.
They exaggerate the value of business deals and companies, such as Rocafella, only for financial evaluators to expose their lies. Acting out of self-importance, they disruptively go around with more bodyguards than Bill Gates, who is the richest man alive, worth $90 billion dollars, causing inconvenience to others when they go out. Jay Z and Beyonce's true net worth is not even $200 million.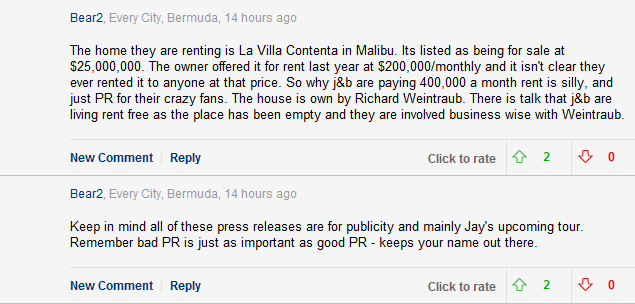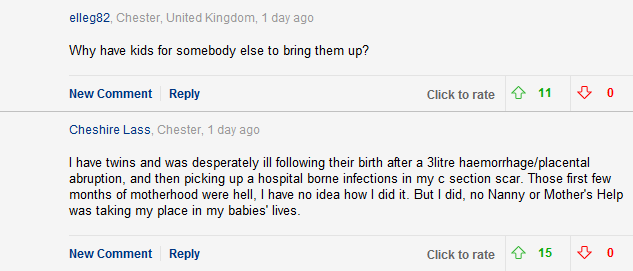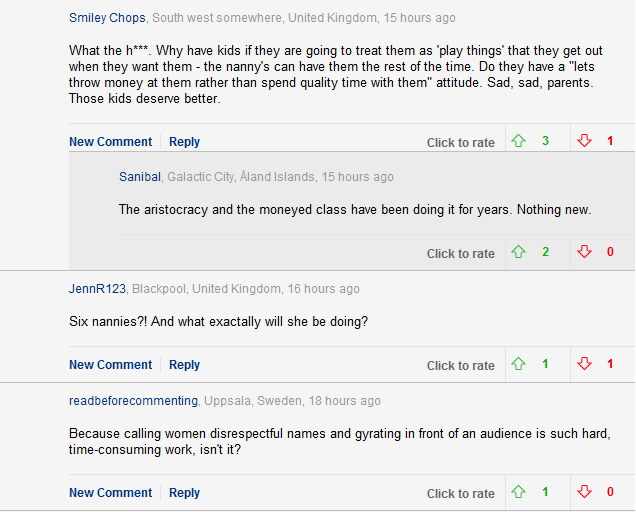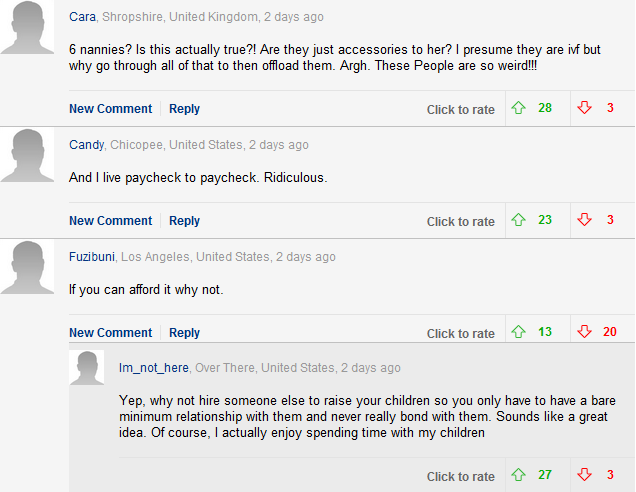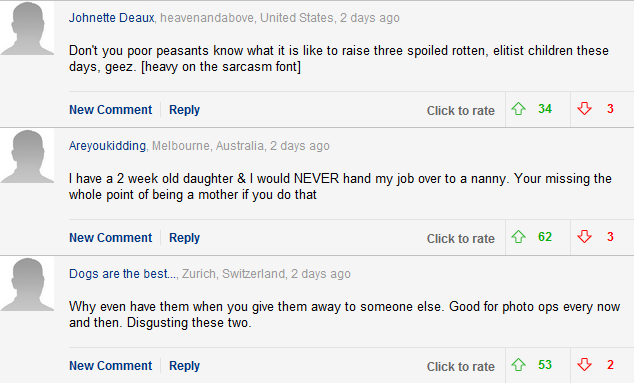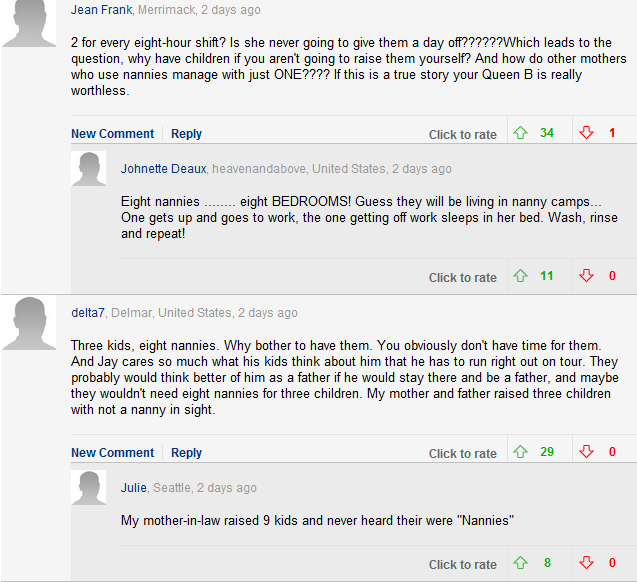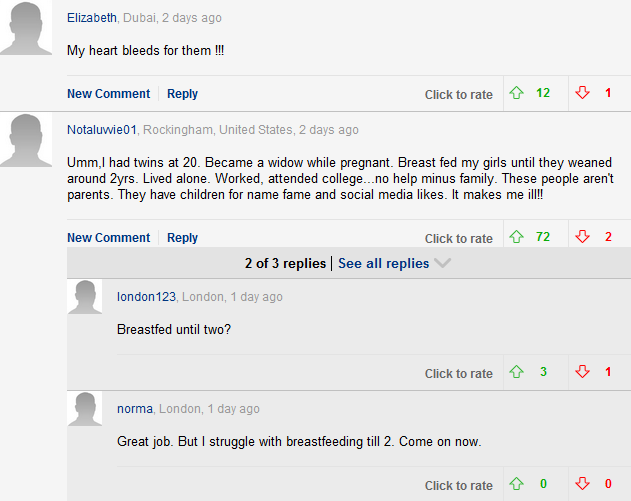 STORY SOURCE
Twins update: Beyonce and Jay Z 'have hired SIX nannies at $100k a year each' for newborns Rumi and Sir
Published: 15:32 EDT, 26 July 2017 | Updated: 20:01 EDT, 26 July 2017 - And the family have already snapped up nannies to help take care of the newborn babies as they nest in Los Angeles. According to a Wednesday report from US OK! magazine, the singers have hired six nannies at $100,000 a year each for the bundles of joy.
'The twins don't sleep at the same time, so she decided she needed three per child, working in eight hour shifts,' a source said. It is not unusual for parents of newborn twins to have both day and night nannies, according to care.com. There are also two nannies for their daughter Blue Ivy, aged five.
RELATED ARTICLES
Obama Administration Wastes Huge Sums Of American Taxpayer Money Breaking The Law In America, Britain And Jamaica On Behalf Of Madonna's Kabbalah Center In Committing Egregious Human Rights Abuses
Madonna, Jay Z, Beyonce, Rihanna, Rita Ora And Jessie J Sued Over Copyright Infringement, Invasion Of Privacy, Commissioned Criminal Harassment And Assault Via The Kabbalah Center
Jay Z And Madonna's Floundering Tidal Sued For $5,000,000 Over Copyright Infringement In Not Paying Artists While Inflating Their Own Sales To Go Number One On Billboard
Serial Copyright Thieves Beyonce And Jay Z Sued For Stealing 'Drunk In Love' And Even Including A Clip Of The Original Artist's Voice On The Track
Jay Z Lied About Loaning Kanye West $20,000,000 And Continues To Give Artists And Athletes Very Bad Advice That Is Causing Trouble
Jay Z Will Resume Cheating On Beyonce Again When He Goes On New Tour To Support Failed Album The Billboard Charts Rejected
TMZ Changes Story About Beyonce And Jay Z Buying A $40,000,000 House In Los Angeles And Are Now Stating They Have No Home
Beyonce Steals Again This Time Ripping Off Short Film For HBO Lemonade Special Resulting In Copyright Infringement Lawsuit
Police In Florida Begin Boycotting Beyonce Over 'Formation' Video And Super Bowl Performance In A Move That Is Spreading
Beyonce Sued Again For Copyright Infringement This Time For Stealing From Deceased Rapper Messy Mya
Beyonce And Jay Z Keep Trying To Buy Homes They Can't Afford And Losing Real Estate Bids
Social Networking Complains Beyonce And Jay Z Twins Look Like Him