Beyonce's False Advertising
October 7. 2008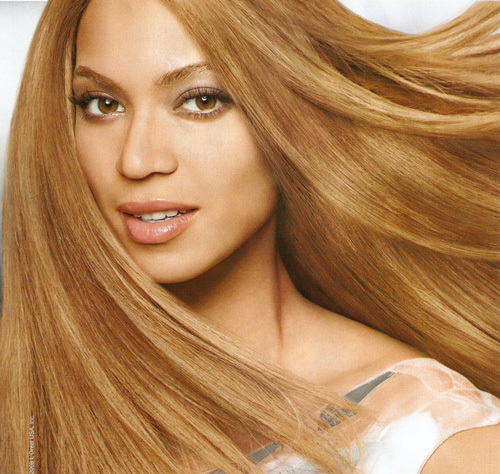 Beyonce wearing a wig in a L'Oreal hair advertisement

Copyright infringing Sony artist Beyonce has been the face of L'Oreal hair products for a few years. However, the entire black community and some white people know Beyonce wears wigs and weaves.

Take her ad posted above for instance. She is wearing a full wig in a L'Oreal hair ad and her nose has been contoured to look less full.

None of that is her hair. Beyonce's real hair is thin, short and black in color, and there's nothing wrong with that, but there she is fronting various hair care products wearing wigs and weaves, which constitutes false advertising, misleading the public.

There is nothing wrong with wigs and weaves. Many people wear them...but not in hair ads, as that is false advertising, also known as lying.

Not to mention, if your hair color is black like Beyonce's, the shade recommended on the box she is featured on, will not produce the above pictured result. It will be significantly darker, bordering on a very dark brown.

Why do that to the public, as people might buy the hair color thinking it will produce the results shown on the box and end up disappointed when it doesn't.

Then again, this conduct is to be expected of Beyonce, as government

records state

she is actually 34 years of age, not 26 as she claims for her music career.