Rihanna
Thieving R&B yodeler, Beyonce Knowles, is jealous of the improper relationship between her husband, rapper, Jay-Z and music yodeler, Rihanna. The younger singer has had a sexual relationship with the much older rapper since she was a teenage girl hungry for fame and money.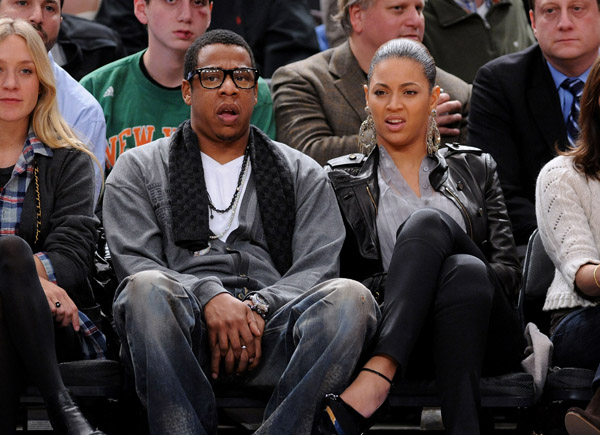 Jay-Z and Beyonce
Jay-Z has been more protective of her than his wife, which has infuriated Knowles. Beyonce believed a baby would keep Jay-Z at home, but it has not worked. He is still out there cheating on her with Rihanna and other women. This is one of the dangers of marrying a philandering thug.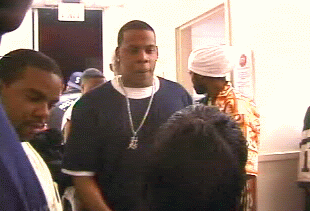 Jay-Z beating up a woman backstage at a concert
This is also compounded by the fact that Jay-Z, thinks he is Denzel Washington (he is so deluded). Clearly Jay-Z needs glasses. However, Knowles is afraid of Jay-Z and his violent temper that has seen him hit women, including her. However, Jay-Z is making a fool of himself. Rihanna only used him to get a career. She's really in love with Chris Brown, another woman beater.
RELATED ARTICLES
Rihanna Cutting Up Cocaine On Her Bodyguard's Head In Public And Lying About It Is Disgraceful
Rihanna And Madonna's Kabbalah Committed Copyright Infringement In Stealing The Film Battleship
Jay-Z Slammed By Journalist In Article That Is Being Labeled Racist
Mathew Knowles Tried To Buy His Illegitimate Son And Give Him To Beyonce Knowles And Jay-Z To Raise
Jay-Z And Kanye West Sued For Stealing Music From Legendary R&B Singer
Beyonce Steals Again But This Time From Sam Cooke, En Vogue & A European Artist
Jay-Z, Beyonce, Rihanna And The Occult - Part 2
Jay-Z, Beyonce, Rihanna And The Occult - Part 1
Jay-Z And Mary J. Blige Sued For Stealing Song
Jay-Z's Book Bombs