Britain's Prime Minister And Australian Politicians Denounce Rupert Murdoch And News Corp
When Perversion Takes Root
November 7. 2011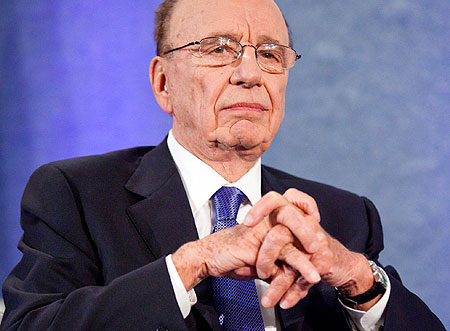 Rupert Murdoch
Britain's Prime Minister, David Cameron and Australian politicians in Rupert Murdoch's native Australia, have publicly denounced him and his company News Corp, due to the disgraceful, ongoing phone hacking scandal. Cameron referred to Murdoch and his company in stating the following, "It is a criminal offence, and I would urge the police and the prosecuting authorities to follow the evidence wherever it leads. That must happen first, and we must not let anything get in the way of criminal investigations."
Indeed, as anyone who thinks it his right as a so-called businessman to criminally hacking into the phones and computers of other people, effectively spying on them in their homes, then publish the content for profit, is a public menace.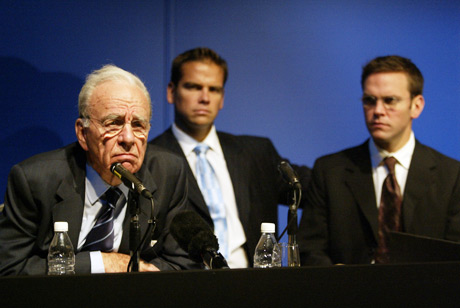 Rupert Murdoch and his unscrupulous News Corp sons Lachlan and James
In Murdoch's homeland of Australia, Members of Parliament, such as Doug Cameron and months prior, the Prime Minister, Julia Gillard, publicly slammed him for his outrageously illegal conduct that saw him surreptitiously spy on children who were murder victims, politicians and celebrities, for scoops he printed in his international newspapers and broadcasted on Fox News in America and Sky in Britain. Doug Cameron called Murdoch "A threat to democracy" and he is right. Murdoch's and company's conduct has been undemocratic and unlawful on every level.
There also exists a greater threat to privacy in this case, which goes well beyond phone hacking, wiretapping and hacking. On the surface, it is invasive, but due to established technological capabilities, such invasion of privacy also has another layer - the ability to turn on mobile phone cameras and mics, as well as those of computers/laptops and literally watch people in their homes without their knowledge, during their most private moments, including those in states of undress or during sexual intercourse. For further reference, see other cases where this has happened:
Leading Rental Company Facing Lawsuit For Spying On People In Their Homes Through Their Laptops
Computer Technician Secretly Spied On Customers In Their Homes While They Were Naked
Truth Comes Out in The School Webcam Spying Case
How To Protect Yourself From Being Spied On In Your Home Through Your Webcam Or Mobile Phone
RELATED ARTICLES
British Police Arrest Another Rupert Murdoch/News Corp Journalist In Phone Hacking Scandal
Rupert Murdoch Is Being Investigated By The Government For Using 'Mafia Tactics' On Rivals
Rupert Murdoch's News Corp Is Under Investigation For Computer Hacking And Corporate Theft
Police Widen Rupert Murdoch News Corp Criminal Probe To Include Computer Hacking
Senator Demands FBI Investigate Rupert Murdoch For Hacking Rival & Stealing Their Copyrights
Rupert Murdoch's News Corp Spying On People With Drones
Judge Orders One Of Rupert Murdoch Hackers To Disclose All Evidence
Rupert Murdoch Executive Admitted To Bribing The Metropolitan Police (Video)
The FBI Corruptly Granted "Sovereign Immunity" In The Aisha v. FBI Case
Rupert Murdoch Finally Admits His Company's Phone Hacking And Wiretapping Crimes
Madonna's Connection To Phone Hacking And Wiretapping Scandal
Wall Street Protestors March Outside The Home Of Greedy CEOs Such As News Corp's Rupert Murdoch
James Murdoch To Be Recalled To The British Parliament In November 2011 Over Lying In Previous Hearing
Rupert Murdoch Defames Australia's Prime Minister Then Retracts It After Legal Threat