Chris Brown Beat Up Girlfriend Rihanna
Chris Brown Beat Rihanna Like She Stole Something
February 9. 2009
UPDATE: 8:43PM - According to TMZ, Chris Brown viciously beat Rihanna. She has contusions on both sides of her forehead, bite marks, a bloody nose and bloody lip. My source was correct, as written below, in that it wasn't just "a black eye" as reported by the media last night, but several forceful blows. My source was also right in stating "Chris Brown is not right in the head" as posted below.
Thieving Kabbalah cult member Rihanna. They had a fight after Clive Davis' annual pre-show Grammy party. The incident transpired at 12:30AM on Sunday, February 8, 2009.
His body language and facial expressions at the pre-show party suggested he did not want to be with Rihanna, but she kept throwing her arms around him anyway, in a very clingy manner that was not being reciprocated.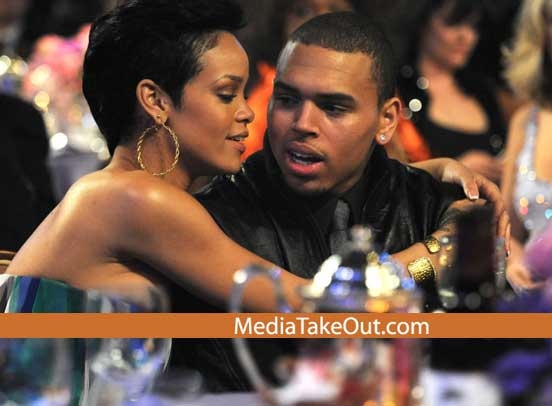 Chris Brown and Rihanna. Judging by his body language "He's Just Not That Into You"

They were travelling in a car from the party and had a massive argument. Brown stopped the car and the argument continued outside, in the Hancock Park area of Los Angeles. Brown proceeded to beat

up

Rihanna, rendering her several blows.

She tried to fight back, but he ducked each time and continued to hit her. He then left in the car, leaving her injured in public. Someone called 911, the police arrived and issued a warrant for his arrest on "felony domestic abuse" and

"assault and battery"

charges.

The fact the charges bear the words "domestic abuse" gave away the fact that it is Rihanna he beat up, as she is his girlfriend and he is not married. She was transported to Cedars Sinai Hospital in Los Angeles, California, suffering from injuries related to the fight. ("The identity of the victim will not be released.

Any victim who's involved in a domestic violence incident is entitled to confidentiality

" said Officer April Harding. Link)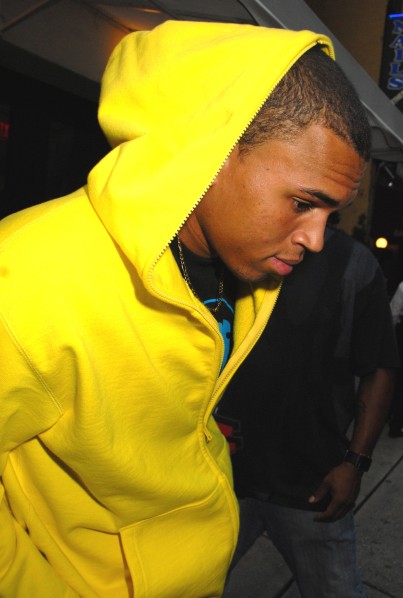 Chris Brown turning himself in to the police
Her publicist lied telling the press she met in an accident, to cover up this damaging story, but she was beaten by Chris Brown for which he has now been arrested.
The
car did not give her a black eye and other bruises so noticeable the police saw it and the hospital admitted her. You have to meet a certain criteria before you are admitted to the hospital. Furthermore, there are no reports of an accident involving her.
The two have a detailed history of fighting, where people witnessed them aggressively slapping each other and pulling the other's hair out, which screams dysfunction.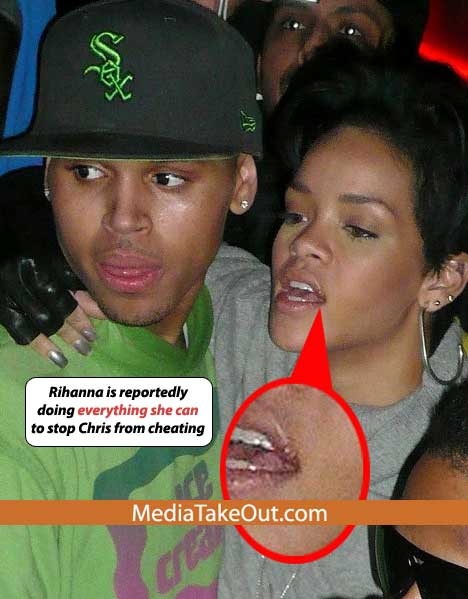 Rihanna with Herpes sore
Just last month, it was revealed bisexual Rihanna contracted Herpes from being promiscuous and passed it on to Chris Brown.
The next time they were seen together in public, after being spotted at the airport, he was openly flirting with other women at a club in Ireland.
Again, last week in another incident, he was seen with another woman and the two were getting very close, while Rihanna was performing elsewhere. The photos were splashed all over the internet and embarrassed Rihanna.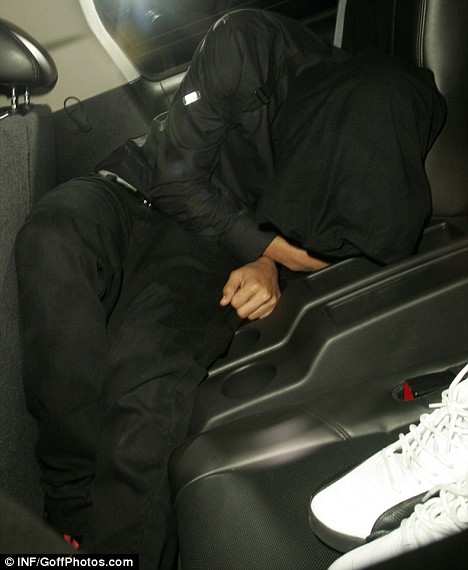 Chris Brown hiding from the press while leaving the police station. His stepdad used to beat his mom as well.
It is believed she was upset over his conduct with other women and he was upset that Rihanna gave him Herpes, which is currently incurable.
Both missed the Grammy Awards, where she was set to perform more copyright infringing music. However, neither of them won an award at the show.
The incident cast a dark cloud over the annual awards show, as the press focused largely on the violent fight between the two entertainers that were up for Grammys.

I could tell you detailed stories about how crazy and sick in the head Rihanna has become in Kabbalah and the awful things she has done, that would make your stomach turn (I will at a later date). Chris Brown is not right in the head either, as you can see, based on this violent attack.
The public shall not see these two the same after this latest incident, as the entire episode, from her promiscuity to his violent acts of rage, is unnecessary and uncalled for. As I stated weeks ago, these two are not decent people.
Give it time, he will apologize and she will want to go back to him...and get beat up again.

Side bar: with Rihanna's forehead that you could receive free cable off of, I don't understand how she lost this fight. One head butt and Chris Brown would have been down for the count and walking around Hollywood today with Amnesia and Alzheimers.
If anything, she can call singer Beyonce, whose man Jay-Z has raised his hand to her as well. Ironically, Rihanna slept with him too, as the former head of her label Def Jam.
Chris Brown Arrested for Attacking Rihanna
Los Angeles, CA – In what has been developing news since early Sunday morning in Los Angeles, Chris Brown has apparently been involved in a scuffle with a female victim who has been identified as Rihanna. Brown was said to have fled the scene, which resulted in a warrant issued for his arrest. He later turned himself in to the authorities late into the evening. He is under investigation for domestic violence felony battery.
Both Rihanna and Chris Brown were set to appear and perform at the Grammy awards later on that day. Apparently the story began around 12:30am early Sunday morning. Witnesses say that Brown was seen arguing in a car with a female passenger when it further escalated.
A bystander later called 911 when they were seen arguing outside the car. When the authorities arrived, the female victim was seen with visible injuries on her face; however, Brown was not at the scene but identified him as the suspect. LAPD declined to confirm the identity of the female passenger, but the Los Angeles Times later identified the female passenger as R&B recording artist Rihanna. Sources close to Rihanna are stating that she has pressed charges on Chris Brown.
According to Bossip.com, sources confirmed speculations to them that the whole reason behind the scuffle was Chris Brown accused Rihanna of giving him herpes.
At press time, Brown is held by the LAPD under a $50,000 bond. Representatives for Chris Brown and Rihanna have yet to comment or release an official statement pertaining to the allegations…