Chris Brown's Codeine Addiction Concerning His Family And Friends
November 3. 2015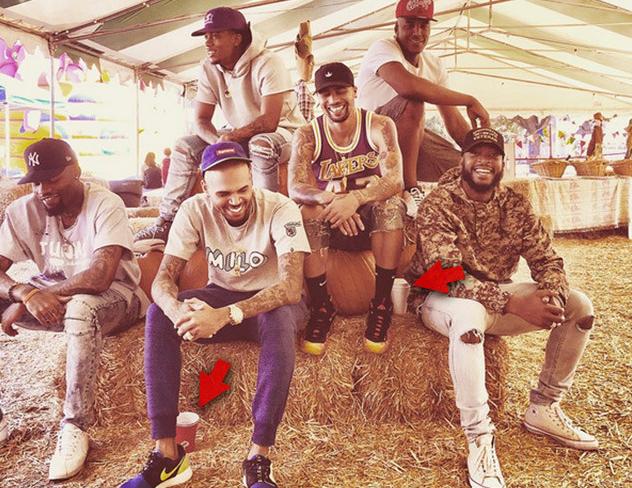 Chris Brown and friends taking Sizzurp (Photo credit: Chris Brown caption credit: TMZ)
Things have been quiet on the Chris Brown front for the past few months. However, a new scandal has erupted. The TMZ website is reporting the R&B singer's family is concerned over his addiction to codeine, which he drinks in the form of the street drug known as Sizzurp. It is highly addictive and taken in excess does internal damage. Brown also smokes marijuana, sometimes takes cocaine and drinks heavily.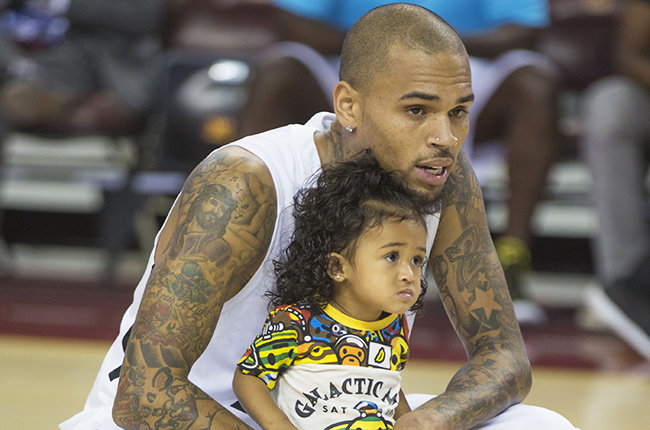 Chris Brown and daughter Royalty
TMZ is reporting Brown has a prescription for codeine, which is commonly used to alleviate the symptoms of a cold or flu. The question is, who has a perma cold or flu to have a codeine prescription that long. It is unwise to give a recovering addict a codeine prescription, as it will be abused to their detriment. It appears he is relapsing, due to the destructive friends in his circle. Brown's mother needs to intervene and increase his outpatient rehab visits to prevent him from going on a serious downward spiral. Drug addiction is not something to slip up on, as it's a slippery slope that can lead to an early death.
STORY SOURCE
Chris Brown Sizzurp is Taking Over His Life ... Say Friends and Family
11/3/2015 1:00 AM PST BY TMZ STAFF - Chris Brown's friends and family are extremely worried about him, because they think he's addicted to sizzurp. The latest evidence is this picture of Chris and some friends taken over the weekend at an L.A. pumpkin patch where Chris took his daughter, Royalty, to buy a pumpkin. You see Chris sitting on a bale of hay with a double-stacked red cup at his feet. Right behind him there's another double cup.
Chris' friends and family are worried for several reasons. The problem has been getting worse over the last few weeks. They say he's drinking sizzurp around Royalty and they're worried he'll lose custody. TMZ broke the story, during Chris' custody battle he tested positive for codeine, but the judge gave him a pass because Chris had a prescription...
RELATED ARTICLES
Chris Brown Must Make More Changes To His Life Lest Certain Things Destroy Him
Chris Brown Reveals The Song 'Sorry' Is Not About Rihanna But Karrueche Tran