Chris Brown Flirting With Rihanna Singing Her Rip Off Song 'B**** Better Have My Money' On Stage
July 27. 2015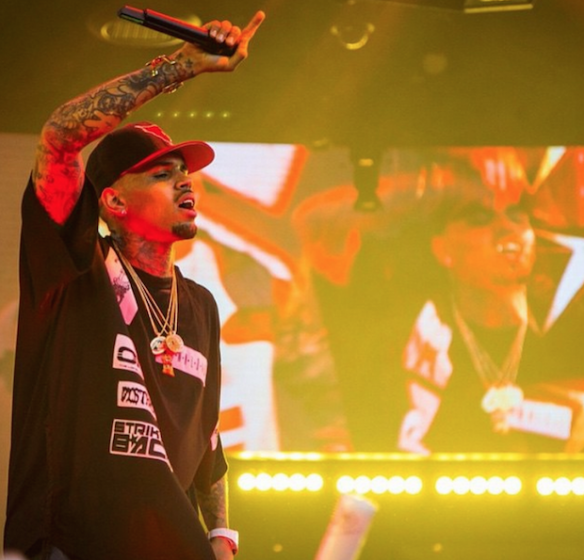 Chris Brown
During Chris Brown's recent visit to the Philippines to perform in concert, which resulted in his detention in the nation due to his manager's acts of financial fraud, he sang a particular song on stage. Brown performed the copyright infringing track, "B**** Better Have My Money" by ex-girlfriend, Rihanna, who stole it from indie rapper and Rick Ross collaborator, Just Brittany.
Rihanna's music career is firmly in the toilet, with three flopped singles in a row and a stalled album with no buzz. The vile music video for "B*** Better Have My Money" is also being heavily criticized and rejected (as was her video for "American Oxygen" and "Four Five Seconds"). Rihanna is no longer a designer favorite, now receiving far less free clothes from labels, as her fashion sense has been slammed on social networking for the past year). Rihanna was also cheated on by boyfriend Karim Benezema, who began hooking up with a Miami model, Analicia Chaves.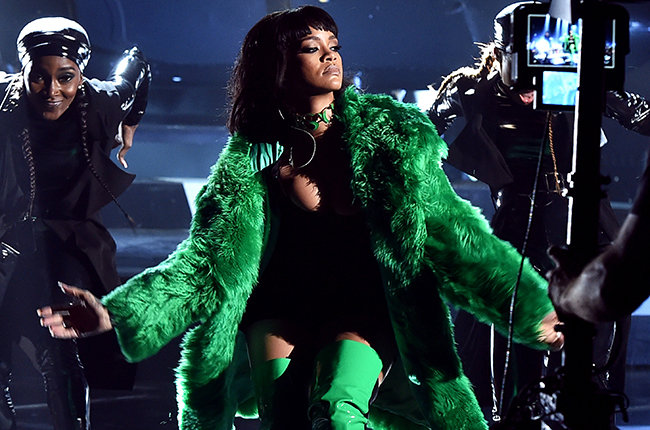 Rihanna
Brown's career is doing better than Rihanna's with the success of his singles "Loyal" and "Ayo." So he performed Rihanna's "B*** Better Have My Money" on stage to help her out. However, Rihanna did not experience a sales increase or any renewed interest in the dead project. Her label is at wit's end with the project, as every single and video she released has flopped and failed.
It's also no secret that Rihanna wants Chris Brown back. Brown singing "B*** Better Have My Money" is being interpreted as flirtation and the attention she desperately seeks from him. However, the love of his life has become ex-girlfriend, Karrueche Tran, whose modeling and acting career has been garnering attention, leading to new jobs. As the song lyric states, "Ain't it funny how tables turn." Just a year ago Rihanna and her fans were mocking Tran as broke with no job. Now Rihanna career is in trouble, with website and people branding her over. That's why it is better to be humble.
RELATED ARTICLES
Rihanna Caught Snorting Cocaine Which Prompts The Singer To Slam People On Social Networking Over Comments On Her Drug Addiction (Video)
Record Label Sends Rihanna Back Into The Recording Studio Over Failed Singles From Forthcoming Album And She Is Slammed By Famous Producer
Rumors Swirl That Lebron James Is Having An Extramarital Affair With Rihanna Due To Her Brazen Behavior Courtside And Outside The Cavaliers Locker Room Before And After Boarding His Private Jet
Rihanna And Rita Ora Slammed Again As Music Industry Mattresses In ASAP Rocky's New Song 'Better Things'
Boxer Adrien Broner Says F**k Jay Z, Rihanna And Her P***y After The Rapper Pimps Her Out Again (Video)
Eminem Confirms This Site's Previous Claims That He Had Sex With Rihanna
Rihanna's Met Gala Dress Mocked In China And All Over Social Networking
Karrueche Tran Does Interview About Chris Brown And Rihanna
Rihanna Jealous Over Chris Brown's Daughter Royalty