Chris Brown Reached Out To Rihanna After He Found Out She Wants Him Back
March 29. 2017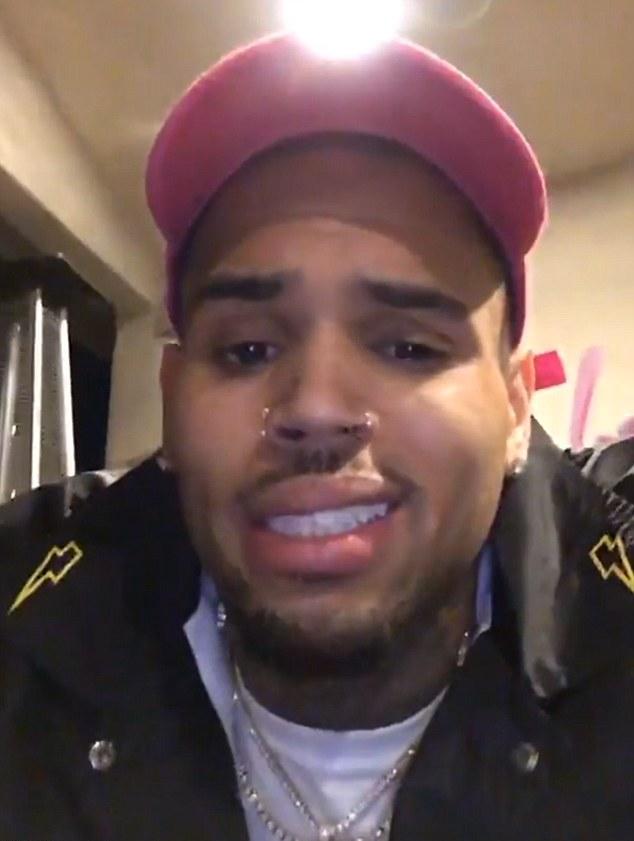 Chris Brown
In the March 14, 2017 Judiciary Report article "Rihanna Wants Chris Brown Back During His Woes With Karrueche Tran And The Restraining Orders Filed Against Him" I wrote in an exclusive about what I was informed of regarding the on-and-off-again couple, Chris Brown and Rihanna. I just thought I'd give my readers a heads up regarding what has been secretly going on regarding Brown and Rihanna, who is still in love with him.
4 DAYS AFTER the Marc 14, 2017 article "Rihanna Wants Chris Brown Back During His Woes With Karrueche Tran And The Restraining Orders Filed Against Him" was published to this website, Brown began following Rihanna again on social networking. Instagram users who follow the two singers were stunned.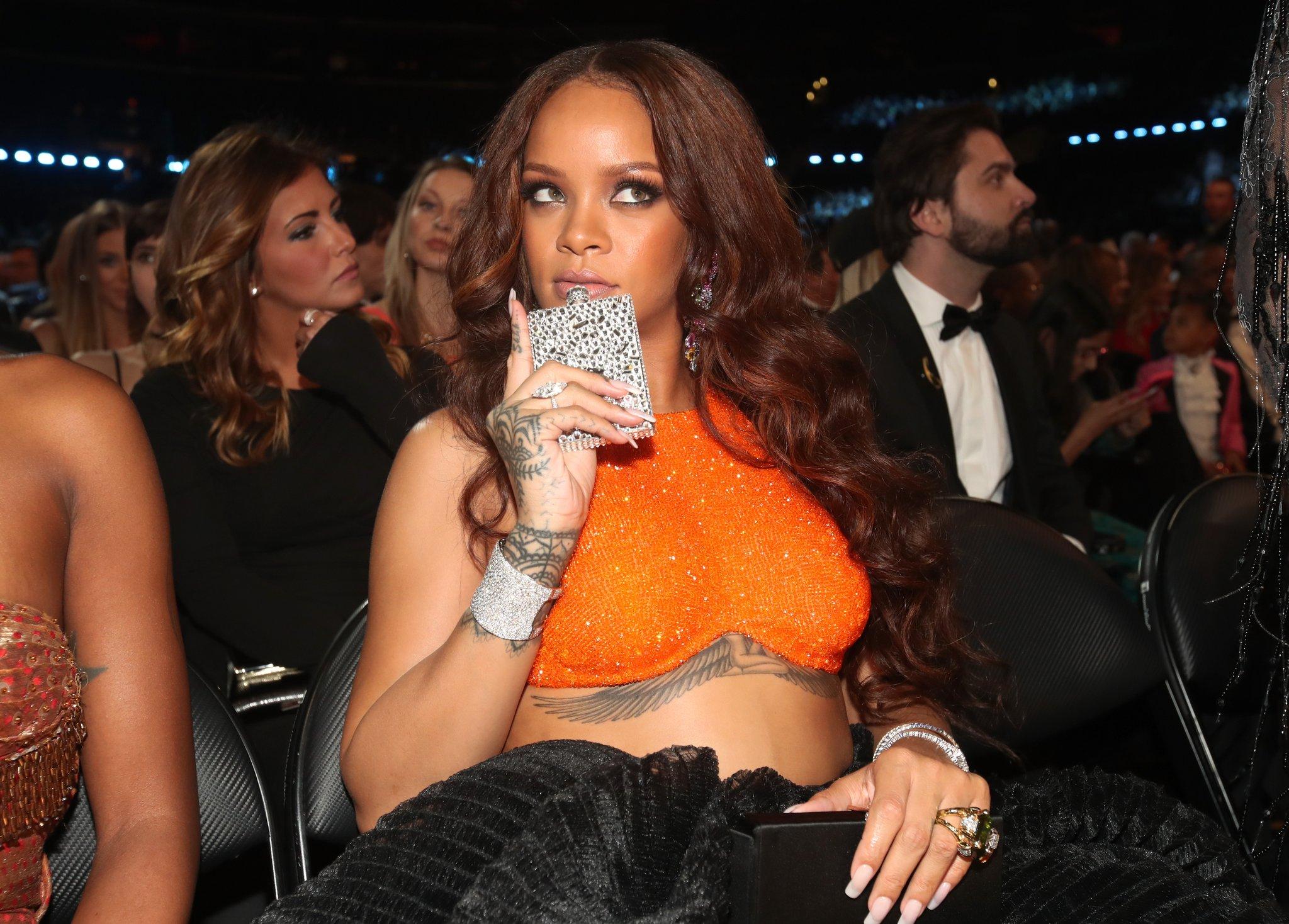 Rihanna
Brown is in a bad way after his ex-girlfriend Karrueche Tran filed a restraining order against him, recounting violent and threatening incidents that occurred. Tran was the one person, other than his mother, who stuck around through everything. Brown was shocked when she left him, as she found out he fathered a child with another woman.
Brown was still hoping to get back with Tran, but as time passed, things didn't look promising regarding her publicly coming back to him. Realizing this, Brown began to make threats hoping it would change Tran's mind. It did the very opposite, as she became terrified and afraid for her safety and that of the people close to her.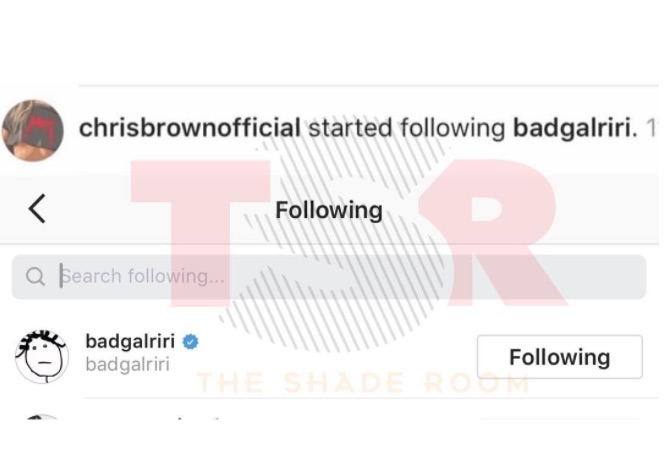 Screencap of Chris Brown following Rihanna again a few days ago
Tran is actually scared of Chris, as his threats over the past few months morphed into something very alarming. Tran is angry with Brown over threatening her family and friends, which she deems off limits. It's not an act. Brown grew quite desperate and his negative behavior plumbed new depths in the face of Tran getting on with her life. Then, all these famous men he thought were friends began going after Tran, assuming Brown was out the picture.
It hurt him badly to find out about it. If Brown knew the full list of famous men who have been pursuing Tran, some of them rich athletes with more money than he has in the bank, he'd be enraged. He doesn't take such things well, as he feels Tran is his creation he made famous and is operating under the belief he owns her. However, at the end of the day, Chris should not be angry, as he is the one that blew it by cheating on her.
STORY SOURCE
Rihanna: Friends BEG Her to Leave Chris Brown Alone!
March 24, 2017 10:02 am - Oh, what some people won't do for love...because -- and not that you need this spelled out to you -- Chris Brown is more jacka** monster than human, and seems 100% incapable of love. Like, good people don't threaten to murder others. That's just a fact. But OK, let's back up a little bit.
Earlier this week, we heard that Rihanna and Chris Brown were talking again, which is terrible, right? It started, as it often does, on social media. Chris followed Rihanna on Instagram for whatever reason, probably because that restraining order keeps him from messing with Karrueche Tran at the moment, and from there they started messaging...
https://www.thehollywoodgossip.com
Chris Brown Re-Follows Rihanna On Social Media — Are They Talking Again?
Sat, March 18, 2017 8:27pm EDT - Enough with all the back and forth! Try as he may to move on, Chris Brown just can't quit Rihanna and cut her out of his life. The rapper re-followed his ex-girlfriend on Instagram, begging the question if the former couple are talking again.
Watch out Rihanna, 29, your ex-boyfriend is slipping into your DMs again! Fans of Chris Brown, 27, couldn't help but notice his recent Instagram activity, which shows he was re-following a familiar face after months (maybe even years) of staying off her page. Chris and the "Umbrella" singer have a habit of going back and forth, so this could very easily mean that they're acting friendly and talking to each other again. Unfortunately, it may not be all good news. The "Zero" hitmaker seems to bring trouble wherever he goes, especially when it comes to ex-girlfriends...
RELATED ARTICLE
Rihanna Wants Chris Brown Back During His Woes With Karrueche Tran And The Restraining Orders Filed Against Him