Chris Brown Speaks Out About Rihanna Assault
February 16. 2009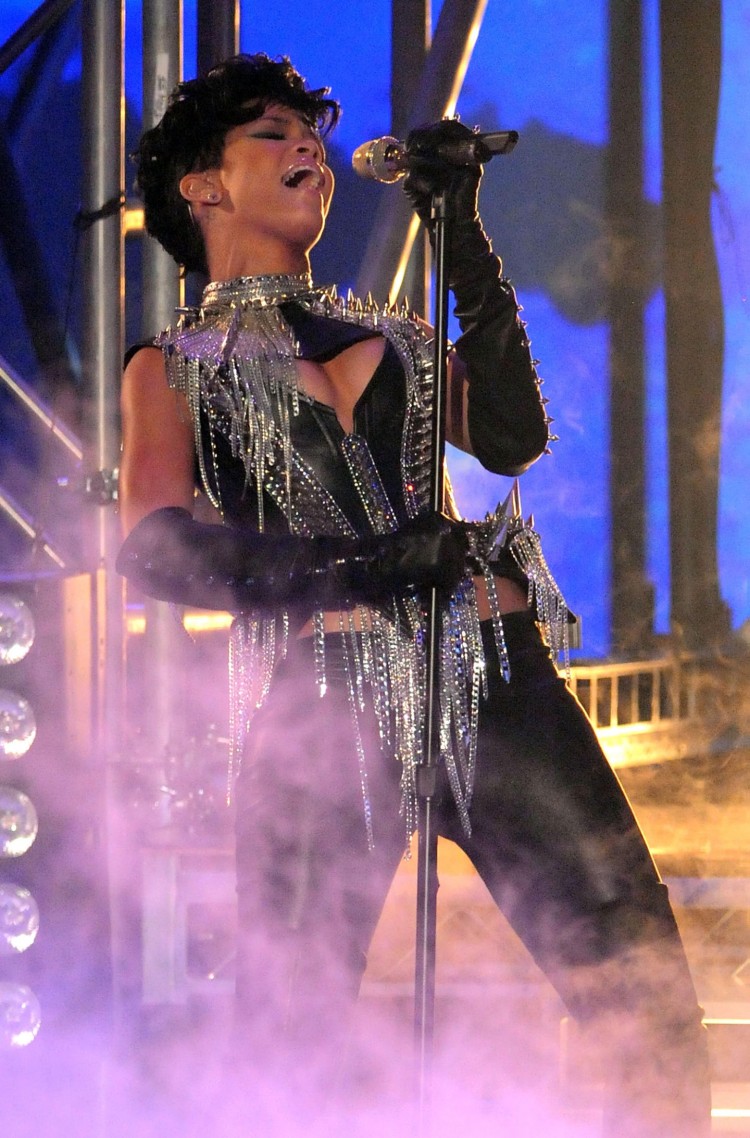 Rihanna dramatically lip-syncing

Sony Music artist

Chris Brown has finally spoken out about assaulting girlfriend Rihanna. Brown released a publicist drafted statement to People magazine:

"Words cannot begin to express how sorry and saddened I am over what transpired. I am seeking the counseling of my pastor, my mother and other loved ones and I am committed, with God's help, to emerging a better person.

"Much of what has been speculated or reported on blogs and/or reported in the media is wrong.

"While I would like to be able to talk about this more, until the legal issues are resolved, this is all I can say except that I have not written any messages or made any posts to Facebook, on blogs or any place else.

"Those posts or writings under my name are frauds." (Link)

Here's hoping he is seeking help for the sake of improving and not as a publicity ploy to save his career, as a TMZ poll revealed 87% of the surveyed public of 70,000 didn't believe him. Rihanna should seek help as well, as she was hitting him on different occasions in fights she initiated.

Rihanna is no Tina Turner, getting hit for just standing there and existing. Rihanna pulled the lion's tail and it bit her. It does not excuse what he did, as it is terribly wrong, but she had a habit of hitting, provoking and starting fights with him in that manner and he snapped this time in a major way. It is dysfunctional.

Chris Brown and Rihanna are two of many people that have experienced a terrible fall from grace, after getting mixed up with Madonna's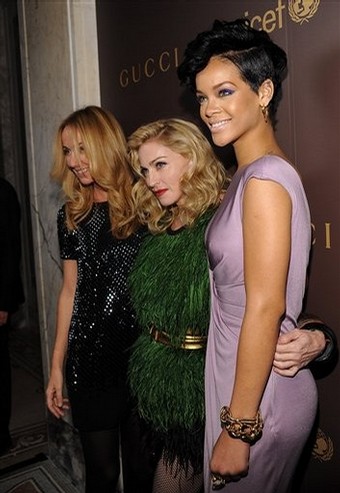 Madonna and Rihanna at a Kabbalah function in New York
Brown's family is baffled as to how the Chris they know committed these violent acts. However, said rage is a trademark of Kabbalah brainwashing. This is what happens when they snap.
Chris Brown and Rihanna can be added to the list of Kabbalah affiliated people like Britney Spears, Lindsay Lohan, Paris Hilton and Steve O, who had massive public mental breakdowns, accompanied by terrible rage, outbursts and violence.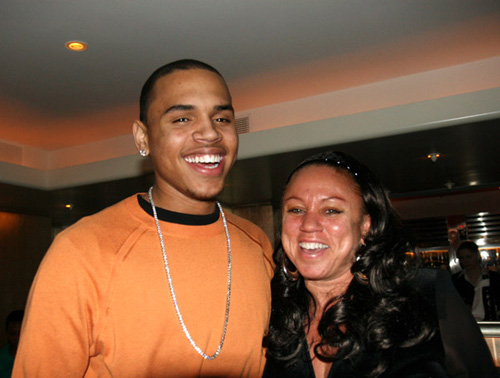 Chris Brown and his mom Joyce

Previously, Britney Spears violently attacked a photographer. Lindsay Lohan and her lesbian girlfriend Samantha Ronson got into violent fist fights.

In a separate incident, Lohan

also forcefully punched a black photographer in the face that did nothing to her.

Steve-O

began behaving in an insane manner,

assaulted an individual and was subsequently sent to a hospital psychiatric ward. Paris Hilton was heard crying, screaming and violently kicking in a jail cell, over what was a relatively short sentence. Her conduct was so bizarre, the jail staff sent for a psychiatrist to give her meds to control her psychosis.

Now, we have the Chris Brown and Rihanna assault incident, with them viciously punching and biting each other in public. At the current rate, the entertainment industry doesn't have to worry about the recession destroying Hollywood, Madonna is busy doing that herself with Kabbalah.

Rihanna Camp Tries To Minimize Damage
Chris Brown and Rihanna last year at a KFC. Check out the look on her face. If looks could kill...

Rihanna's cousin,

Yvonne Fenty,

stated the damage to the singer is not as bad as everyone has made it out to be. That's ironic, as TMZ reported that a law enforcement source who took pictures of Rihanna's injuries, stated she looked like "a MMA fighter" and that Brown hit her so forcefully to the point her eyes were practically swollen shut for the photos. They reported she had a bloodied nose, split lip, contusions on both sides of her face, bite marks and was choked unconscious.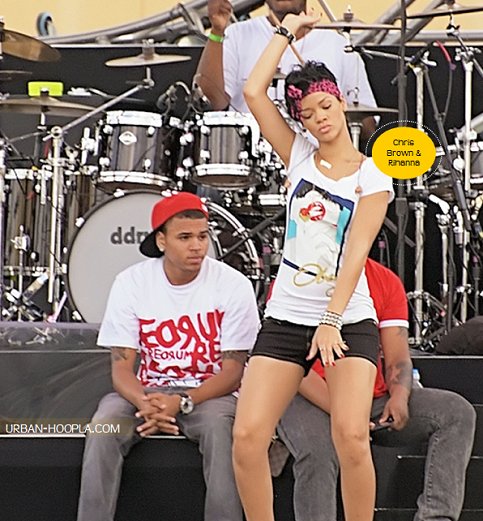 Chris Brown and Rihanna
If her injuries were so insignificant, as her relative is now claiming, she would not have been hospitalized. She would have done what many domestic abuse victims do, slapped on some makeup to cover the bruising, thrown on some shades and went out, after the inexcusable abuse. Rihanna would have made it to the Grammys, the most important night in music.
She is covering for Chris Brown in trying to minimize the injuries she sustained, as his fans have turned on her in a massive way and it is damaging her career.
Next we're gonna hear the car bit Rihanna and Chris and it was not them biting each other like junkyard dogs (Brown was later pictured with bite marks on his fingers).

Hypocrite Jay-Z Speaks Up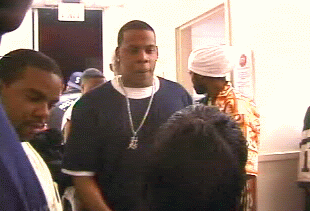 Jay-Z beating up a woman backstage at a concert
Hypocrite Jay-Z, that signed Rihanna to her deal at Def Jam and also slept with her behind singer Beyonce's back, recently spoke out against the assault, when he is a woman beater himself, who has been caught on camera doing so. Other witnesses claim they've seen him hit Beyonce as well.
How can anyone take you seriously in this incident in light of what you have done to women as well and made excuses regarding in the press. All violence against women is wrong.
Rihanna's Injuries -- "Horrific"
Law enforcement sources have now gotten specific with us... police took pictures of Rihanna's injuries and they are "horrific."
As we reported, the photos show major contusions on both sides of the singer's face -- there is serious swelling and bruising. Her lip is split and her nose bloody. We have now confirmed there are bite marks on one of her arms and on several fingers.
And we now know this... Rihanna claims Brown struck her with his fists and that's what did the damage. There was no object used in the alleged attack.
Rihanna refused treatment at the scene, but before she left cops took photos. We're told the photos alone are "devastating proof of abuse."
And we've learned it was not Rihanna who called 911. Someone in the area heard her screams and called.
Rihanna Back Home In Barbados
Yvonne Fenty, a cousin of Rihanna's, claimed that the "Umberlla" singer is currently on the island of Barbados -- recovering from last Sunday's violent attack by boyfriend-R&B star Chris Brown -- with friends and family, and told RadarOnline.com exclusively that "Rihanna is holding up well."
"Everyone is looking after her--she is just trying to catch herself and get her life back on track. None of this is as bad as everyone makes it sound. Her injuries weren't near as bad as people make them sound.
"Yes, she is going through a rough time and is upset, but she is thinking positive and resting.
"She will be fine." ...
Rihanna's Dad Denies He's Homeless
Rihanna's dad, Robert Fenty says he's not homeless and he's accusing the international media of attempting to discredit his daughter by depicting him as a homeless man living in a car.
"It's an attempt by them to shift the focus from Chris Brown," Fenty tells UK's Sunday Sun.
"I am really upset about the whole incident. They had me all over the TV saying that I was living in a car and was homeless. I have a home in Warrens. I don't live in this car. Rihanna has done really well as a person from a small island and I know that she is up against the heavyweights, so they will do anything to discredit her."
Fenty admits he does sell items from his car, but he calls it "a job I do on the side just to keep me happy". He chided the media for trying to "dig up dirt on Rihanna", whom he described as being okay and in good health...
BANNED!!! BARBADOS RADIO STATIONS REFUSING TO PLAY CHRIS BROWN'S MUSIC … POSSIBLY FOREVER!!!
February 15, 2009. Chris Brown has become a pariah in Rihanna's home country of Barbados. So much so that MediaTakeOut.com has learned that EVERY RADIO STATION on the island is boycotting Chris Brown's music.
MediaTakeOut.com spoke with an insider at one of Barbados' most popular radio stations who explained, "No one is playing Chris Brown records in Barbados .... the ban will go on indefinitely."
Wonder if this ban will start to spread.