Controversy Erupts Over Chris Brown Stating He Sold 75 Million Copies Of His Music Indicating Inaccuracies In Industry Sales Tabulations In America
December 11. 2017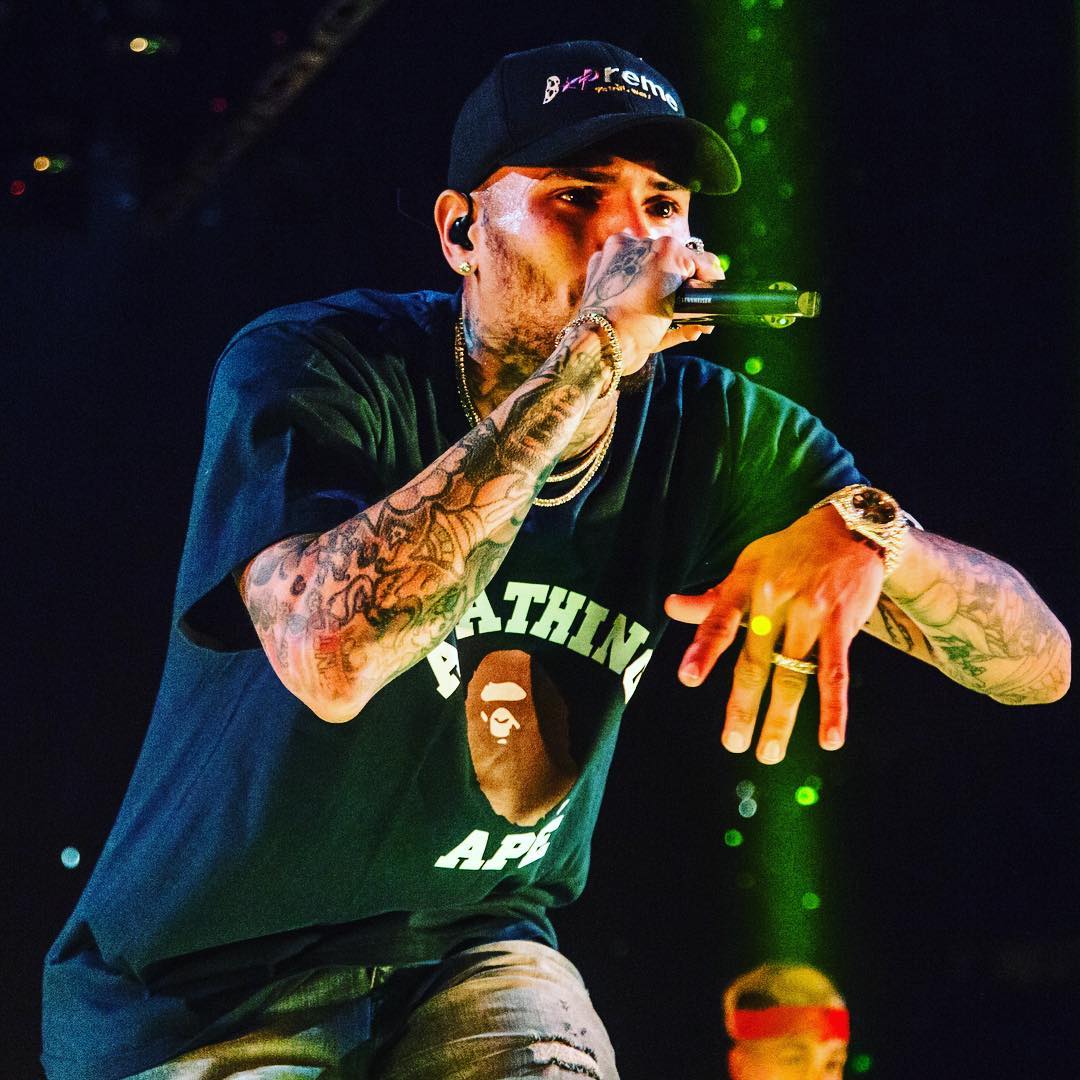 Chris Brown
Chris Brown's latest album "Heartbreak On A Full Moon" has flopped on the charts. In the first week of release "Heartbreak On A Full Moon" was only tabulated for 3-days, due Brown's insistence on releasing it mid-week to coincide with Halloween. The album sold a paltry 25,000 copies in "pure sales" and 43,000 in unreliable streaming numbers. Streaming does not represent any financial transactions, regarding the public actually purchasing an album or single, and as crooked rapper Jay Z has shown, it can be manipulated to falsify sales.
During it's second week of release, with a full 7-days counted, "Heartbreak On A Full Moon" only sold another 20,000 copies in "pure sales." The sales for "Heartbreak On A Full Moon" continue to decline. Brown received a sizeable advance to complete the album. Recording and video costs have rendered "Heartbreak On A Full Moon" unprofitable. Brown is already back in the studio working on his next album. If it flops as well, he could lose his record deal.
In a PR maneuver to assist in deflecting from "Heartbreak On A Full Moon" flopping, Brown's team rushed through all his uncompleted Recording Industry Association of America (RIAA) certifications for his music sales. Press releases were sent out to state, in 2017 Brown has 74,5000,000 in sales certifications. However, they were not all sold this year or at all, which has created controversy on social networking, due to many skeptics disputing the sales figures. The certifications represent Brown's sales from his debut in 2005 to 2017. The label Brown records for, Sony Music, informed the RIAA that he sold 5,000,000 albums and 70,000,000 singles from 2005 to 2017, but those are generous estimates and not actual sales figures.
It complicates matters in creating additional inaccuracies due to the fact the RIAA does not count "pure sales." They are wild estimates, often inflated by labels to obtain plaques. There are artists who have only sold 150,000 copies of an album, but due to the fact the label shipped out over 500,000 to stores, they were awarded gold plaques, signifying 500,000 units sold. Former Sony Music executive, Tommy Mottola, greatly abused this process to fraudulently claim huge sales numbers that were so far off from the truth, actual Soundscan tabulation numbers were often 70% or more off from his fake figures.
Soundscan in tandem with the Billboard charts, aimed to be more accurate in tabulating every copy of an album sold in piping retailers into an online sales database tracking each release's purchase by the public. However, devious liars such as rapper Jay Z began foiling the system by paying retailers nationwide to run the same copies of CDs through cash registers many times to inflate sales. Where a customer would purchase one copy of a Jay Z album, select retailers were paid to run each copy through many times. Out of hours, select retailers were given financial credits to stand at the register scanning up the same copy many times to inflate Jay Z's sales.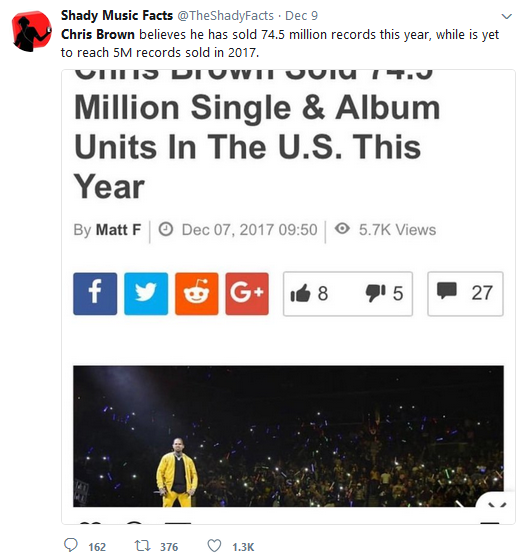 Tweet on Twitter.com casting doubt on Brown's sales
Jay Z was literally buying his own albums. It was a strange form of a buying team, which is an industry practice of arranging a group of people who are paid to buy many copies of the same album or single to gain a higher chart position and certification awards. As stated previously on the site, it was a big scandal in the industry. Jay Z was publicly slammed by Soundscan for the dirty, illegal, fraudulent practice that disgraced their system, all so he could appear to have top selling albums, when his releases were actually flopping.
For the past few years, to camouflage the fact his albums have been flopping, Jay Z has approached mobile service companies and made deals to distribute his music for free to their phone subscribers. In exchange for the freebee, Jay Z is paid cents on the dollar for each unit downloaded for free by their mobile phone users, rather than millions in sales and royalty payments an actual gold or platinum album would generate. He is then able to claim RIAA certifications without selling a single copy of his albums, which is fraud. It's all smoke and mirrors. His career is completely fake.
Brown has legitimately sold more albums and singles than Jay Z and other modern artists. However, not as many as being claimed with the rushed RIAA certifications. Additionally, 2017 was Brown's worst sales year, due to domestic violence controversies regarding his ex-girlfriend Karrueche Tran which generated bad publicity and poor promotion of "Heartbreak On A Full Moon."
The 45-track double album has a few catchy songs on it, but is plagued by profanity and explicit sexual content. Huge portions of it sounds the same and is heavily plied with Autotune. There are songs on "Heartbreak On A Full Moon" that sound derivative. For instance, Brown's "Nowhere" sounds like Michael Jackson And Siedah Garrett's "I Just Can't Stop Loving You." Brown's "Juicy Booty" sounds like "Hoochie Booty" by Ultimate Kaos. There are other infringements as well.
I get the impress Brown was going for a New Edition type "N.E. Heartbreak" with his "Heartbreak On A Full Moon" but it has not been successful for the R&B singer. Then there are the excessive number of samples, such as Michael Jackson's "Remember The Time" used on Brown's "Even" which is not as good as the late singer's song. Brown also sampled "Tight Up Skirt" by Red Rat for his song "Privacy." Brown's "Hope You Do" samples Donnell Jones' "Where I Wanna Be." To make matters worse, "Heartbreak On A Full Moon" has no major hits such as Brown's 2015 top seller "Loyal" which has hampered sales.
RELATED ARTICLES
Chris Brown Facing Weak Second Week Sales Of His 'Heartbreak On A Full Moon' In The First Flop Of His Career
Chris Brown's New Album 'Heartbreak On A Full Moon' Flops With Weak Opening Sales
Chris Brown And Singer Agnez Mo Do A Collaboration But That's Not All They're Doing
Chris Brown Slams Fan On Instagram For Insulting His New Girlfriend Agnez Mo