Corrupt FBI Deputy Director Andrew McCabe Resigns In The Face Of Damning Private Memo Congress Seeks To Release As House Speaker Paul Ryan Calls For A Cleansing At The FBI
January 31. 2018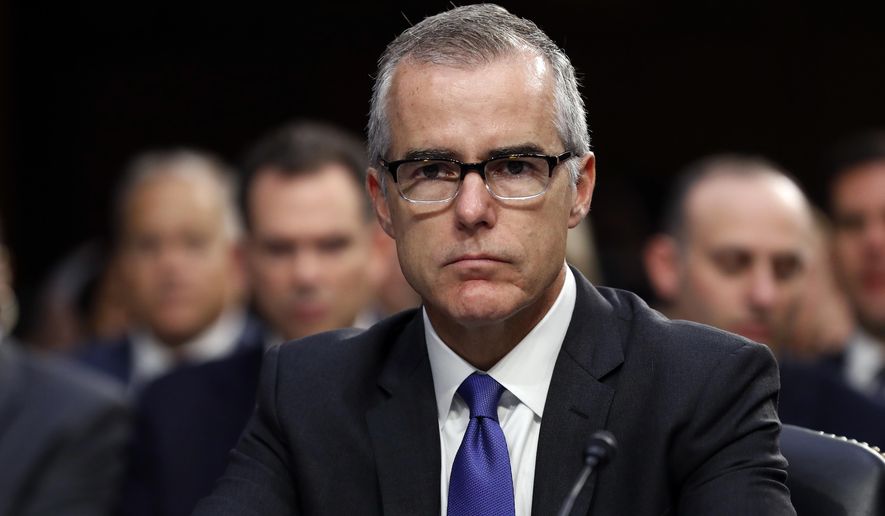 Andrew McCabe

FBI Deputy Director Andrew McCabe has abruptly resigned from his post at the corrupt law enforcement agency. Some people are stating McCabe fled the job early, over a potential Congressional vote to release a damning 4-page government memo, revealing terrible criminal behavior within the agency. Congressional House Speaker Paul Ryan stated of the FBI's crimes contained in the memo, "'Let it all out, get it all out there. Cleanse the organization. We should disclose. Disclosure is the way to go. Covering up mischief would be worse."

CNN is stating, an internal FBI email sent to employees by FBI Director Christopher Wray, revealed McCabe is leaving because he is under criminal investigation by the U.S. Inspector General, regarding the Hillary Clinton emailgate scandal, in reference to the failed presidential candidate and one time Secretary of State, using a private email server to conduct official and unofficial United States Government business. Clinton's conduct was strictly prohibited under U.S. law.

McCabe should have recused himself from the investigation into Clinton, due to his ties to her, but did not, in criminal violation of the law. He and former FBI Director James Comey, among others, also corrupted the case to wrongly acquit and exempt Clinton from prosecution for the crimes she had committed.

Last week, members of Congress made reference to FBI agents texting each other about a "secret society." Not much has been released on the matter. However, there is a secret society based on greed and so-called power that has members such as Hillary Clinton, Barack Obama, Robert S. Mueller, Rupert Murdoch, David Cameron, Kate Middleton (among others) and select people in the business world and entertainment industry. There are documents, computer files, banking records, phone records, emails and text messages that prove its existence, but it is being hidden by the FBI and CIA in violation of the Freedom of Information Act. It is similar to the infamous "Skull and Bones" secret society, but exponentially worse.

The FBI is a clandestine, subversive, lawbreaking federal agency not following the rule of law. Congress has given them too much leeway and they have used it to run riot. Where there is clandestine behavior in government, subversion and sedition are not far behind. The FBI has committed many crimes and not in the course of trying to protect America, but to gain so-called power and massive billion dollar budget from Congress (and money from the business sector). The FBI has violated every law on the books.

I am not surprised the FBI is fighting to block the release of the incriminating memo. They repeatedly violate the Freedom of Information Act. I have broken a number of stories on the Judiciary Report regarding the FBI hiding government files and engaging in criminal cover-ups.

I did so after failed attempts to lawfully obtain my file under the Freedom of Information Act. That's when I discovered the FBI has a

Secret File Room and I broke the story on it first in stating, "

They will hide files, compress them, move them out of the office, even deliberately list them under misspelled names in their database, to keep unconstitutional investigations quiet, which is illegal" (

February 10, 2009). Then one year later, my allegations on this site regarding the FBI's

Secret File Room was proven true via confirmation in the mainstream press.

It was one of over 300 exclusives I've posted to this site. I also broke the

When I exposed the FBI for it, they had to come clean when the mainstream press came knocking and inquiring. The FBI then admitted they have a secret file room located offsite, which they place certain files in, to be excluded from all Freedom of Information Act searches, which is illegal under congressional law. They broke the law under

Robert Mueller

's corrupt orders many times, at my expense and that of others.

Furthermore, if they were honest, upstanding, decent people, they would have nothing to hide. However, they are very evil, have done horrendous things and don't want it made public. This is the FBI's way. Anytime a file contains really heinous behavior by the FBI or those they collude with, harming or killing innocent people, the FBI criminally hides it, as they have done for decades regarding the Martin Luther King Jr file

(they tried to blackmail him, illegally spied on him in hotel rooms and his home, kept trying to kill him, then finally succeeded, but it backfired with King becoming a global martyr and the world loathing the FBI for abusing, terrorizing and

It was all semantics and criminally so on Mueller's part, to illegally move files from the FBI's office, then outright lie in Freedom of Information Act requests by the press and public, stating the FBI does not have any such files. How deceitful, evil and illegal. It's also known as obstruction of justice, as Mueller criminally hid incriminating and incendiary files that revealed serious crimes he and others committed, conducted by people inside and outside the agency.

You can't remove government files from an office in a bid to hide them, then falsely respond to Freedom of Information Act files. That is a criminal violation of the Freedom of Information Act. It is dirty, deceitful people like Mueller who cause people to lose faith and confidence in the government.

You make the U.S. government look crazy, sinister and unhinged when you do such treacherous and deceitful things. You should be prosecuted for it.

You are an embarrassment to the U.S. government.

I had gone to the FBI (and filed a complaint with the Met Police UK as well), publicly breaking the phone hacking story regarding Rupert Murdoch's News Corp and his vile business associate, Madonna, engaging in commissioned illegal wiretapping, computer hacking, email hacking, identity theft, death threats, assault and attempted murder, using private investigators like Anthony Pellicano.

Months later the FBI arrested Pellicano on the very things I accused him of during two FBI interviews in Miami. However, the FBI never released the files as it relates to me. They have repeatedly denied my Freedom of Information Act requests, stating they are withholding the files. They are doing so in criminal violation of the law.

Under congressional law the FBI are the agency that investigates criminal copyright infringement, copyright infringement, civil rights violations, hate crimes and racketeering, all criminal behavior Madonna and Murdoch engaged in. However, in violation of congressional law, the FBI has suppressed the files, refusing to release them because it reveals terrible criminal behavior by Madonna and Murdoch, and FBI corruption.

Some FBI employees witnessed that Mueller is a white supremacist who gave corrupt orders based on race and money, made racial slurs at the agency and engaged in obstruction of justice. Mueller refused to arrest anyone famous or very wealthy for their criminal behavior, which allowed people like Murdoch and company to get away with and continue to break the law to this day.

In fact, the day Mueller gets into trouble, there are FBI employees who can testify to the racial comments he made, his racial bias and how it criminally colored investigations at the agency. They can also testify regarding how he knowingly gave corrupt orders that cost innocent people their lives.

Mueller ordered some very evil things be done at the FBI, worse than anything J. Edgar Hoover ever did and they are kidding themselves that God is not going to severely punish them and all who are involved in the sick, greedy behavior that resulted in innocent people's deaths, including children, as well as families breaking apart due to the FBI's evil acts (under Mueller and Comey). The truth is going to come out.

I find it telling that select Democrats want to pass a bill to "protect" Mueller from prosecution at President Trump's hands in the Russia probe. When documents and other items start to leak revealing Mueller engaged in acts that resulted in the deaths of innocent people, including children, how will said politicians explain to the American people and the world why they enacted a bill to protect a mass murderer, who committed crimes against humanity. Your credibility will forever be gone.

Mueller is better off in prison. It's not Trump you'll have to protect him from. It's the anger of the American people and the world when they find out the full truth about the sick things he's done. No, I'm not encouraging violence. However, when you do something heinous enough, it will spark public outrage.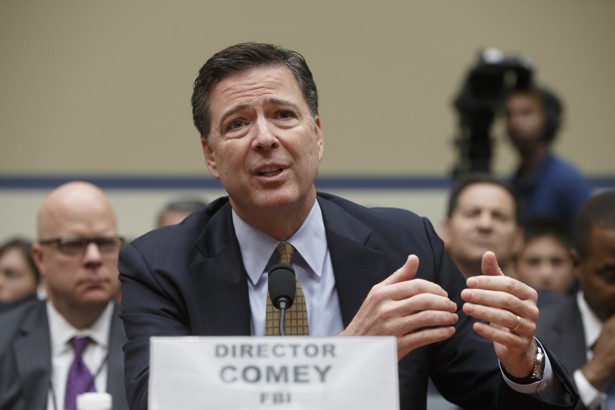 James Comey was caught lying in Congress. This week he also tweeted on Twitter.com, "Special Agent Andrew McCabe stood tall over the last 8 months, when small people were trying to tear down an institution (FBI)." Yea, the FBI is a mental "institution."
Side Bar: I find it hypocritical that former FBI Director, James B. Comey, is on Twitter quoting Bible verses regarding Mueller and the FBI, after spending years committing serious crimes with him at the agency, which they continue to cover up to this day.

Comey's tweet on Twitter
Comey even quoted the Bible regarding Mueller and the Russia probe. If Comey had any decency, he wouldn't be twisting the word of God to fit his narrative, when he knows full well that he and Mueller engaged in criminal acts at the FBI that cost men, women and children their lives (and it's only a matter of time before the truth comes out via a leak). They also committed serious financial crimes at the FBI, costing businesspeople and the American taxpayers a fortune. That's theft.
How is he quoting the word of God against Michael Flynn, who was wrong for lying on a job application and to the FBI, when he, Comey and his former boss Mueller, have done illegal things at the FBI, which cost innocent people, including children, their very lives, in matters they continue to cover up, but will be exposed.
Comey went along with, participated in Mueller's crimes and continued it after Mueller left the agency due to term limits. There is nothing good about that. He needs to stop twisting the Bible to suit their corrupt purpose, as God knows the truth and will not bless such behavior.

If Comey had an ounce of decency he would have told the truth about said heinous crimes, but continues to keep silent to cover his own backside and his former boss Mueller's from criminal prosecution. That's not justice, as written in the Bible verse Comey quoted. That is evil and corrupt.
Since he is quoting a Bible verse, Comey needs to think about the following in reference to his and Mueller's criminal behavior at the FBI, which harmed many people, and once again even resulted in innocent people dying. They should also think about their conduct in acquitting guilty people in investigations at the FBI/DOJ:
"You shall not steal, nor deal falsely, nor lie to one another. You are not to use my name to deceive, thereby defiling the name of your God." - Leviticus 19:11-12
"Whoever says to the guilty, 'you are innocent' will be cursed by peoples and denounced by nations. But it will go well with those who convict the guilty, and rich blessings will be showered on them." - Proverbs 24:24
"It is not good to show partiality to the guilty by perverting the justice due to the innocent." - Proverbs 18:5
"He who justifies (acquits) the wicked and he who condemns the righteous, both of them alike are an abomination to the Lord." - Proverbs 17:15
"You shall not distort justice; you shall not be partial, and you shall not take a bribe…" - Deuteronomy 16:19
"Woe to those who call evil good and good evil..." - Isaiah 5:20
STORY SOURCE
Washington Post: IG was investigating why McCabe appeared not to act on Weiner emails
Updated 6:07 PM ET, Tue January 30, 2018 - Washington (CNN)An ongoing government review of the FBI's handling of the Hillary Clinton email investigation has focused on recently departed FBI Deputy Director Andrew McCabe's role near the end of the 2016 campaign, The Washington Post reported Tuesday.
The Justice Department's inspector general has been asking for months about the timing of the FBI's decisions about Clinton-related emails on the laptop of disgraced former New York Democratic Rep. Anthony Weiner, the estranged husband of Clinton aide Huma Abedin. McCabe, then the second-ranking official at the FBI, "appeared not to act for about three weeks" when some of those emails were requested for examination, the Post reported, citing an undisclosed number of sources familiar with the matter.
According to the Post, the decision in late October 2016 came about three weeks after FBI leadership was alerted to the finding of the emails on Weiner's laptop. The inspector general has sought to find out whether McCabe or anyone else at the FBI wanted to avoid moving forward on examining the Weiner emails until after Election Day, the report said...
RELATED ARTICLES
Wikileaks Releases Hacked U.S. Federal Government Documents Showing The CIA And FBI Are Spying On People In Their Homes Via Hacking Smart TVs And Backdoors In Computer And Phone Operating Systems
FBI Corruptly Declines News Agencies Freedom Of Information Act Request For James Comey's Notes On President Donald Trump Meeting
New Scandal Erupts Regarding The FBI And Justice Department Monitoring Calls Of AP Reporters Confirming Previous Site Claims
Judge Tells FBI To Buzz Off Denying Request To Hack Into Person's Computer And Spy On Them Using Their Webcam
FBI Agent Arrested For Accepting A $200,000 Bribe To Derail A Criminal Case The FBI Was Supposed To Be Investigating
Eric Holder Accused Of Perjury In Congress Regarding Lying About Spying On Journalists Proving The Site Correct
Senator Demands FBI Investigate Rupert Murdoch For Hacking Rival & Stealing Their Copyrights
CBS News Confirms That FBI Director Robert Mueller Lied To Congress About Carrier IQ Spying
The FBI Was At The 2012 Olympics Illegally Spying Confirming What This Site Previously Stated
Confirmed: The FBI Spying On Journalists Emails Just As The Website Previously Stated
FBI Agents Making Sex Tapes, Paying Strippers And Leaking National Secrets
FBI Has Been Spying On Black Lives Matter As I Previously Stated Online
The FBI's Secret Spying Is Unnerving The Public
FBI's WMD Department Rebuked By IG