Could Floyd Mayweather And Manny Pacquiao Become The First Billionaire Boxers As Promoter Plans $1 Billion Dollar Fight To Include The Lucrative Chinese Market
"Fight Of The Century"
November 20. 2014
The Daily Mail is reporting, Top Rank, promoter, Bob Arum, is planning a $1 billion dollar fight between his very popular boxer, Manny Pacquiao and fellow pugilist, the undefeated reigning champ, Floyd Mayweather. This would be the most lucrative fight in boxing history and welcomed by sports fans the world over. Television rights in territories such as China, is expected to greatly boost revenues. The Daily Mail reported, "This bonanza is being made possible by the prospect of the first pay-per-view fight broadcast in China."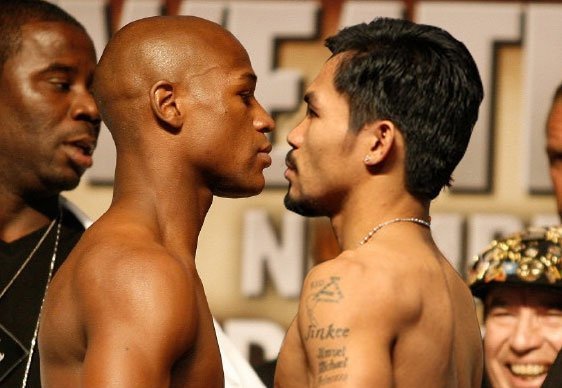 Floyd Mayweather and Manny Pacquiao
While we wait for the fight, Manny Pacquiao has done a funny commercial for footlocker, where he overhears a piece of a conversation between two men and wrongly believes based on their statements that Mayweather has agreed to fight him in the ring. The commercial has received a lot of attention online. No word on Mayweather's opinion of it.
STORY SOURCE
Floyd Mayweather vs Manny Pacquiao: The Billion Dollar Fight moves a step closer... so will they finally get in a ring together and make the richest event in sporting history?
Published: 08:50 EST, 17 November 2014 | Updated: 02:55 EST, 18 November 2014 - the Billion Dollar Fight – no, not a movie, the actual promotion – will come closer to reality if Manny Pacquiao wins in Macau on Saturday night. Say it slowly: One. Billion. Dollars. That is the mind-blowing value now being placed upon the boxing match the world has long been desperate to see.
Pacquiao versus Floyd Mayweather can become the single richest event in sporting history and the enormity of the prize will surely be enough to break down the barriers which have prevented it from taking place thus far. This bonanza is being made possible by the prospect of the first pay-per-view fight broadcast in China.
Promoter Bob Arum is predicting a subscription television audience in the People's Republic in excess of 100 million. That would generate double the $300million which is being projected as the US pay-TV value of the Fight of the Century...
RELATED ARTICLE
Floyd Mayweather's Father Says His Son Will Fight Manny Pacquiao In News Welcomed By His Top Rival