Crazy Madonna Wants To Do A Story Of Her Life But No One Cares
May 22. 2017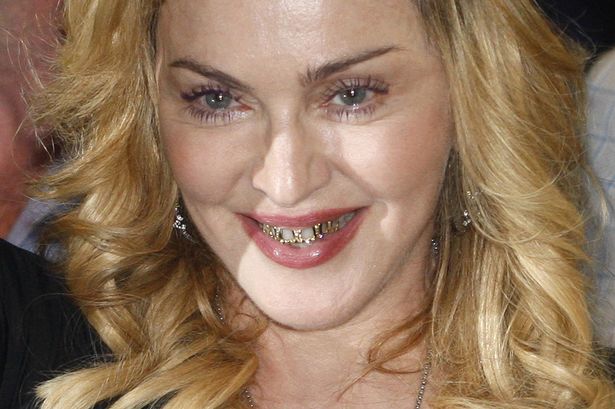 Madonna
Deranged, evill pop singer, Madonna wants to do a story about her life, centering on the 80s when she became famous, but there's just one problem, no one cares. Since the boycotts I have called for of her career, she can't even sell records anymore. They've all flopped. She had to start giving away that garbage for free.
Madonna has been exposed as a dirty criminal abusing and robbing others for fame and fortune. She's done so from the beginning of her fraudulent career. Through her Kabbalah cult, she has destroyed the lives of many, in incidents that even resulted in fatalities and in more ways than one, over her greed and obsession with money and fame.
Madonna is an untalented, undignified, unethical, child abusing piece of trash (she beat up an 11-year-old and was sued for it) who insanely believes she is actually a queen on a throne. Madonna has crazily taken this "queen of pop" garbage seriously and literally believes she is royalty. She has insanely labeled talented female singers "a threat to her throne." In trying to protect her imaginary throne, Madonna commissioned horrible acts of abuse and theft against others. She should be in prison. Not on anyone's television screen or radio.
She has also been roping Michael Jackson's fragile daughter into her madness. Madonna has Paris Jackson in her sick cult, even wearing Kabbalah red string bracelets. During that time, Jackson's daughter tried to commit suicide and was sent to a psychiatric ward of a hospital, just like other Madonna pursued to join the schizophrenia promoting Kabbalah cult, such as Britney Spears, Lindsay Lohan, Paris Hilton, Kanye West and Chris Brown, among others.
The corrupt FBI has allowed insane Madonna to ruin so many young lives and world history shall judge and condemn them for it. However, make no mistake, Madonna and those in government who were corrupted via bribes which they are known for (FBI Agent Arrested For Accepting A $200,000 Bribe To Derail A Criminal Case The FBI Was Supposed To Be Investigating and Another FBI Agent Caught Taking Bribes To Derail Serious Cases) to allow the lawless Kabbalah cult to continue, will be held accountable by world history and the long arm of the law, when they least expect it.
In closing, boycott Madonna's planned biopic she is pitching to Universal. Don't support a vile, dirty, evil woman who has cost people their lives and defrauded many out of their money and property.
RELATED ARTICLES
Wikileaks Releases Hacked U.S. Federal Government Documents Showing The CIA And FBI Are Spying On People In Their Homes Via Hacking Smart TVs And Backdoors In Computer And Phone Operating System Confirming Previous Judiciary Report Site Claims
Obama Administration Wastes Huge Sums Of American Taxpayer Money Breaking The Law In America, Britain And Jamaica On Behalf Of Madonna's Kabbalah Center In Committing Egregious Human Rights Abuses
Madonna, Jay Z, Beyonce, Rihanna, Rita Ora And Jessie J Sued Over Copyright Infringement, Invasion Of Privacy, Commissioned Criminal Harassment And Assault Via The Kabbalah Center
Madonna's Kabbalah Center Opening Shop In Britain Resulted In Innocent People Dying And Being Swindled Out Of Their Money
Madonna Illegally Borrowing Money From Banks To Fund Kabbalah Center Cult's Criminal Invasion Of Privacy
Hollywood, FBI And CIA Holding Up Life Saving Pharmaceutical Drug Patents Out Of Financial Greed