Damon Dash Kicks Son Out Of House Over DUI
August 26. 2017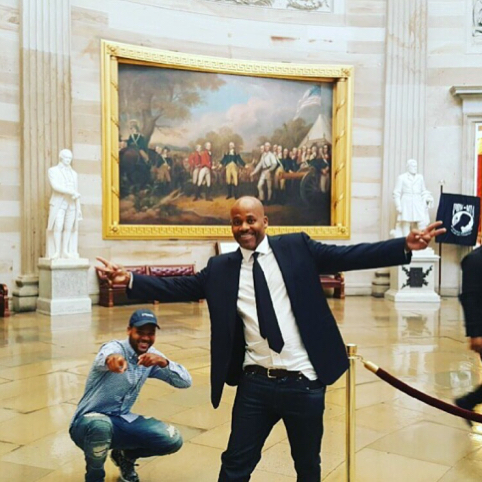 Damon "Boogie" Dash Jr. and Damon "Dame" Dash Sr.
Former rap music label co-owner, Damon Dash, is having trouble in his family, as seen on the reality show "Growing Up Hip Hop." Dash co-founded the Roc-A-Fella rap label with former crack cocaine dealer, Jay Z, using the rapper's drug money. Dash raised his children in a toxic rap industry environment full of drugs, alcohol, promiscuity, greed, misogyny and violence. Now his son, 25-year-old Damon "Boogie" Dash Jr, is following the negative examples he saw in the industry and is repeatedly getting into legal trouble.
Boogie incurred two DUIs in one year, as he was arrested for "driving under the influence" of alcohol and or narcotics. Boogie hid the second DUI from his father. However, due to circumstances beyond his control, Boogie had to inform his dad of what occurred. Boogie raised $5,000 to pay a lawyer's retainer fee. However, he needs $10,000, which he sought from his dad. Boogie could potentially face a jail sentence, as it is his second DUI in one year.
Boogie drinking alcohol
Dash became angry upon learning of the second DUI and kicked Boogie out of his Los Angeles home. He also confiscated the car he bought his son. Previously in 2013, Boogie punched, slapped, shoved and choked a former girlfriend. Boogie gave her a black eye, split lip and bruises. He was arrested, prosecuted and hit with a restraining order. He had another previous arrest, but it was sealed by the court.
Dash has become angry over Boogie's behavior, but he is living out the inebriated, promiscuous, misogynistic, violent lifestyle he saw and heard at Roc-A-Fella. Dash is partly to blame for how his son turned out. He placed him in said destructive environment growing up, promoting it to him and the world as a way of life. To make matters worse, Dash is opening a marijuana business and placing his addict son in charge, after talking him out of going to university, which is very poor parenting. Kicking him out of the house was not the best idea either. He needs intensive rehab and anger management classes.
RELATED ARTICLE
Damon Dash's Son Boogie Is An Addict And Alcoholic On 'Growing Up Hip Hop' Due To The Environment He Was Raised In