Don't Let Her Bankrupt You
April 17. 2013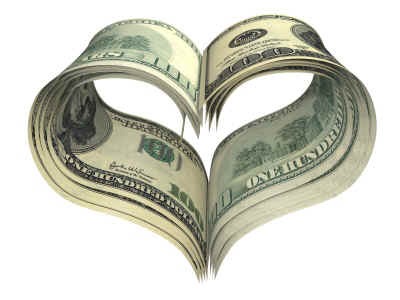 Relationships can be difficult. Finding the right person for you, especially when you have money, can be tricky. Some women are shameless gold diggers. They use their looks to get men they do not really have feelings for to get to their money. Women of all races have done this, rather than supporting themselves. It really isn't fair to deceive a person that you care for them, when you're after their money.
One woman I know married a man twice her age because he has money, but she's not in love with him. They are as unhappy as can be. That's not to say people with age differences can't fall in love and marry, because they do all the time and some happily make it work. Older men often have their act together in terms of knowing how to treat a woman, where as younger men are sometimes immature.
There's a guy I know whose girlfriend is using him for money. All of us can tell she is using him for his money, but for some reason he is not getting the picture. She's always asking him to buy her stuff - everything is "get me this" "can I have that" "I want this" "buy me that" or "I need this." She is slowly but surely bankrupting him, as he has racked up some serious bills trying to make the gold digger happy. And when she does bankrupt him, we his friends, will have to help him out.
But men do this as well. One of my friends has a lot of money, but you would never know it as she lives a fairly modest life. However, as my family helped her with a financial transaction, we know she has a lot of money hidden all over the place. She is very shrewd and the one boyfriend that tried to burn her in the area of money proverbially got dragged through court upside down for it. We haven't seen him since (LOL).
However, another of my friends fell in love with this guy, who was a salesman. She thought he cared about her, but he was using her. She is a very giving person with a kind heart, so to help him with his job, she used $10,000 of her life savings to buy from the company he works for, as he would get the commission for the sale. I never trusted him and begged her four times not to spend the money, telling her to save for a rainy day (especially in this economy).
He led her on and they dated. She was happy for a little while and I was happy for her, but got a bad feeling about it. She bought him an expensive mobile phone because he said his was giving trouble. One day she came to me asking about buying a computer, because I'm the tech expert in our circle of friends. I told her she didn't have to buy the high-end computer she was asking me about and I'd get her a good low priced built one that does all the same things. Then she told me it wasn't for her, it was for him and the high end computer is what he requested. Oh, I nearly lost it. I walked her right out of the computer store. I don't like it when people take advantage of my family or friends.
Usually I'm very polite, but the one time I met him, I was giving this dude some serious "side eye" (I was staring him down like my name was Suge Knight) because I like to follow my instincts and got a bad vibe about him. Months later, she found out he is married with kids...this is after he borrowed money from her, on top of what she gave him in sales. She was devastated. People don't think when they use others it has an emotional effect, while some just don't care, only in it for themselves.
The sad part is her boyfriend before him was nicer, did thoughtful things for her, got along with everyone and anytime anything went wrong, he was always there for her. Thankfully they got back together after she gave the married male gold digger the boot.
In closing, I'm not a materialistic person, but in this world money is a factor. If you're in a relationship, it's great to be kind, generous and loving with each other. Just make sure you aren't being used and taken advantage of by someone who really doesn't care about you, only about your money. Because when your money is gone, they will be too.
RELATED ARTICLE