Evelyn Lozada's Marital Troubles With Chad Ochocinco Johnson Being Laughed At By NBA And NFL Athletes' Wives And
August 27. 2012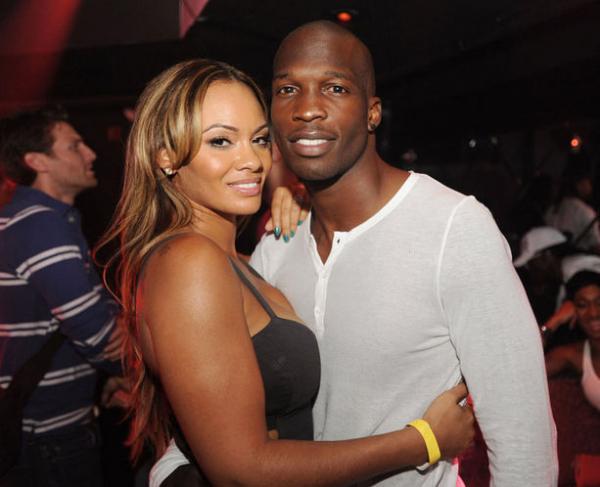 Evelyn Lozada and Chad "Ochocinco" Johnson
I have it on good authority that wives and girlfriends of athletes in the NBA and NFL are laughing at the troubles of "Basketball Wives" reality star, Evelyn Lozada, who has filed for divorce from footballer, Chad "Ochocinco" Johnson, for cheating and beating on her.
For well over a decade, Lozada was having sex with other women's husbands, fiancés and boyfriends in the NBA and NFL, causing them distress and heartbreak. As the phrase goes, now the shoe is on the other foot and Lozada is devastated, as her marriage has crumbled in one month flat.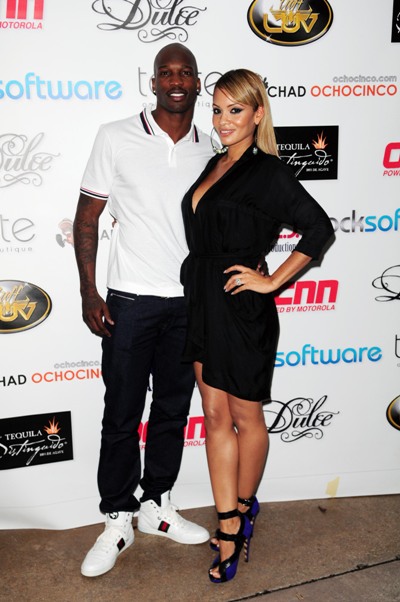 However, she saw them as her ticket to the big time and sold herself for money and gifts from famous athletes. Now other women are doing the same regarding her husband and she lost her temper, which result in Johnson inexcusably head butting her, leaving a three inch open wound on her forehead.
Evelyn Lozada for the first time since the domestic violence altercation with Chad Johnson
This story is a teachable example to women messing around with other people's husbands, fiancés and boyfriends. Don't do it, as it is a cruel thing to happen to another person and you wouldn't like it if the same thing later befell you.
Learn to respect people's marriages and relationships. Earn your own money and don't look to other people's husbands, fiancés and boyfriends as a way to get rich. Work hard in your own right, get your education and strive for excellence in your endeavors you can succeed. And whatever field you chose, let it be an ethical one. God will help you.
RELATED ARTICLES
Will Evelyn Lozada Break Her Silence In A Television Interview On Being Beaten Like Rihanna Did
After All Evelyn Lozada Went Through With Two Engagements To Two Ballers Her Marriage Ends In Divorce In One Month
How Will Chad Ochocinco Johnson And Evelyn Lozada Support Their Lavish Lifestyle After Being Fired Twice This Week Due To Domestic Violence
Now That Evelyn Lozada Has Filed For Divorce Where Does That Leave Chad Ochocinco Johnson
Footballer Chad Ochocinco Johnson Arrested In Florida For Head Butting Wife Evelyn Lozada
Evelyn Lozada Has Put Her Wedding Plans On Hold Due To Cheating
Basketball Wives Star Evelyn Lozada And Chad Ochocinco Still Having Problems Behind The Scenes