FBI Breaking The Law On Campus
May 28. 2007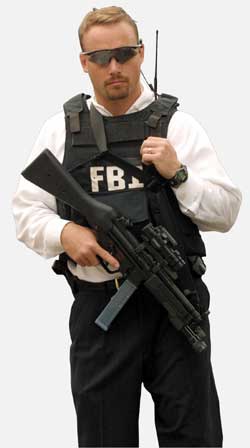 This month alone, there have been two incidents of FBI agents breaking the law on university campuses. This does not set a good example and beckons the question, what are they really doing there.
FBI Agent Ryan Seese was arrested for indecent exposure via masturbating in the women's bathroom at the University of Arizona, as I mentioned in an article two days ago click here
But there was also another disturbing case this month that occurred on the University of California campus. Another FBI agent, who was not named, deliberately bumped a 21 year old Muslim student with his car.
It seems the FBI agent was following the student around, who then got out his car to find out why. The agent then decided the best way out of the predicament, that was caused by him being conspicuous, was to rev his engine and "bump the student" with his car. Smooth - ok, not. That was illegal...and mean.
What did the FBI have to say: "I can tell you we don't monitor students exercising their First Amendment rights." No, you just bump them with your car!
The incident is being investigated by the police.
While the FBI has every right to be on a campus if an investigation truly warrants it, these two incidents, coupled with Mueller causing Harvard to break with tradition and established rules, in having students arrested who protested his conduct, and rightfully so, looks bad.
It is excessive, heavy handed and an abuse of power and public trust. Maybe some sensitivity training would be in order.
Or you can fire Mueller and hire someone who knows what he is doing and will hand down proper directives and guidelines that will prevent incidents like these from occurring. Clearly, these campus issues aren't isolated incidents.
Report: FBI agent bumped Irvine Muslim with car
By: Associated Press -
IRVINE, Calif. -- The University of California, Irvine, is investigating whether an FBI agent bumped a Muslim student with his car near the site of an anti-Israel protest.
Yasser Ahmed, 21, said he noticed he was being followed by a car with blackened windows as he drove a 24-foot moving van on campus Monday night to pick up an exhibit sponsored by the Muslim Student Union.
The exhibit was a mock wall set up on campus to represent a barrier Israel has built in Palestine.
Ahmed said he got out of the truck, stood in front of the car and asked the driver to identify himself.
When the driver of the Ford Taurus wouldn't speak, Ahmed said he tried to snap the car's license number with his cell phone.
The driver then revved the engine and began pushing Ahmed back with the front bumper, he said.
Ahmed got out of the way and the car drove off but it was chased by other students on bicycles and a campus police car.
The driver quickly was stopped and identified himself as an FBI agent who was "doing surveillance" in the unmarked car, campus Police Chief Paul Henisey said.
The alleged incident caused "a degree of emotion and concern" on campus, according to the chief.
"There are potential criminal allegations, and we're still not certain what happened," Henisey said. "We're trying to determine if there was an assault and if the vehicle was used."
"He didn't open his window and didn't let me know who he was. He never said anything," Ahmed said Friday. "All he had to say was that he was FBI or law enforcement and this wouldn't have happened. I was frightened."
The agent was "in the course of an investigation that brought him to the campus," said Laura Eimiller, a spokeswoman with the FBI in Los Angeles.
She declined to elaborate but said the agent was not required to identify himself because he was not making an arrest.
"But I can tell you we don't monitor students exercising their First Amendment rights," she said.
"Agents can be led anywhere during the course of an investigation," Eimiller said. "There is no surveillance being conducted at educational institutions."
Last year, Muslims protested after an FBI agent was quoted as telling a business group in Newport Beach that the agency was aware of activism among Muslim students at UC Irvine and the University of Southern California.
J. Stephen Tidwell, assistant director in charge of the FBI in Los Angeles, met with students and parents at an Irvine mosque to assure them their community was not being monitored.
Now, "some parents are asking, again, `What's the FBI doing on campus?"' said Hussam Ayloush, executive director of the Southern California chapter of the Council on American Islamic Relations in Anaheim." - AP