FBI's New Global Terrorism Fight
June 2. 2009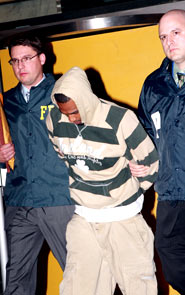 This is a follow up to the May 27, 2009 article titled "FBI Accused Of Entrapping Terrorist Wannabes." In the article I commented on the FBI entrapping bumbling locals to make terrorist arrest quotas, while not netting any international terrorists.
The next day, the FBI announced they are, "Planning a bigger role in the terrorism fight" by having a "global role in terrorism operations."
Well, maybe now you can catch some real terrorists, instead of inventing them, via promising upset Muslim Americans life saving surgeries for their loved ones, if they simply recite a few Al Qaeda lines. When has the FBI ever gotten close enough to any real international terrorists to know their initiation oaths and true practices.
You know, I'd be surprised if the real Al Qaeda even said that stuff the FBI entraps domestic citizens with. Al Qaeda, Osama and the Taliban must read this stuff and wonder amongst themselves, "Do you say that, because we certainly don't!"
FBI planning a bigger role in terrorism fight
May 28, 2009 - The FBI and Justice Department plan to significantly expand their role in global counter-terrorism operations, part of a U.S. policy shift that will replace a CIA-dominated system of clandestine detentions and interrogations with one built around transparent investigations and prosecutions.
Under the "global justice" initiative, which has been in the works for several months, FBI agents will have a central role in overseas counter-terrorism cases. They will expand their questioning of suspects and evidence-gathering to try to ensure that criminal prosecutions are an option, officials familiar with the effort said.

Though the initiative is a work in progress, some senior counter-terrorism officials and administration policy-makers envision it as key to the national security strategy President Obama laid out last week -- one that presumes most accused terrorists have the right to contest the charges against them in a "legitimate" setting...