FBI Warning Public About Hackers Secretly Triggering Web Cams To Spy On You In Your Home
December 21. 2012
The FBI put out a warning this week stating the public should be careful regarding hackers secretly turning on your computer webcams to spy on you in your home. This is a problem the Judiciary Report has been writing about for years, due to the phone hacking case, which I broke first, that also has other illegality attached to it.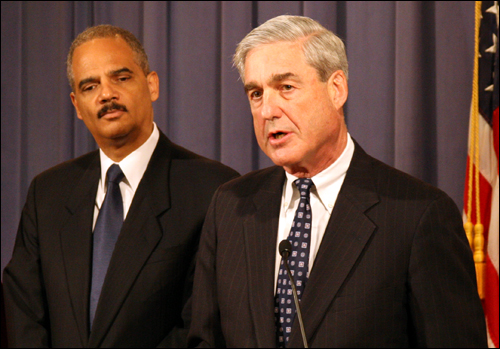 Attorney General Eric Holder and FBI Director Robert S. Mueller
However, the Judiciary Report would be remiss not to mention, the FBI has been known to secretly trigger people's webcams to spy on them at home, in the office, hotel rooms and wherever the computer unit/laptop is located. As written in a past article, the Judiciary Report found a case in the court system where the FBI was reprimanded for using a hidden camera in the private space of a family they were surveilling, due to one of the parents being a target of the investigation and ended up filming one of the couple's minor children with the camera.
This was a serious breach of the Constitution and U.S. code. The FBI has also engaged in remote triggering of webcams to watch certain people in their homes they have placed under surveillance. So in short, practice what you preach.
RELATED ARTICLE