.
Floyd Mayweather Flaunts His Wealth And Manny Pacquiao Jokes About It In The Lead Up To Potential May 2, 2015 Fight
January 9. 2015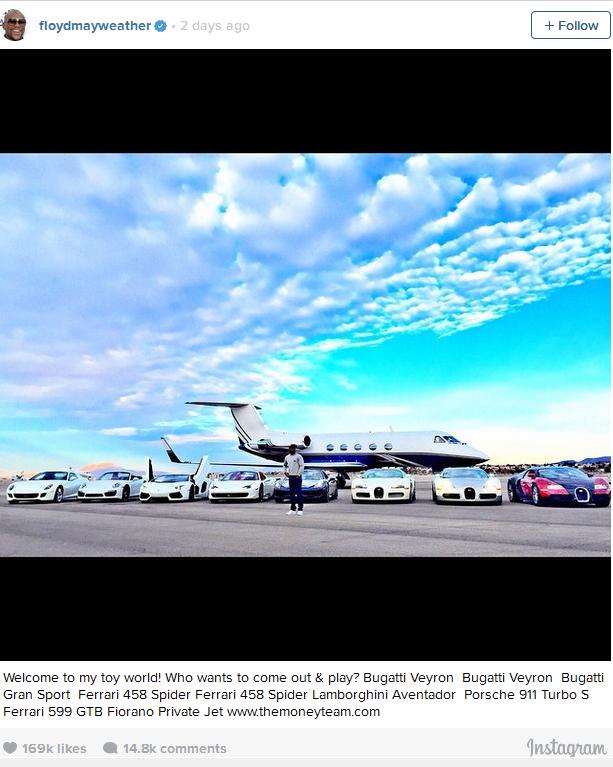 Floyd Mayweather
In a recent item uploaded to Instagram, the wealthiest boxer in the world, Floyd "Money" Mayweather, posted a photo of himself posing in front of his private jet, valued at $25,000,000, comfortably perched behind a row of his fleet of luxury sports cars worth $3,000,000. Mayweather's top rival, boxing star, Manny "Pac-Man" Pacquiao, posted a contrasting photo of himself in front of a fire waiting for Mayweather's call regarding their highly anticipated fight.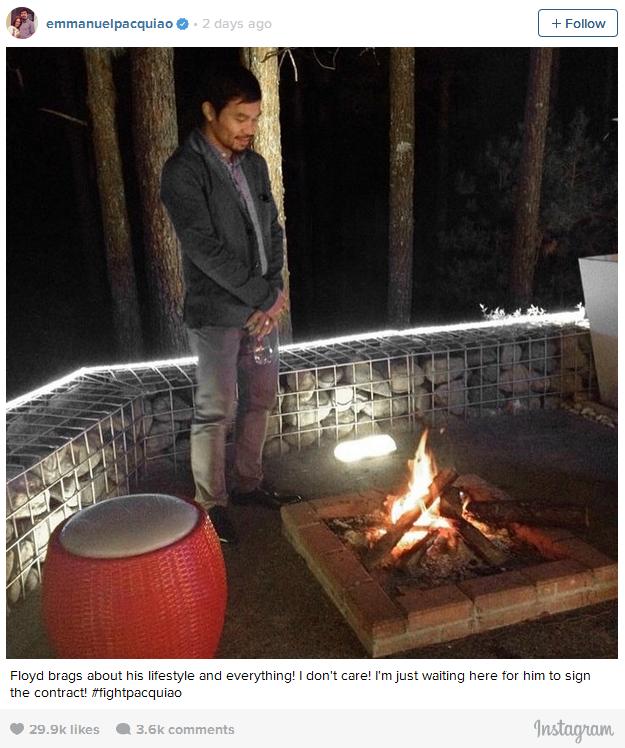 Manny Pacquiao
BoxRec posted an item on their website stating Mayweather v. Pacquiao is scheduled to take place on May 2, 2015, in Las Vegas, Nevada. Could this be the moment fight fans have been waiting for. One thing is certain, if the fight goes off, Mayweather and Pacquiao would make a fortune. A sporting event of this magnitude would contain multi-layered marketing deals regarding ticket sales, merchandising, pay-per-view and internet rights. As stated on the site previously, if the rights encompass China, where Pacquiao is very popular, it could turn into a $1billion dollar event. As both men bring something to the table, the split should be even.
RELATED ARTICLES
Floyd Mayweather's Eyes On Rival Manny Pacquiao For Billion Dollar Fight After His Massive Victory Against Chris Algieri (Video)
Floyd Mayweather Lashes Out At ESPN's Stephen Smith Over Manny Pacquiao Who Responds (Video)
Tyson Fury And Dereck Chisora Finalize November 2014 Fight For Big British Boxing Rematch