Floyd Mayweather Speaks To Police Over Murder Suicide Case He Witnessed On FaceTime
December 12. 2014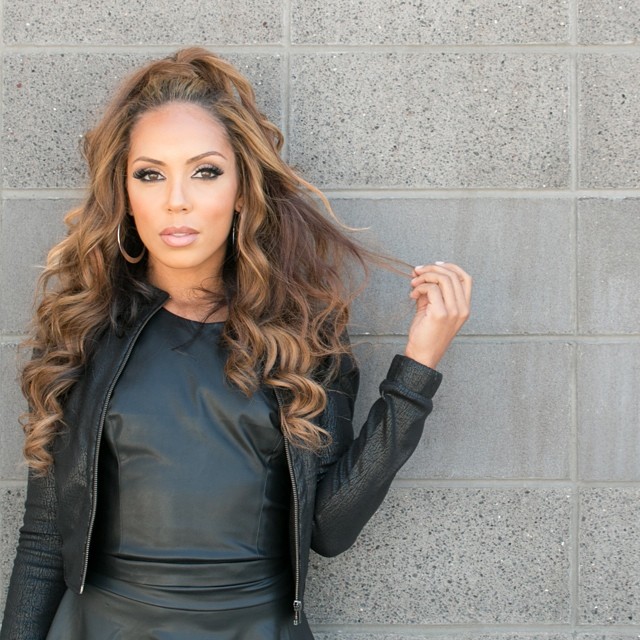 Stephanie Moseley
The New York Post reported that the world's richest boxer, Floyd Mayweather, reluctantly spoke to police about the murder suicide committed by Money Team member, Earl Hayes, who killed his wife, Stephanie Moseley, the star of the copyright infringing VH1 show "Hit The Floor". Haynes then turned the gun on himself. The Post is stating Mayweather was "less than willing" to cooperate in the case.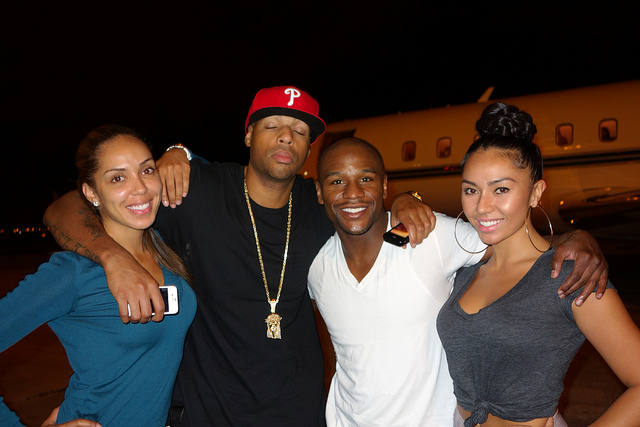 Stephanie Moseley, Earl Hayes, Floyd Mayweather and a friend
TMZ has blamed Mayweather for the murder suicide stating he riled up his friend, Hayes, who was hurt and upset over his wife, Moseley, having cheated on him with R&B singer, Trey Songz, among others. Mayweather refuted TMZ's claims and told police he was trying to calm his friend down. TMZ stated police asked Mayweather, "Why Hayes called him at 7 AM. Mayweather said it was because they were best friends and Hayes was trying to say goodbye."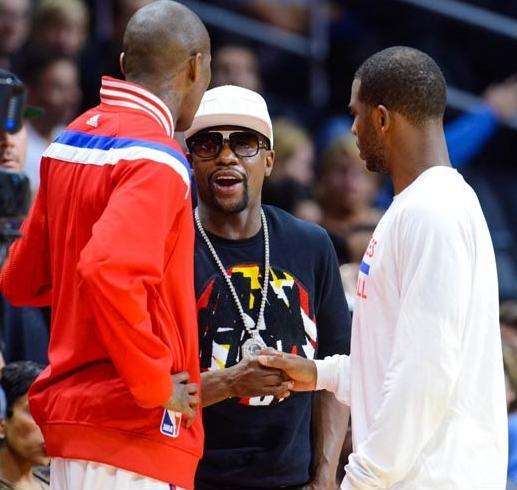 Floyd Mayweather at a Los Angeles Clippers basketball game after murder suicide
Ironically, with all the material things Mosely and Hayes flaunted on social networking, there is no money to bury the couple. As a result, Moseley's family has been soliciting donations online. Thus far they have raised several thousand dollars. If funds continue to be low, maybe Mayweather will contribute to funeral expenses.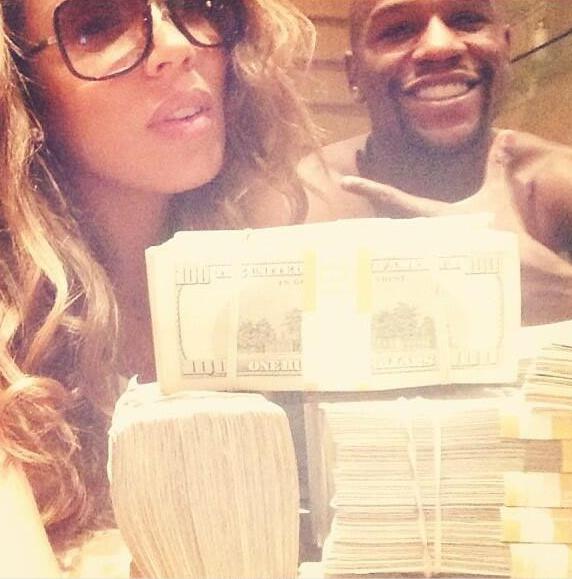 STORY SOURCE
Floyd Mayweather Tells Cops I Heard the Murder/Suicide
12/11/2014 9:28 AM PST BY TMZ STAFF - Floyd Mayweather finally sat down with the LAPD for a 2-hour interview Wednesday, telling detectives he desperately tried talking his good friend, rapper Earl Hayes, out of killing himself. Law enforcement sources tell TMZ ... Floyd confirmed the story first reported on TMZ ... that he was on FaceTime Monday morning with Hayes when the rapper walked away from the phone, into the bathroom and pumped multiple bullets into his wife, Stephanie Moseley.
Floyd told detectives after Hayes shot his wife, he came back to the phone and continued talking with Floyd. The boxer says Hayes said he was going to shoot himself and Mayweather pleaded with him ... to no avail. As for what happened before shots rang out ... Mayweather acknowledged he was talking with Hayes about Stephanie's infidelity, but denies riling the rapper up. Detectives asked Floyd why Hayes called him at 7 AM. Mayweather said it was because they were best friends and Hayes was trying to say goodbye.
Floyd Mayweather details murder-suicide to LAPD
December 11, 2014 | 1:24pm - After smiling it up at two NBA games, Floyd Mayweather finally sat down with the Los Angeles Police Department on Wednesday. In a two-hour interview, the famed fighter discussed what he knows about Monday's murder-suicide involving Earl Hayes and his wife, Stephanie Moseley, reports TMZ.
Sources tell the site Mayweather, 37, was indeed FaceTiming with Hayes when Hayes left the conversation to shoot Moseley, 30, who was taking a bath. When Hayes, 34, returned to the phone, Mayweather reportedly begged him not to take his own life. Mayweather confirmed to police that he and Hayes were discussing VH1 star Moseley's alleged infidelity, but denied inflaming or escalating the conversation. As for why they were chatting so early on Monday morning, Mayweather said Hayes was calling to say goodbye. Mayweather's interview with authorities comes after reports that he had been "less than willing" to cooperate.
RELATED ARTICLES
TMZ Blames Floyd Mayweather For Inciting Violence In Murder Suicide Of Stephanie Moseley And Earl Hayes Who Had 10 Pounds Of Marijuana In Their Apartment
Trey Songz Outed As The Singer Married 'Hit The Floor' Star Stephanie Moseley Was Cheating With Leading To Murder Suicide By Earl Hayes That Floyd Mayweather Witnessed On Facetime
Boxer Floyd Mayweather Witnesses Murder Suicide Of VH1 'Hit The Floor' Actress On Facetime After Her Husband Kills Her For Cheating On Him (Video)