Former FBI Directors James Comey And Robert Mueller Conspiring In Donald Trump Russia Investigation
June 24. 2017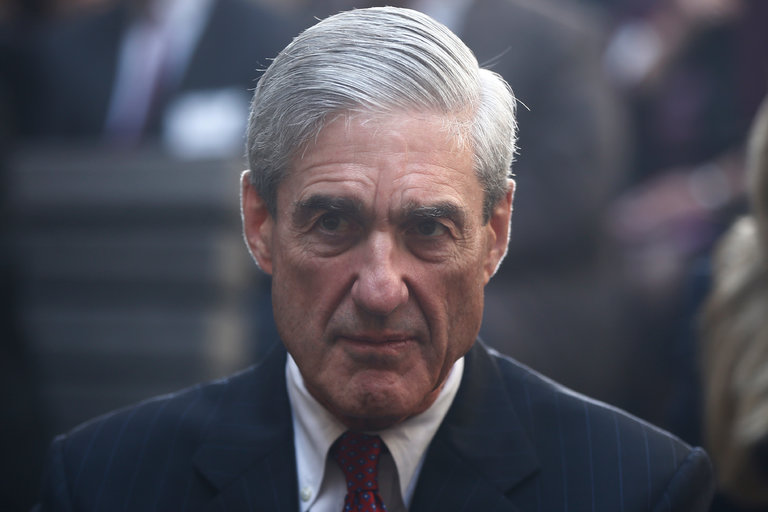 Robert Mueller
The U.S. government's investigation into claims president Donald Trump and his team have been unduly influenced by Russia, is being headed up by thoroughly corrupt, Robert Mueller, who is the former head of the Federal Bureau of Investigation (FBI). Mueller is an unbalanced, hateful white supremacist intent on "world domination" (his words in Congress years ago, not mine).
Mueller's disgraceful behavior placed the Federal Bureau of Investigation in terrible legal trouble, as the law enforcement agency was repeatedly sued by minorities employed by the FBI (including FBI agents) and members of the public alike, for abusive, racially motivated conduct that was simply disgusting.
Mueller also sent FBI agents into the international community and committed scores of serious felonies in Britain, Europe and the Caribbean, under his deranged, abusive racial agenda that disgraced the FBI, among others. Mueller is of very poor character and unfit to lead any investigation into anyone. He is a criminal himself. How do you justify appointing such a dishonorable and evil man to investigate others.
Former FBI Director, James Comey, was fired by Trump, which has sent him into a downward spiral. Comey stated he was fired over his investigation into the administration's alleged ties to Russia. However, Trump fired him for being a disloyal, media hungry, attention seeking show off, who betrayed him in leaking private, privileged, "confidential" information to the New York Times.
Under U.S. law, it is a felony to leak "confidential" information, as it bears one of the three government classifications currently in use (confidential, secret and top secret). It has been established Comey's notes are "confidential." To disclosed classified information to the public is a violation of the U.S. Espionage Act of 1917. Therefore, Comey broke the law.
Men like Comey and Mueller love seeking gray areas to engage in unlawful conduct, violating the spirit of the law and its correct interpretation. Furthermore, if Comey thought what he was doing in leaking his "confidential" notes to the press was correct and lawful, he would not have secretly done so through a third party. In fact, it was cowardly, not to mention dumb, as it is illegal.
Comey claimed he leaked the information on Trump to one of the top, most widely read newspapers in America, to force the issue of installing a special prosecutor. However, it was a pathetic excuse for attention seeking behavior in leaking his FBI notes. To obtain an agents notes, one must apply under Freedom of Information Act (FOIA) or via a court subpoena.
Depending on the contents of the notes, the FBI's parent agency, the U.S. Justice Department, may deny your request under one of several FOIA exemptions, if they deem it impacts national security. Therefore, how can his confidential notes appear in the public domain without any paperwork to justify Comey's actions. U.S. Attorney General, Jefferson Sessions, did not authorize the release of Comey's notes.
Congress has established protocols and mechanisms for whistle blowers. Under congressional law, the Whistle Blower Protection Act of 1989 (WPA), Comey was to contact Congress. All Comey had to do was go to Congress in a private, closed session and air his concerns regarding his meetings with Trump, in reference to the Russia investigation. However, that would get egotist Comey no publicity in the New York Times to satisfy his massive ego.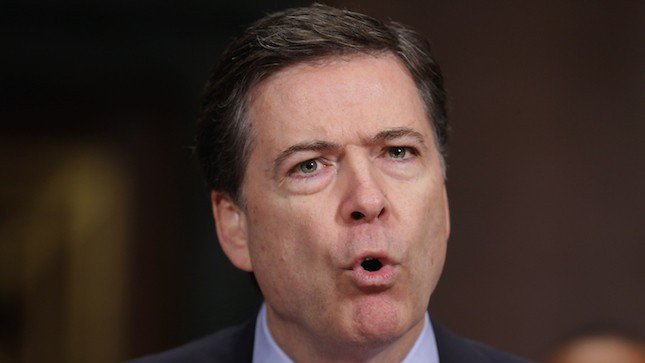 James Comey
Comey has consistently engaged in acts that have brought the U.S. government's name into disrepute. For instance, when Comey held a press conference regarding Hillary Clinton and the FBI's investigation into the former presidential candidate mishandling classified information, he greatly damaged America's name, causing the public to call the government corrupt and rigged.
Social networking was flooded with tens of thousands of angry comments from Americans, slamming Comey and the FBI as corrupt. Why? Comey stated in the disgraceful press conference that the FBI will not prosecute Clinton for mishandling classified information, but if any member of the public does what she did they will be arrested and imprisoned. What a stupid thing to say. It made the government look so corrupt. It angered many, as it exposed the two tier justice system.
It also offended the Justice Department, as they stated Comey overstepped his bounds. The FBI is supposed to investigate cases and turn over their findings to the Department of Justice, who then makes the call on whether to prosecute. Comey illegally took on the role of the Department of Justice, when he is not a U.S. attorney or the Attorney General of the United States.
Comey was also caught lying in Congress while under oath on two separate occasions, in relation to the Hillary Clinton criminal investigation. Comey consistently eroded public confidence in the FBI and U.S. government as a whole. When his misbehavior was called into question, he issued formal statements stating he misspoke. Yet, he had days to correct this behavior, but did not do so until he was slammed by politicians and the press as a liar.
It also did not help matters that select FBI agents under Comey illegally sent former president, Barack Obama, investigative reports he is no longer entitled to as a civilian. Some of the data said select FBI agents have been sending Obama contain illegal, invasive data, regarding ops they are not supposed to be doing and on taxpayer money, as there exists no legal foundation for the criminal invasion of privacy, treachery and outright fraud.
The President of the United States can hire and fire the FBI Director, as well as U.S. attorneys and the Attorney General (Article II, section 2 of the U.S. Constitution and 28 U.S.C. 503). As the phrase goes the Attorney General, "Serves at the pleasure of the president." Trump did not break the law in firing Comey. However, Comey's termination gave the impression Trump was trying to put a stop into the Russia investigation and this is where the problem occurred in the press.
Trump has been mulling firing Mueller as well, which some have advised against, as it would create a certain impression. However, Mueller should not have been appointed to lead the investigation in the first place, as he is one of the biggest criminals in Washington and world history shall record it as such. Where will this leave those in Congress who pushed for Mueller to lead the investigation? On the wrong side of world history and embarrassed for their vote of confidence in a outright criminal and human rights abuser, who cost many innocent people their lives.
Comey and his former boss of many years, Mueller, are now conspiring in the Russia investigation, to vindictively attack the Trump administration. They are not seeking the truth, but revenge, which is not in the best interest of the American people. Politicians are stating Mueller needs to step down, as he has assembled a politically partisan team for the investigation, which will not be impartial or truthful under such conditions.
If the U.S. government is truly serious and concerned about possible ties to Russia, a truly independent investigator of good character should be appointed to conduct an investigation and in an expeditious manner. This saga has drawn on long enough and is not good for the country. It is creating hostility and mass paranoia among the public, as well as a lack of productivity in the government.
The nation needs definitive answers and closure. It is time to wrap this up, release the findings and move on. How can Congress and the White House be about the people's business, while they are "circling the wagons" with a fruitless fixation on Russia. Some are stretching this out for political reasons, while not accomplishing a darn thing in serving the American people. It makes absolutely no sense.
Some members of Congress shave been in there too long, as there are no term limits and are acting out of self-interest regarding their party and not what is best for the American people. They go along with things they know to be heinously wrong, to remain in power. World history will judge them as well and in a very harsh light.
I am amazed that some are actually buy into this foolishness regarding Russia taking over the U.S. government. I know Trump has business ties to Russia, as many rich people around the world do. I also know Russia is trying to curry favor with the U.S. government over financial sanctions that were imposed, but for anyone to make a massive leap and believe big ol' America is being run for the benefit of economically smaller Russia, is illogical and dumfounding. As the phrase goes, "I have a bridge I'd like to sell you."
STORY SOURCE
Freedom Caucus member calls for Robert Mueller to recuse himself from Russia probe
Jun 23, 2017, 8:37 PM - A freshman member of the conservative House Freedom Caucus is calling for special counsel Robert Mueller to recuse himself from the Russia investigation because he has brought on "highly partisan" lawyers to help with the probe.
"Special Counsel Robert Mueller should recuse himself because the integrity of his appointment is in question due to former FBI Director James Comey's manipulative leaks and the relationship between Mr. Comey and Mr. Mueller," Rep. Andy Biggs, R-Ariz., said in a statement Friday. "His ability to be impartial is doubtful because he has surrounded himself with highly partisan lawyers who make a special practice to line the coffers of Democrats."
News outlets have reported at least three lawyers Mueller has hired to help conduct his investigation have donated almost exclusively to Democrats. Also, Mueller and Comey are friends and former colleagues. Biggs is at least the second House Republican to call for Mueller's recusal. Earlier this month, Rep. Louie Gohmert, R-Texas, told the Blaze that Mueller should step aside from the probe because of his "cozy relationship" with Comey.
As part of his investigation into Russia's election interference, Mueller will probe for possible collusion between the Trump campaign and Russia. The Washington Post reported Mueller will also investigate whether Trump obstructed justice by allegedly telling Comey that he hoped the bureau would end its probe of Michael Flynn, Trump's first national security adviser. Another report Sunday said Mueller hasn't decided yet whether to investigate Trump...
http://www.washingtonexaminer.com
RELATED ARTICLES
Hillary Clinton And Democrat Politicians Still In Denial About Losing Presidential Election To Donald Trump And Are Harming America With Damaging Rhetoric
Members Of Congress Question FBI Director James Comey In Hearing About Hillary Clinton Lying To The Legislature And FBI Under Oath
FBI Director James Comey Has Been Fired By President Donald Trump (Video)