Grace Mugabe's Opulent Lifestyle And Acts Of Violence Brought Trouble On Her Husband Ousted Former Zimbabwe President Robert Mugabe
January 11. 2018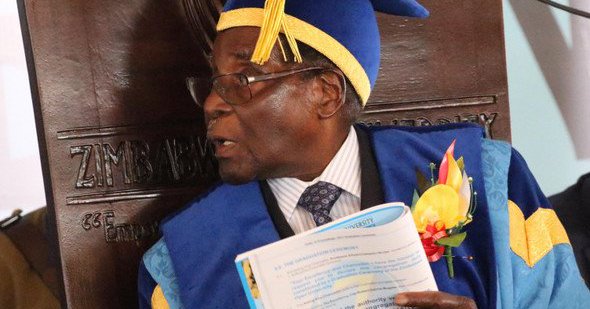 Robert Mugabe
On November 24, 2017 the the nation of Zimbabwe swore in a new government, head up by newly installed president, Emmerson Mnangagwa. Ousted former Zimbabwe president, Robert Mugabe, 93, resigned on November 21, 2017 in the face of a coup, after 37-years of questionable rule. Thousands of Zimbabweans lined the streets cheering at the news of his sudden departure from office.
Upon assuming office as Prime Minister in 1980, Mugabe began plotting the demise of those he deemed threatened his rule. In 1982, Mugabe ordered the murder of 20,000 black Africans whom he feared opposed his premiership, during what is referred to as the Gukurahundi ("The wind that wipes away trash"). Mugabe is not innocent. He killed his own people. It was genocide in acts of tribalism that divided Zimbabwe, ordered by a power mad dictator, who sought to hold on to office at all costs.
In 1996, Mugabe married his secretary, Grace Goreraza, aged 52, a woman 42-years his junior. She became his second wife, known as Grace Mugabe. She would prove to be his undoing in many ways, as her greed for money and power brought global attention to the corruption the couple were steeped in at the taxpayers' expense.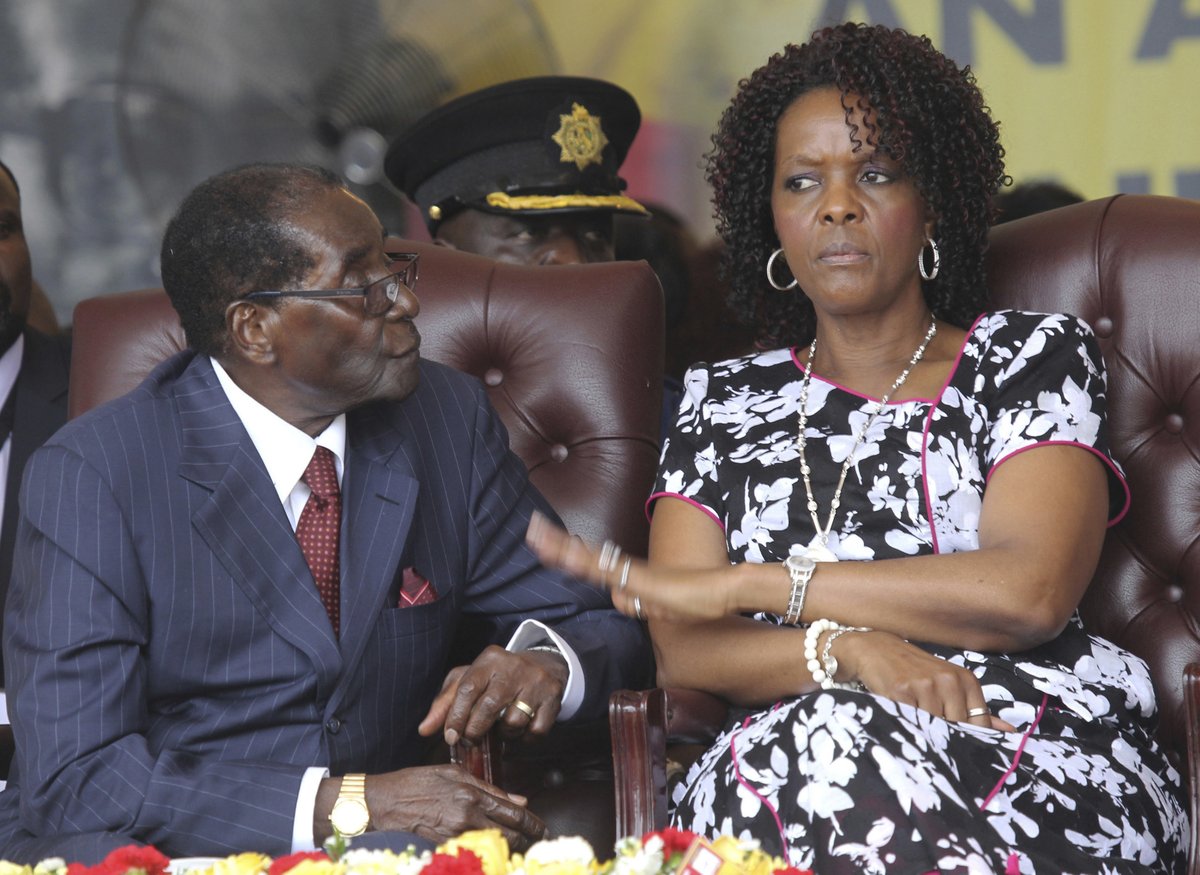 Robert Mugabe and Grace Mugabe
Anyone who believes that marriage was about love and not money and so-called power is sorely mistaken. Grace made a fool of her older husband, who married her under great scrutiny, as she began cheating on him with younger men. She did not love Mugabe. She was only there for what she could get out of the situation.
Grace's ultimate goal, which was thwarted at the last minute, was to become President of Zimbabwe. However, the goal she did achieve was becoming wealthy, albeit through outright criminal thievery and fraud. Grace wrongly thought she was better than the people of Zimbabwe, who she felt should go without, so she could live like a billionaire. To remain in power and luxury, the Mugabes resorted to acts of brutality.
In 2007, the Mugabes vehemently opposed political rival Morgan Tsvangirai, via vote tampering and acts of violence. 200 Zimbabweans were killed at the polls, due to corrupt orders Mugabe gave in trying to hold on to power. Mugabe had Tsvangirai arrested, his offices raided and attempts made on his life, for daring to run against him for president. It drew global outcry, which resulted in President Mugabe being pressured into a coalition government with Tsvangirai as Prime Minister.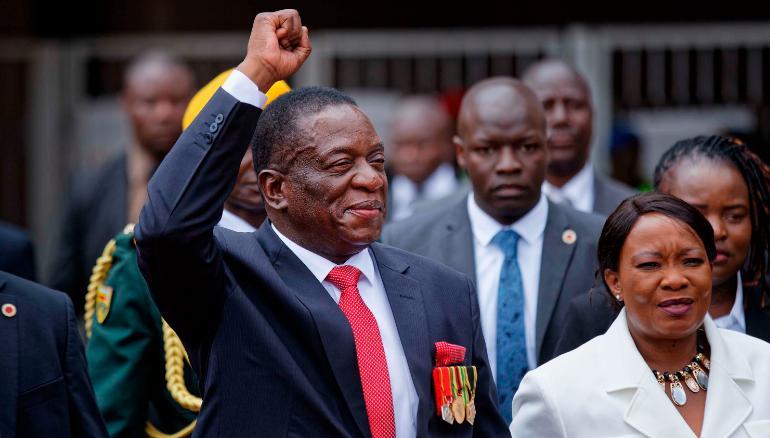 Emmerson Mnangagwa
Grace Mugabe, derisively known as "Gucci Grace" due to her lavish spending, is a very violent woman, who became a massive liability to her husband (she beat up Zimbabweans, a British photographer and South African model). Grace only wore $1,000 shoes and designer clothes from high end stores. Grace drew so much unflattering global attention to the corruption in Mugabe's government, due to her constant six-figure shopping sprees around the world, multi-million dollar lavish homes in several nations and violent seizures of dairy farms and land belonging to Zimbabweans to fund her opulent lifestyle, it provoked public outcry.
At one point the Mugabes wasted so much money living lavishly, the national treasury of Zimbabwe only had $300 in it. Global economists were aghast at the news. Forbes magazine stated the Mugabes accumulated $1 billion dollars in property and cash stolen from the state and its people and squandered portions of it on themselves. Businesses were nationalized then pilfered by the Mugabes. Dairy farmers stated Grace stole their property and businesses through illegal seizures to fund her lifestyle. They specifically named Grace. The Mugabes lived in sheer opulence, all on stolen funds.
The Mugabes' adult children arrogantly bragged about benefiting from these financial crimes and bought expensive homes, cars and jewelry. One of Mugabe's sons bragged on Instagram about his lavish lifestyle, which he cockily attributed to his dad running Zimbabwe. In a show of wealth, albeit stolen from the state, Mugabe's son poured expensive champagne on a very costly watch adorned with jewels. Meanwhile, segments of Zimbabwe's population are poor and starving. Such waste on stolen funds is infuriating, while the poor suffer.
No one should live like that on taxpayer money, especially in a third world nation, where some live in poverty. I come from a third world country. Budgets must be observed for the fiscal health of the nation. I know how third world government budgets work. Third world nations have less financial resources to work with and have to budget accordingly. So, to see the head of state of another third world nation, Mugabe, live in such opulence with his family on taxpayer funds, while some in his country live under extreme financial lack, was upsetting.
The $1 billion the Mugabes stole in money, businesses and land could have gone a far way to helping the poor in Zimbabwe. Those assets need to be seized and used to help Zimbabweans. The money can feed the poor, build more schools, hospitals and homes for the less fortunate. It can also fund small businesses to create economic growth.
People were afraid to visit Zimbabwe, due to the Mugabes brutal rule and it damaged tourism. Now that the Mugabes have been kicked out, Zimbabwe can work on their tourism and host excursions such as safaris, to bring in money to the state. The proper extraction, marketing and sale of their natural resources (diamonds, minerals, natural gas) can also raise significant revenues. A proper national business plan could also increase exports to bring in additional revenues. There is hope for Zimbabwe, but the government must devise and adhere to a thorough, sound economic plan for the growth and development of the nation.
STORY SOURCE
Zimbabwe latest: former minister describes dramatic arrest 'at hands of masked men with AK-47s'
A Zimbabwe former minister said masked men in uniform armed with AK-47s stormed his home and abducted him during the military operation that lead to the ousting of Robert Mugabe. Former finance minister Ignatius Chombo appeared in court on Saturday on corruption charges that date back more than a decade.
He described how a raid in the early morning of November 15 began with two explosions, one of which shook his home. Chombo said men entered his bedroom and pointed AK-47 assault rifles at him, his wife and his maid, then handcuffed him and blindfolded him with his own T-shirt. He was hustled out of his home through a smashed living room window, he said.
He told a magistrates' court in Harare: "I was in the custody of armed persons who were dressed in soldiers' uniforms. I don't know where I was taken to." A one-hour drive to an unidentified location led to days in custody during which interrogators told him that he had performed badly as a government official and ruling party leader, he said.
Chombo said he was blindfolded most of the time and never saw his captors' faces. He added that he suffered lacerations during the forced exit from his home, falling several times while barefoot, and was not assaulted but saw a doctor after asking for pills...
As Zimbabwe's money runs out, so does Mugabe's power
Fri Nov 25, 2016 | 10:04am EST - In Zimbabwe, where worthless $100 trillion notes serve as reminders of the perils of hyperinflation, President Robert Mugabe is printing a new currency that jeopardizes not just the economy but his own long grip on power. Six months ago, the 92-year-old announced plans to address chronic cash shortages by supplementing the dwindling U.S. dollars in circulation over the past seven years with 'bond notes', a quasi-currency expected at the end of November.
According to the Reserve Bank of Zimbabwe (RBZ), the bond notes will be officially interchangeable 1:1 with the U.S. dollar and should ease the cash crunch. The central bank also promised to keep a tight lid on issuance. After a 2008 multi-billion percent inflationary meltdown caused by rampant money-printing, many Zimbabweans are skeptical. The plan has already caused a run on the banks as Zimbabweans empty their accounts of hard currency.
Internal intelligence briefings seen by Reuters raise the possibility that the bond notes, if they crash, could spell the end of Mugabe's 36 years in charge. A Sept. 29 Central Intelligence Organisation (CIO) report revealed the powerful army was as unhappy as the rest of the population with the new notes and had told Africa's oldest leader to "wake up and smell the coffee". "Top security officers have told Mugabe not to blame them if Rome starts to burn," the report said...
RELATED ARTICLES
After Years Of Reckless, Lavish Spending By Robert Mugabe And Wife Grace Mugabe Zimbabwe Is Running Out Of Money While The Poor Go Hungry
First Lady Grace Mugabe Given Diplomatic Immunity By President Robert Mugabe After Breaking The Law In Beating Up A Model In South Africa
Tunisia To Extradite Former First Lady That Stole $50,000,000 In Gold
Zimbabwe's First Lady Spending Money Like It's Water
When Elections Threaten To Turn Murderous
Mugabe Bending To International Pressure
Robert Mugabe Uninvited From Olympics
Robert Mugabe Buys $5.6 Million House