'Growing Up Hip Hop Atlanta' Showcases Bow Wow Being Messy And Teens Struggling To Get Out Of Their Famous Parents Shadow
May 30. 2017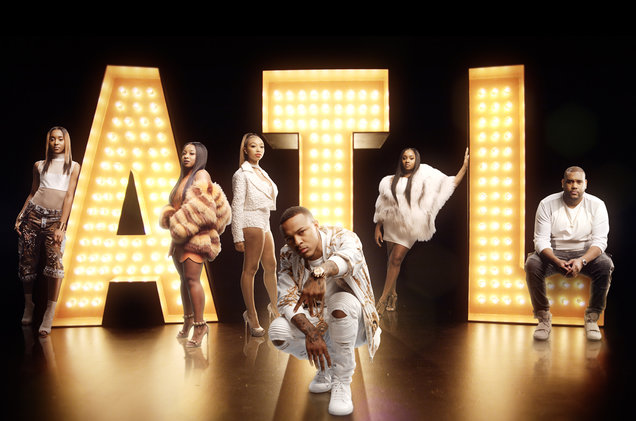 "Growing Up Hip Hop Atlanta"
Season 2 of "Growing Up Hip Hop Atlanta" features music producer Jermaine Dupri, rappers Bow Wow, Da Brat, TI and Lil Wayne, singer Tiny and music manager Debra Antney, among others. The established rappers and singers on the show are introducing their offspring as upcoming artists and behind the scenes industry workers. However, they struggle to get out of their famous parents' shadow.
This has happened many times in the entertainment industry, as the children of stars are often spoiled and pampered. They don't know or understand the struggle their parents went through to become famous in the entertainment industry. As a consequence, they end up resting on their parents' laurels rather than gaining their own accomplishments. Kids need discipline. They also need to be taught the value of hard work and money.
"Growing Up Hip Hop Atlanta" largely centers on former child star, Bow Wow, real name Shad Moss, who finds himself in a number of bad situations. Bow Wow is 29-years of age and still somewhat immature when it comes to certain things. Bow Wow is also still struggling to rebuild his career. He has not recorded a new album in a while and his movie career is stagnant.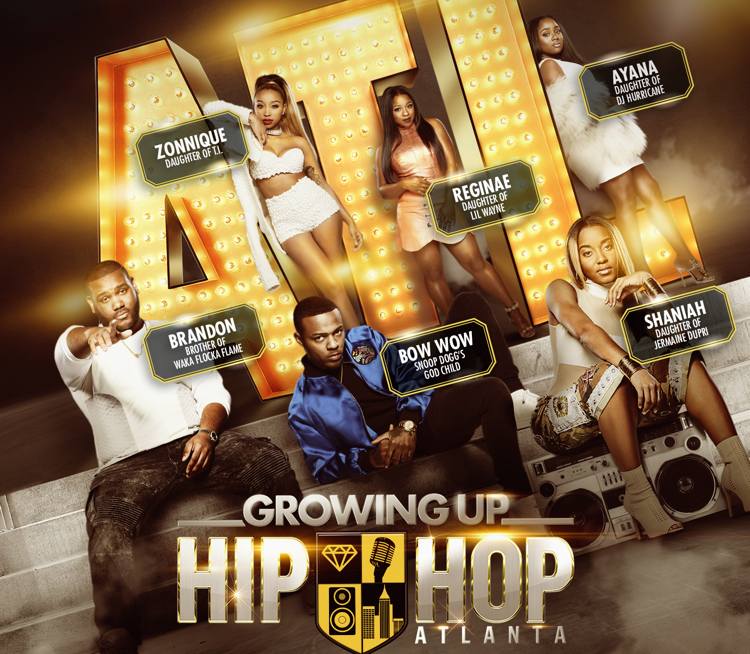 "Growing Up Hip Hop Atlanta"
Bow Wow is portraying an image on social networking that is not accurate, as attested by the mini-scandal he experienced while busted pretending to fly by private jet. He also received backlash for threatening to pimp U.S. First Lady, Melania Trump. In the first episode of the reality show, Bow Wow struggles to dedicate himself to restarting his music career. The show indicates he fled Atlanta, after being stalked and threatened by dangerous people, who confront him upon his return.
During a confrontation in a night club filmed for the reality show, Bow Wow panicked. A fight was about to erupt because of his presence, which leads Bow Wow to call for female rapper Brat, like he's the girl (LOL). Bow Wow is heard frantically stating, "Where's Brat. Tell Brat to come here" and "it's about to go down. The homies coming up with the guns, all that. Make sure we got security just in case s**t really gets crazy." Bow Wow was ready to hide behind a woman (LOL).
Bow Wow also stated "my security is armed" when most people think he can't afford bodyguards (hey, he couldn't afford the private jet he lied about, why should we believe him with this either). Bow Wow begins complaining in the club, "This is why I don't like publicizing where the f**k I be at or what I'm doing."
Considering Bow Wow's problems with being stalked and threatened, he does have a point in keeping his movements private until after he has left his destination, as some people have nothing better to do than stalk and harass others, who want nothing to do with them. It's a weird industry.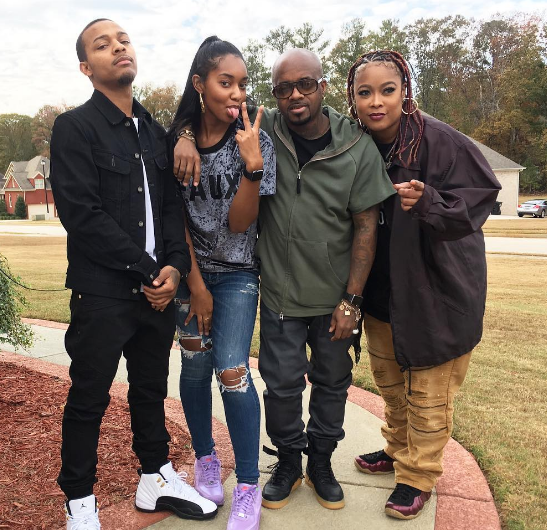 Left to right: Bow Wow, Jermaine Dupri's daughter Shaniah, Jermaine Dupri, Da Brat
Jermaine Dupri, who took a fall from grace when he lost his businesses, cheated on famous singer, Janet Jackson and got caught when he knocked up a stripper, plays a minor role in the first episode of the show. Dupri is a piece of work. He improperly built a company, So So Def, off stealing copyrights from various people and not paying his staff properly and in some cases not at all, then used the money to live lavishly. He dated singer Janet Jackson, then lost everything, including her, due to greed and arrogance.
People online and offline have consistently called Dupri foolish and laughed at him for dating famous and wealthy Jackson, then losing her over a money hungry chick on a stripper pole, who proceeded to embarrass him to the public with tell-alls that made him look bad. Then she demanded his money. However, little did she know, Dupri's money was about to be gone and she'd be stuck with a disgraced deadbeat dad.
Dupri tried to get Jackson back, but she dumped him for being disloyal and married someone else. Dupri has spent the past few years trying to rebuild his career, but it has not rebounded, as he keeps doing things the wrong way. He lost the massive mansion he unwisely bought under mortgage, despite the fact he could not afford the full price tag or payments for more than a short while and is now living in a modest home.
While it is nice to see black people earn a living doing what they love, "Growing Up Hip Hop Atlanta" has a major underlying fault, the message in much of the music is a negative one. The music does not set a good example. One can even see how Dupri corrupted Bow Wow as a youth with profane music and a wild lifestyle with promiscuous women, in what came back to haunt the producer in losing Jackson. The music is doing the same to impressionable audiences in teaching them the wrong thing in life.
RELATED ARTICLES
Singers Chris Brown And Trey Songz Mock Rapper Bow Wow For Taking Credit For Making Them Famous
Social Networking Mercilessly Mocks Rapper Bow Wow As A Fraud For Pretending To Fly By Private Jet