Harvey Weinstein Removed A Woman's Tampon And Sexually Assaulted Her During Her Period Via Oral Sex
They Call It Hollyweird For A Reason
October 24. 2017
Disgraced Hollywood movie producer Harvey Weinstein has been hit with a $5,000,000 lawsuit filed by famed attorney Gloria Allred, on behalf of her distraught client, production assistant Mimi Haleyi. Allred held a press conference and Haleyi spoke about being sexually assaulted by deranged Weinstein and during her menstrual cycle.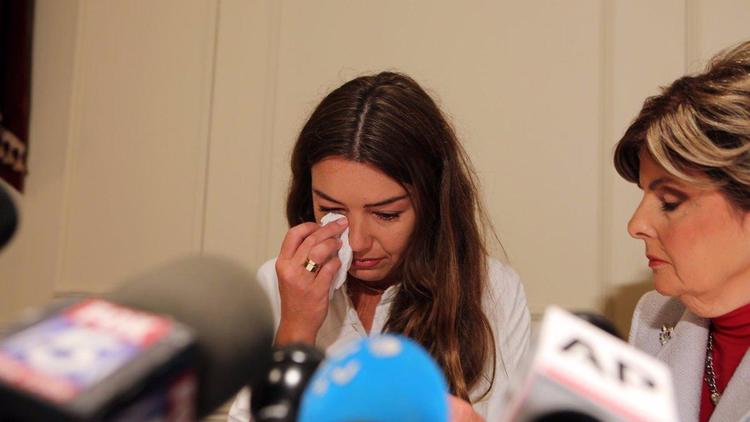 Mimi Haleyi and Gloria Allred
Haleyi was a production assistant on a Weinstein television show in 2006, when he cornered her in his kids bedroom inside his Soho loft in New York. Weinstein pinned her against his child's bed. Weinstein then removed her tampon and performed oral sex on her during her period. Haleyi stated, "He even pulled my tampon out. I was in disbelief."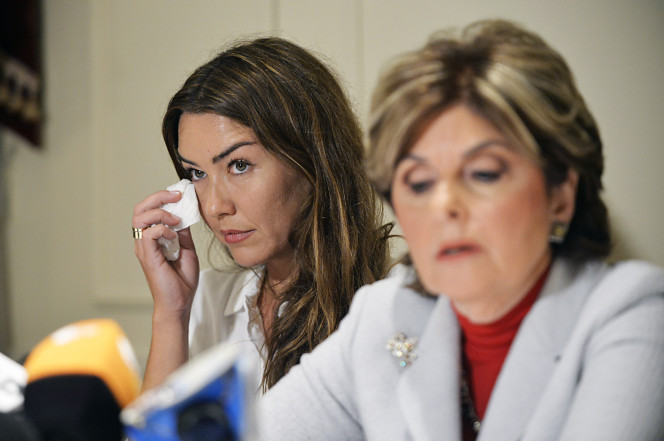 Mimi Haleyi and Gloria Allred
There is something very wrong with that man. He is going around pinning women down against their will, performing oral sex on them and in some case going as far as penetration, all without consent. Many famous and non-famous women that know Weinstein are telling the same story regarding his criminal conduct. He is the textbook definition of a rapist and sexual predator. Weinstein belongs behind bars.
STORY SOURCE
A new low in Weinstein sex assault charges
October 24, 2017 | 4:02pm - Harvey Weinstein forcibly performed oral sex on a woman — who was left "mortified" when he pulled out her tampon to perform the sick act, she said Tuesday. Mimi Haleyi recalled trying to use her period as an excuse to rebuff the horndog filmmaker after he summoned her to his Soho home in 2006. "It was not long before he was all over me making sexual advances. I told him, 'No, no, no,' but he insisted," Haleyi recalled, reading from a prepared statement at a press conference with her lawyer, Gloria Allred, who represents other Weinstein victims.
Haleyi, who first met the powerful moviemaker in 2004 at the European premiere of the film "Aviator" in London and worked as a production assistant on a TV show he produced, said the disgraced mogul was relentless. "He wouldn't take no for an answer and backed me into a room which was not lit, but looked like a kids' bedroom with kids' drawings on the walls," said Haleyi, who was in her 20s at the time. "He held me down on the bed. I tried to get him off me and kept asking him to stop, but it was impossible." "He then orally forced himself on me while I was on my period. He even pulled out my tampon," Haleyi recalled, adding that the horrific ordeal left her "mortified."...
RELATED ARTICLES
Social Networking Calls For A Boycott Of Donna Karan Clothes Over Her Defending Sexual Predator Harvey Weinstein In Stating Women Dress In A Manner That Asks For Sexual Assault
New York District Attorney Cyrus Vance Looked The Other Way To Harvey Weinstein's Crimes In 2015 Due To Pressure From The FBI And Obama White House And A Bribe
Lindsay Lohan Defends Fellow Kabbalah Member Harvey Weinstein Over Raping And Sexually Assaulting Actresses As His Wife Changes Her Mind And Leaves Him
Crooked Judge Illegally Presided Over And Threw Out Kesha Rape Case Against Dr. Luke Due To Blaring Conflict Of Interest Via Husband Working For Sony Music
Hollywood Executives Like Harvey Weinstein Who Cross The Line Into Sexual Harassment And Rape In The Workplace Inflict A World Of Harm On Their Victims
Harvey Weinstein Is No Different From Appalling Industry Men Like Jay Z And LA Reid Who Sexually Harass Women While Threatening Their Careers
R Kelly Victim Breaks Confidentiality Agreement To Talk About His Pedophilic Behavior When He Raped Her As A 15-Year-Old Virgin (Video)
Barack Obama, Michelle Obama And Hillary Clinton Slammed For Their 'No Comment' On Harvey Weinstein Finally Issues Statements
Actor Terry Crews States He Was Sexually Assaulted By A Hollywood Executive Who Grabbed His Penis
Harvey Weinstein's Fall From Grace As Sexual Harassment And Charity Fraud Claims Surface
T-Boz Of TLC Says She Is Not Surprised LA Reid Is In Trouble For Sexual Harassment
Harvey Weinstein Labeled A Rapist Confirming Previous Site Claims
Lou Pearlman - For Some Much Is Never Enough