Iggy Azalea And Britney Spears Beef Online Over Flopped Song And Video 'Pretty Girls' Gets Ugly
July 1. 2015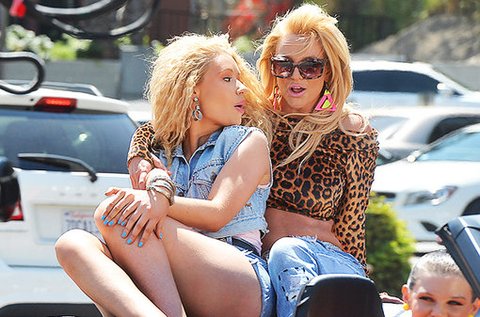 Iggy Azalea and Britney Spears on the set of "Pretty Girls" video
Things are bad with Britney Spears. As Britney Spears' pprivate life and music career implodes, she came under attack by former collaborator, rapper Iggy Azalea. Spears was slammed on social networking by Azalea for the flop of their song and video "Pretty Girls." Azalea tweeted on the social networking website Twitter, "Its difficult to send a song up the charts without additional promo and tv performances etc. unfortunately im just featured."

Iggy Azalea's tweet on Twitter website
Spears took a dig at Iggy, who recently cancelled her tout due to poor ticket sales, "Can't wait to get back to Vegas. So thankful I have shows for the rest of the year to look forward to...#WantAPieceOfMe." A big part of the problem with the song "Pretty Girls" is it doesn't sound good and the video is subpar.
STORY SOURCE
Iggy Azalea Blames Britney Spears for 'Pretty Girls' Not Being a Hit
By Erin Strecker | June 29, 2015 3:20 PM EDT - Iggy Azalea is back on social media, and it's safe to say she angered a few people with her remarks during a Twitter Q&A with fans about the lack of chart success with her Britney Spears collaboration "Pretty Girls." (The tune peaked at No. 29 on the Billboard Hot 100.) Responding to a fan's remarks that "Pretty Girls" "flopped a little bit," Azalea said it was out of her control, noting that she was just a featured artist and without support from Brit, there was only so much she could do. ...
RELATED ARTICLES
Iggy Azalea Career Implodes But Her Personal Life Improves As She Becomes Engaged To Nick Young (Swaggy P)