Jay Z Forced Beyonce Into Bisexual Situations She Did Not Want And He Still Cheated On Her With Others Anyway
January 29. 2018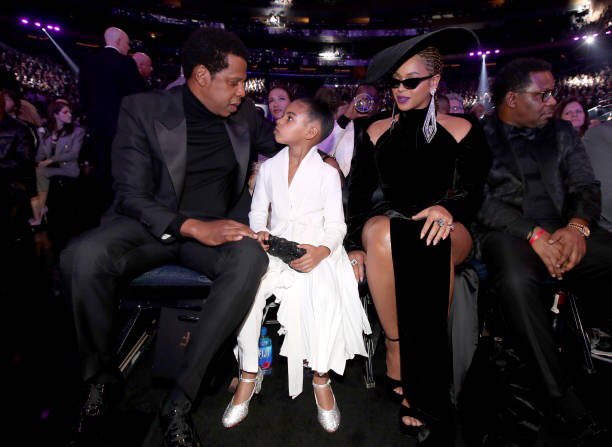 Jay Z (left), daughter Blue Ivy, Beyonce at the 2018 Grammy Awards
Cheating rapper Jay Z was slammed by his wife on her "Lemonade" album. The sales were moderate, tallying 1,500,000 copies. It marked a 70% sales decline from its predecessor. In return, Jay Z decided to rap about cheating on his wife in his subsequent album "4:44" and it bombed. 1,000,000 copies were given away for free via a mobile phone deal, as with his previous release, because he does not sell many albums. When the album was actually placed on sale to assist with music chart placement, "4:44" flopped, performingng very poorly.
Beyonce allowed Jay Z to push her into sexual situations with other women for his own gratification, with the illogical premise it would stop him from cheating. However, he still cheated anyway, doing so behind her back with fellow singer Rihanna and Rita Ora, among many others. Beyonce' s former music collaborator Lady Gaga stated Beyonce had become bisexual, but it was due to Jay Z demanding it. She compromised herself for a man that cheated on her anyway, when Beyonce did not want women.
Similarly, actress Demi Moore, developed an unwise idea of "sharing" women with then-husband, Ashton Kutcher. However, Kutcher started having sex with other women in Moore's absence. When Moore found out she was enraged. Kutcher left her and married another woman, actress Mila Kunis. However, Kutcher has not been faithful to Kunis either.
RELATED ARTICLES
Rita Ora Ripped To Shreds On Social Networking For Referring To Conor McGregor As Her Date Despite The Fact He Has A Longterm Girlfriend And New Son At Home (Jay Z Pimping Her Out Again For His Roc Nation Sports)
Jay Z Has Bragged Of His Crimes In His Songs Including Being A Cocaine Dealer And Pimp
Beyonce Married A Man Who Is Just Like Her Father - A Thief And Cheater