Jay Z Tries To Defraud Prince Estate In Trying To Buy Music Catalog For Far Less Than It Is Worth
October 31. 2016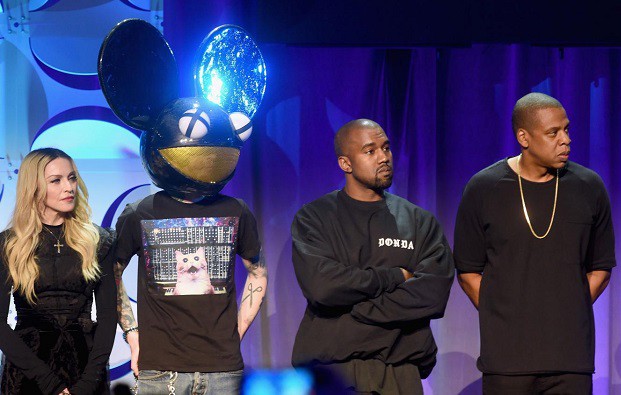 Madonna (also known as Gollum), DeadMau5, Kanye West and Jay Z at Tidal's ill-fated launch
Rapper and thieving criminal Jay Z, is trying to buy the music catalog of the late music legend Prince for $40,000,000. This sum is well below the financial value of Prince's catalog of music streaming on Jay Z and Madonna's failed music service Tidal. Jay Z is trying to scam the Prince estate. Prince's songs have become music classics. Prince's released songs are worth at least $125,000,000. Prince's unreleased songs, estimated to be to be 2,000, are worth even more due to having been written and produced by Prince and due to the quantity. I would estimate Prince's unreleased music is worth upwards of $500,000,000.
Prince died under very suspicious and sinister circumstances in the same manner of fellow singer/music catalog owner Michael Jackson, who was murdered via a deliberate pharmaceutical drug overdose (Mislabeled Fentanyl Pills Found At Prince's House After His Death From Overdose Indicates He Did Not Know What He Was Taking). Now, like Jackson, Prince's music catalog is the subject of a hostile takeover for far less than it is worth (Michael Jackson's Music Catalog Sold To Sony For A Fraction Of Its Value Is Very Suspect). Criminals!
STORY SOURCE
Jay Z Bid to Buy Prince's Unreleased Music
10/26/2016 12:40 AM PDT - Jay Z tried to snap up all the unreleased Prince music that was unearthed at Paisley Park after the singer's death ... TMZ has learned. We've learned Jay met with Prince's sister, Tyka, and her husband, Maurice Phillips, several weeks ago. The mogul flew Tyka and Maurice to NYC to meet with him.
Sources close to Prince's family tell us ... Jay made an offer of around $40 million. We were unable to confirm the figure from Jay's camp. But there was a rub. Tyka may be Prince's only full sibling, but she has to get sign-off from all the brothers and sisters, in addition to the trust that is managing the estate. Word is that JZ is still in the running to get the overall deal for streaming rights ... but it will be very expensive and there are some major players in the game.
RELATED ARTICLES
Jay Z And Madonna's Floundering Tidal Sued For $5,000,000 Over Copyright Infringement In Not Paying Artists While Inflating Their Own Sales To Go Number One On Billboard
Madonna, Jay Z, Beyonce, Rihanna, Rita Ora And Jessie J Sued Over Copyright Infringement, Invasion Of Privacy, Commissioned Criminal Harassment And Assault Via The Kabbalah Center
Tidal Ripped Off Consumers Fraudulently Charging The Credit Cards Of Former Customers Who Closed Their Music Streaming Accounts
Samsung Seeks To Buy Sinking Tidal As Two More Executives Depart From The Struggling Company In The Face Of Mounting Lawsuits
Rapper TI Signs With Jay Z And Madonna's Floundering Tidal As IRS Moves In To Seize His Assets Over $6,200,000 In Unpaid Taxes
Apple Lunches Its Music Streaming Service With Drake As The Face Of The Product That Is Set To Crush Jay Z And Madonna's Tidal
Jay Z And Madonna's Failing Tidal Music Service Is Hemorrhaging Money While Inadvertently Increasing Rival Spotify's Revenues
Mainstream Publications Rip Jay Z And Tidal Streaming Service To Shreds Implying He Is Suffering From Delusions Of Grandeur
Snoop Dogg's Son Slams Jay Z, Beyonce, Rihanna And Madonna For Being Greedy And Not Caring About The Public (Tidal)
Apple And Samsung Slam Rumors They Are Going To Buy Jay Z And Madonna's Failed Tidal Music Streaming Service
Jay Z And Madonna's Tidal Officially Branded A Bad Business Move And Flop By The Mainstream Press
Samsung Issues Statement Revealing Rumors About Them Buying Tidal Are Untrue
Apple Music Streaming Crushes Tidal With Massive Sales And 11 Million Members
Another Top Executive Leaves Jay Z And Madonna's Failing Tidal