Joe Biden Criticized For Being Dismissive During U.S. Vice Presidential Debate
October 12. 2012
The U.S. Vice Presidential debate that took place last night, grew testy and uncivil. Vice President Joe Biden, was contemptuous regarding younger rival Paul Ryan, derisively mocking and laughing at him. During the debate, it was difficult to hear Ryan, as Biden kept talking over him and cutting him off (Biden must be related to Oprah Winfrey).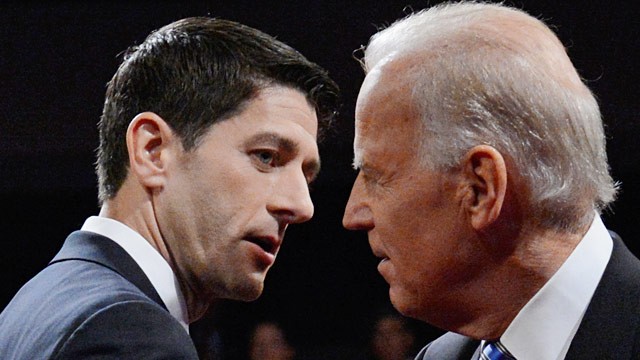 Paul Ryan and Joe Biden
It became clear Biden was trying to compensate for President Barack Obama's sedate, lackluster performance in the first debate last week, against rival Mitt Romney and overdid it. However, this was not the way to go about it, as it is important for the public to hear both sides.
RELATED ARTICLES
Democrats Trying To Lower Expectations For Barack Obama's Debates Against Mitt Romney
Barack Obama And Rival Mitt Romney Set To Square Off In Presidential Debates
Documentary Film 'Obama's America 2016' Rakes In Millions At The Box Office
U.S. Economy Is Stagnating In A Troubling Pattern And Cycle Of Corruption
The U.S. Economy Takes Another Nose Dive On Dismal Job Numbers And Negative Manufacturing Data
Pollster States If The U.S. Economy Does Not Improve Barack Obama Will Lose The Election To Mitt Romney
Barack Obama In Over His Head With The Economy And In Need Of Help
U.S. Economy Adds Fewer Jobs Than Expected In A Significant Slowdown
Mitt Romney Ad Slams Barack Obama For High Unemployment Among Minorities
Ben Bernake Rings Sobering Alarm On The Dismal State Of The U.S. Economy
Joe Biden: We Can't Replace The 8 Million Jobs Lost
Ben Bernake Didn't See The Financial Crisis Coming
Bernake Defends Reckless Spending
U.S. Unemployment Continues To Rise
The Benefits Of Government Cost Cutting
GDP Data Shows The Recovery Failed