Joe Satriani Speaks Out About Coldplay Song Theft
December 8. 2008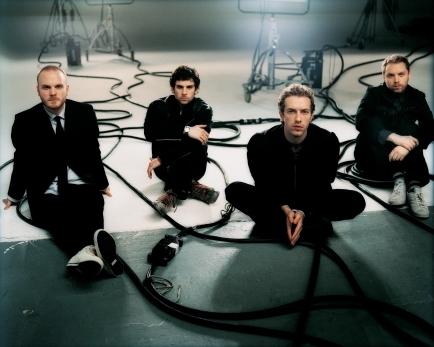 Coldplay

Guitar virtuoso Joe Satriani spoke out today about Coldplay's theft of his 2004 copyrighted song "If I Could Fly" for use in their 2008 song "Viva La Vida." Satriani stated the song took him a long time to write and was dedicated to his wife.

Regarding Coldplay's theft of his song he also stated, "I felt like a dagger went right through my heart. It hurt so much."

Satriani tried to settle with Coldplay, but they refused. It wasn't the best idea, as the public has turned on the band, as attested by hundreds of articles and blog entries, with tens of thousands of negative public feedback comments, branding Coldplay thieves and other undesirable things. It is hurting their name and any legacy they could hope to have at this point. They need to make amends.

This is the 4th legal claim

against Coldplay

for copyright infringement regarding different songs from their last three albums.

A few months ago, when indie band the Creaky Boards came forward alleging Coldplay ripped them off, frontman Chris Martin and his PR people got cocky, with his publicist going into overdrive, placing articles in publications, painting the new group as an upstart seeking their 15 minutes of fame. This is the standard industry response when a major label artist gets caught with their hand in the cookie jar.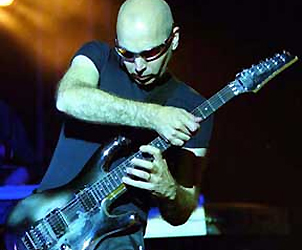 Joe Satriani
Since that incident got them to admit they supposedly recorded the song "Viva La Vida" in late 2007, a few months before the Creaky Boards recorded their song, what's their new excuse for ripping off Satriani, who recorded his song in 2003 and released it in 2004. That predates Coldplay's rip off by years.
Want to try and backdate your song even more, Coldplay? Want to call Satriani an upstart seeking his 15 minutes of fame, when he has a guitar named after him, sold 10 million records and has been nominated for more Grammys than your band.
What's your new excuse, as I don't believe this was an accident for several reasons. Your wife has admitted she is in Kabbalah and is also Madonna's best friend, who turned her on to the cult. You have also dabbled in Kabbalah, which believes in copyright infringement as a way of life, as attested by leaked internal cult memos stating this, which hit the press (Radar Magazine) and several lawsuits against them for intellectual property theft.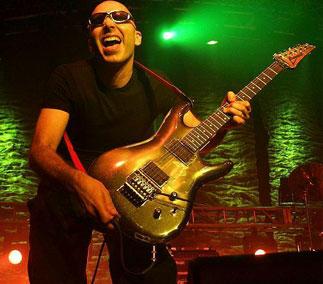 You stated the art work/cover for the song "Viva La Vida" is inspired by artist Frieda Khalo. According to articles, Madonna is obsessed with deceased Frieda Khalo and is the greatest collector of her art, which is not surprising, as they are both unibrow lesbians with a collective grudge against tweezers and eyebrow waxing.
Madonna has also worked with people who have worked with Satriani. Lastly, most English people (Coldplay is English) don't know about Khalo or Satriani (well, unless they play guitar, then they are bound to have heard about the latter).
I wouldn't be surprised if Madonna and Kabbalah suggested the rip off, much like she suggested fellow Kabbalah member and Warner label mate Paris Hilton rip off "UB40's "Kingston Town" which also got the untalented socialite sued.
After all, Madonna has made a 25-year career out of stealing everyone else's copyrights, hence stealing their money, like a grubby, common criminal.
It's a shame and a terrible reflection on mainstream music that so many major label artists are so lazy, uncreative and unoriginal that they resort to stealing from other musicians. It has become commonplace and is disgraceful, not to mention, a crime (U.S. Code Title 17 and 18).
Coldplay's Alleged Plagiarism Was A 'Dagger Through My Heart,' Joe Satriani Says;
Guitarist Joe Satriani, who sued Coldplay for plagiarism in a Los Angeles court last week over allegations that their song "Viva la Vida" borrowed the melody from his song "If I Could Fly," said in a new interview that he was shocked the first time he heard Coldplay's tune. Meanwhile, in an interview taped before the suit was filed, Coldplay singer Chris Martin insisted the band did nothing wrong.
"I felt like a dagger went right through my heart. It hurt so much," Satriani reportedly told the Music Radar Web site. "The second I heard it, I knew it was [my own] 'If I Could Fly.' " But Satriani said he wasn't the only one who noticed the similarity, claiming that "almost immediately" after Coldplay's album came out last summer, his e-mail was flooded with people asking, " 'Have you heard this song by Coldplay? They ripped you off, man.' I mean, I couldn't tell you how many e-mails I received."
Satriani said, "Everybody noticed the similarities between the songs. It's pretty obvious. It's as simple as that — when you listen to a song and you say, 'Wow, that's a real rip-off.' "
One of the reasons Satriani told the site he was so upset was because he had spent more than a decade working on "If I Could Fly" before he demoed it in 2003 and recorded it as a tribute to his wife, Rubina.
"That's what really hurts about this whole thing," he said. "That I spent so long writing the song, thinking about it, loving it, nursing it, and then finally recording it and standing on stages the world over playing it — and then somebody comes along and plays the exact same song and calls it their own."
Satriani called the intense media response to the action "the weirdest thing I've ever been involved in" and said he did everything he could to avoid filing suit, but claims that "Coldplay didn't want to talk about it. They just wanted the whole thing to go away. Maybe they figured this little guitar player guy will leave them alone after a while, I don't know ... But we're talking about a piece of art that I created, and that's something I feel is important. I think everybody should feel that way."…
"When we finished the song 'Viva la Vida,' our only hit single, we knew that was good," Martin joked, referring to an earlier question about the band's confidence in the songs on the Vida album. "And I will maintain that till my dying day, that it's not that bad. Although we are being sued by about 12 people who say that we stole it, though I promise we didn't. Including ... I probably shouldn't say [laughs]. I can't tell you, I can't tell you, but it rhymes with Moe Batriani."
A Coldplay spokesperson has not responded to MTV News' requests for comment on the lawsuit.