Joey Fatone To Justin Bieber: Don't Be A Douche! (Video)
April 29. 2013
Former NSYNC boyband member turned television personality, Joey Fatone, had a bit of advice for 19-year-old pop star Justin Bieber, as he has been facing a significant amount of trouble of late, "Don't be a douche." Wow Joey, that was subtle. You hide your feelings so well.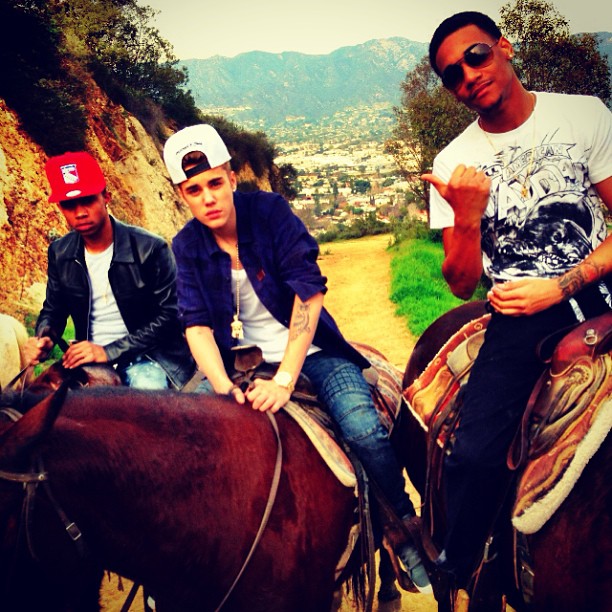 Justin Bieber (center) and tour mates Lil Twist (left) and Lil Za (right)
Speaking to the Huffington Post about Bieber's run-ins with the law and members of the public, Fatone stated, "Don't be a douche. That's plain and simple. You get this bug from the celebrity thing, where you're very on top of the world and everyone's 'yessing' you to death, so you're like, 'I can get away with this. I can do that.' Not to say that he might be doing anything wrong — or he might be in the wrong mix of people, in his camp."
STORY SOURCE
Joey Fatone's Advice To Bieber: 'Don't Be A Douche' [Video]
Posted: April 25, 2013 - Justin Bieber has been at the center of some seriously harsh press lately, and if there's one piece of advice a former pop star could pass along to the Biebs, it would be "don't be a douche."...
In case you need a refresher, Bieber has been in the news lately over his break-up with Selena Gomez, subsequent erratic behavior, snapping on a paparazzi in the U.K., making a perceived insensitive comment about Holocaust victim Anne Frank, monkey drama and marijuana being found on his tour bus...