Justin Bieber's Friend Lil Twist Corrupting Another Young Star With Drugs
April 14. 2013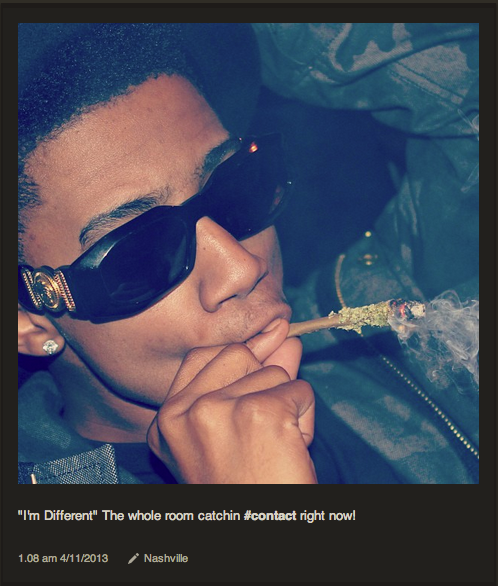 Lil Twist bragging about getting everyone in the room high, including 15-year-old Kylie Jenner
20-year-old Young Money member, Lil Twist, has been dating 15-year-old reality star, Kylie Jenner, smkong weed with the underage minor (isn't she too young for you right now). Twist, known for being Justin Bieber's friend, weed carrier and car crasher, tweeted photos on Twitter of himself, smoking marijuana around Jenner and stating she is getting a "contact high." He also labeled the 15-year-old "sexy" *crickets.*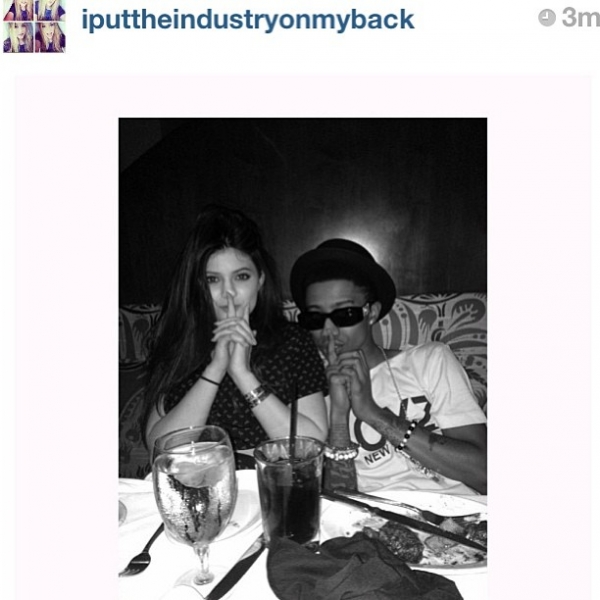 Kylie Jenner and Lil Twist
Jenner's dad, Olympian gold medalist, Bruce Jenner, needs to wake up and nip this relationship in the bud, as Twist is not a good influence on his underage daughter. Twist is getting Jenner's 15-year-old daughter high. How can that be a good thing. Girls end up making choices they regret when under the influence.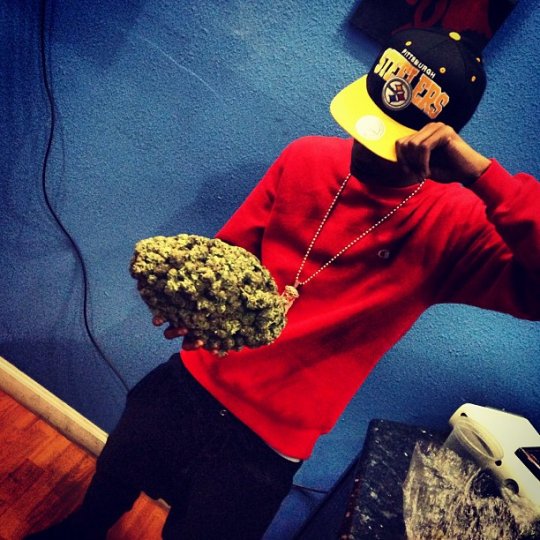 Lil Twist with large amount of marijuana
Once Kylie is 18, hopefully she will be able to make better decisions and handle herself under pressure. But no 15-year-old girl, black or white, should be dating a 20-year-old adult marijuana smoking, reckless driving rapper. She will learn things a minor should not know. Bruce, come get your daughter.
STORY SOURCE
Kylie Jenner Smokes Weed with Lil Twist, Parties with Kendall Jenner at Rihanna Concert? [PHOTOS]: - Younger Sis' 'Wild, Sexy' Nights [VIDEO]
Apr 12, 2013 01:58 PM EDT - Teen reality starlets Kylie and Kendall Jenner danced up a storm at Rihanna's LA concert on Monday evening (April 8), and while Kendall was spotted leaving the Staples Center with a group of gal pals, evidently Kylie hooked up to party the night away with rapper Lil Twist! As MediaTakeOut exclusively reports, 15-year-old Kylie may have pulled a Justin Bieber... by lighting up a joint and smoking some weed with Twist! Is it time for pregnant Kim Kardashian to fall into over-protective older sister mode? Read on for the details...
The "Keeping Up with the Kardashian" socialites tweeted their excitement over seeing RiRi live throughout Monday evening... they were then spotted leaving the venue in separate vehicles. Kylie hopped into a ride driven by rapper Lil Twist. The two friends were in for a wild night (or shall we say nights)... at least according to MediaTakeOut, that is. Lil Twist posted a photo of himself on Instagram a few days later (April 10) smoking a massive blunt in the studio, and apparently Kylie must have been somewhere in the background...
Twist's friend/YouTube enthusiast "Sam" posted these tweets to go along with the pic on April 11:
@xJawz: "Paramount Recording Studios w/ @LilTwist @KylieJenner @WhoisChrisKing @djkidfamous & @stassiebabeyy
@xJawz: "@Stassiebabeyy haha tell Kylie I said thanks for telling twist my lights were on haha."
And here's the exclusive MedaTakeOut report posted on April 12:
Kim Kardashian's mama better STEP IN and start REGULATING the company that 15 year old Kylie Jenner is keeping. MediaTakeOut.com learned that 2 nights ago, Kylie and a 15 year old GF of hers were 'HANGING OUT' with rapper Lil Twist and one of his boys.
The foursome went to dinner together, and kicked it. At one point in the evening - Twist took a pic of Kylie's finger and sent it out - describing the UNDERAGE KARDASHIAN as "sexy."
liltwist: "wow that fingernail looks so sexy bu that fire. lol."
But that's not all. After dinner - the foursome went to the STUDIO with twist, where he IMMEDIATELY sparked up a blunt. And according to Twist, the blunt was SO STRONG - it got "everyone" in the room high. SMH...