Justin Bieber Mom Expresses Her Concerns Regarding Him (Video)
April 2. 2013
A month ago on Twitter, I wrote of a tip I received stating, Pattie Mallette, the mother of singer Justin Bieber is, "Not taking it well watching what's happening to her boy" regarding the controversy that now surrounds him. One week later, Bieber posted a statement to Instagram stating his family couldn't be prouder of him and all the rumors to the contrary are untrue (Justin Bieber Calls Actress Lindsay Lohan A Broke Loser). It's the same article which details the item where I stated he is in danger of becoming Lindsay Lohan, then a week later he slammed the troubled actress and stated he is not like her.
My tweet on March 8, 2013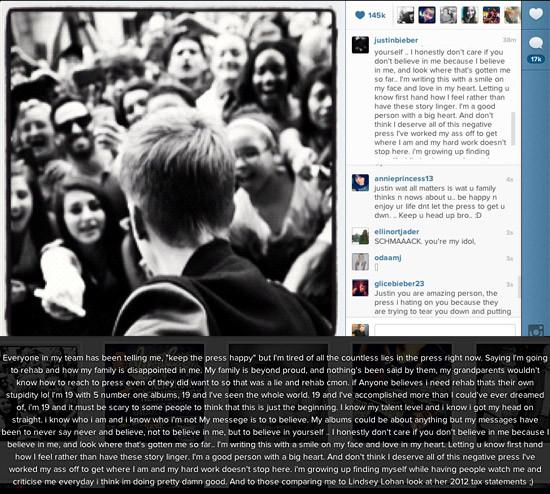 Bieber's post on Instragram on March 15, 2013
However, this week when asked about Bieber, via her words and expressions, his mom Pattie revealed she is clearly worried about what's going on regarding him. Bieber's mom stated, "I really don't know what to say. I think moms always worry about their children.
The roles have changed now that he's 19. Of course I have talks with him, of course I have conversations with him about all that stuff. I wouldn't say [I'm more hands-off]...it's just different."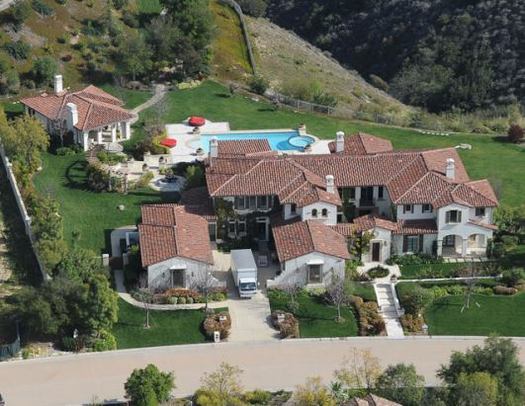 Justin Bieber's home in Calabasas, California, where the incident transpired
Since the time I wrote the initial tweet and article, Bieber has been placed under formal criminal investigation in California for an incident that transpired in his neighborhood, regarding him spitting on and threatening to kill his neighbor. Things have been spiraling out of control in Bieber's camp but instead of helping him via therapy and rehab, his minders are shutting out his family and working him to death. You can't claim to care about someone and do that.
RELATED ARTICLES
Justin Bieber Apologizes For Slamming Lindsay Lohan As A Broke Loser
Justin Bieber Calls Actress Lindsay Lohan A Broke Loser
STORY SOURCE
Justin Bieber's Mom, Pattie Mallette: 'Moms Always Worry About Their Children' (VIDEO)