Justin Bieber Snubbed By The Grammys Leading His Manager To Slam Them
December 6. 2012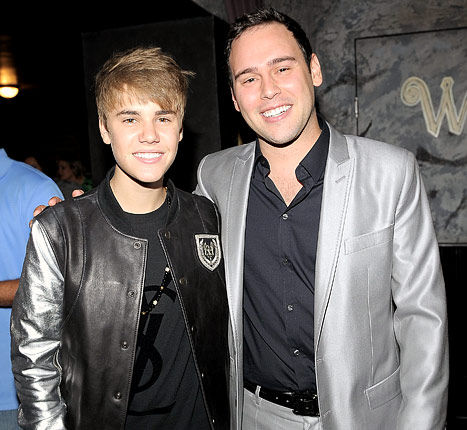 Justin Bieber and Scooter Braun
Pop singer Justin Bieber is dejected today, as he discovered he has been snubbed by the Grammy Awards, after pushing for a record number of nominations. Bieber's manager Scooter Braun went on a rant regarding the Grammy committee overlooking him, "This time there wont be any wise words, no excuses, I just plain disagree. The kid deserved it. Grammy board you blew it on this one...This time he deserved to be recognized and I don't really have any kind nice positive things to say about a decision I don't agree with."
Me personally, after seeing the process firsthand in dealing with the Grammy committee, regarding a deceased music legend I tried to get on the ballot in an appropriate category a few years ago, who started his own form of music, reggae, wrote and produced more music than most and discovered and signed Bob Marley (Clement Coxsonne Dodd, my late godmother's husband), I can say in all honesty before God I would not want a Grammy.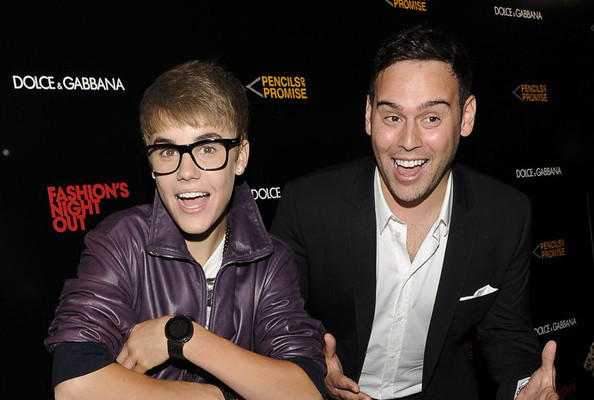 It's complete rubbish. The process is pure foolishness. Never again. It is rigged. Furthermore, when you see who constantly wins, artists with little or no talent, who are constantly and credibly sued for committing copyright infringement, it invalidates the entire award.
When you find out the level of music industry politics that goes into it and the sheer number of butts you have to kiss, it is not worth it. The nominations and voting process for the award is so suspect. It's who you know (and bow to and often in more ways than one) not what you do (music, talent ect). I've been telling you guys that on the site for years...
RELATED ARTICLES
Justin Bieber Is Having A Nervous Breakdown Over Love Triangle And Career Pressures
It Must Be Hard For Barbara Palvin's Boyfriend That Justin Bieber's Been Trying To Bed His Girlfriend
Beliebers Going After Barbara Palvin For Dating Justin Bieber
Justin Bieber's New Girlfriend Barbara Palvin Stated She Does Not Like His Ex Selena Gomez
Justin Bieber Seen On Date With Beautiful Victoria Secret Model Barbara Palvin Who Is Lying About Their Relationship
Report: Justin Bieber And Selena Gomez Have Broken Up
Justin Bieber And Selena Gomez's Relationship Is In Trouble - Part 2
Justin Bieber And Selena Gomez Are Having Relationship Problems - Part 3