.
Justin Bieber Tried To Go Down Stairs Butt First As Scandal Brews
October 20. 2012
18-year-old pop star, Justin Bieber, decided to go down a flight of stairs butt first, during a concert performance in his native Canada, featuring cougar, Carly Rae Jepsen, whom he has a thing for and has gotten close to, in spite of having a girlfriend, Selena Gomez (that little pimp). However, Bieber's slide down the stairs booty first, was accidental, as he rushed towards the main stage.
In the meantime, a scandal has been brewing regarding Bieber's handlers, manager Scooter Braun and mentor, singer Usher Raymond. They are being accused of gouging Bieber's fans with inflated, rip-off ticket prices. Allegations have also been made that they are scalping their own tickets, which is illegal. Parents of Bieber's fans are paying the price for this dishonesty.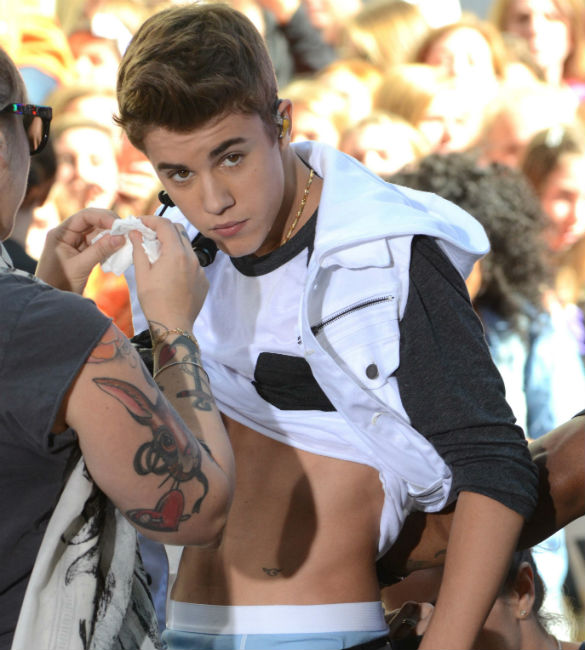 Justin Bieber
Braun and Usher have also been engaging in criminal copyright infringement, copyright infringement, money laundering, IRS fraud, bank fraud, corporate fraud and corporate theft, via illegally accessing protected data for unauthorized use, in their dealings regarding the pop star's career and others in their stable. Songwriters and producers have openly complained in the industry of Bieber's team stealing their music or buying it and giving the teen singer writer's credit for their preexisting works.
Despite his 27,000,000 "followers" on Twitter, with half the number said to be comprised of users that are not real, Bieber has been experiencing noticeable sales decline. If Bieber truly ahd 28,000,000 followers, his sales would be in the tens of millions per CD and single released. However, it is no so. To compensate for this fact, journalists have been writing that Bieber's team orchestrated the alleged laptop theft for publicity, to drum up sales interest in the singer. Thus far it has not worked, as sales are still down.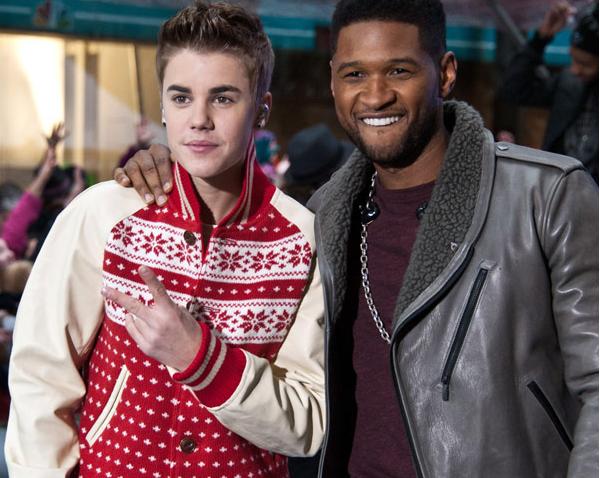 Justin Bieber and Usher
Recently, music manager and television personality, Sharon Osbourne, stated she likes Bieber, but does not think his career will last. Sadly, due to the corrupt, greedy team he has around him, his career is already fading fast. An artist should be careful about assuming they will have longevity.
As a musicologist, I've seen many artists come and go. The most striking of all the teen star collapses had to be the New Kids On The Block, who at the height of their teen fan driven fame went from selling 20,000,000 copies of one CD (far more than Bieber) to total music flop in one month, with the release of a failed follow up.