Kabbalah Rabbi That Extracted $100,000 From Lebron James Thrown In Jail For Bribery
December 7. 2016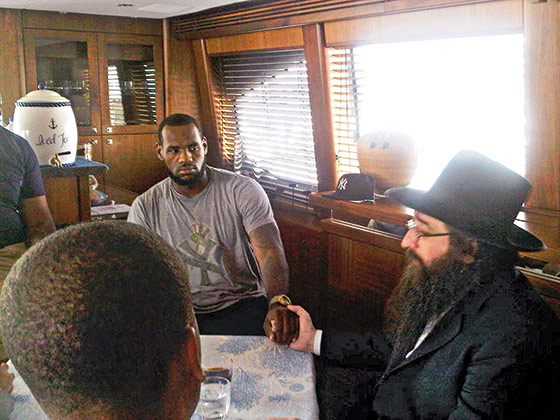 An angry and resentful looking Lebron James sitting with Kabbalah cult rabbi Yishayahu Yosef Pinto, who extracted $100,000 from the basketball star. Since the photo, Pinto has been indicted and arrested for bribery.
This is a follow up to the November 29, 2016 "Famous Athletes Being Threatened And Forced Into Gay Sex By Madonna And Jay Z's Kabbalah Center As An Initiation Into The Hollywood 'Illuminati'." There is an additional back story regarding the fake rabbi and con artist, Yishayahu Yosef Pinto, featured in the article. Pinto, a member of the Hollywood 'Illuminati', known as the Kabbalah cult, was hit with bribery charges in his native Israel.
Pinto has been engaging in illegal behavior in Israel (and now America as well) which led to him amassing $19,000,000 in so-called donations. The average rabbi does not have that amount of money, especially from donations, which Pinto gained through strong-arm, terror tactics and other questionable means. This caught the attention of the Israeli government.
When Pinto discovered he was being investigated by Israel authorities for money laundering and the misappropriation of charity funds, he sent his wife with envelopes of cash totalling $200,000 to bribe an Israeli police general, Brig. Gen Ephraim Bracha, head of the Israel Police's National Fraud Squad, into blocking the case. However, unbeknownst to Pinto, Bracha was apart of a sting looking into his corruption and charity fraud. Pinto was accused of trying to bribe several law enforcement officials and threatening them as well.
Rabbi Pinto was tried and convicted on felony bribery charges. He was sentenced to 1-year in jail. However, he fled to America and attempted to evade extradition by claiming ill health at age 42. In what the press implied is a fake, error strewn doctor's note submitted to the Israeli court, the item claimed Pinto is in ill health and cannot travel from America to Israel to do jail time. However, the Israeli Supreme Court disagreed and extradited him anyway, stating the jail system has doctors.
Despite the fact he was an arrogant braggart prior to being charged, when it dawned on him he is going to get locked up, Pinto turned into a wimp and tried every stunt in the world, including exaggerating his health problems, in bids at staying out of jail. It didn't work. Pinto was jailed. Pinto began serving a 1-year jail sentence in February 2016. Kabbalah members don't learn from their criminal choices, they simply re-offend until they get into worse legal trouble.
Pinto's wealth as a rabbi, had also begun to draw press scrutiny, which led to articles being written that understandably paint him in an unfavorable light as a charlatan. Pinto's insane Kabbalah followers grew angry and physically assaulted journalists for writing about him. Things grew even worse when Pinto's evil, demonic Kabbalah followers insanely began hounding and terrorizing police general Bracha for the police sting, pushing the officer to suicide. Ironically, Pinto's wife he sent to bribe police general Bracha, tried to kill herself months after the suicide.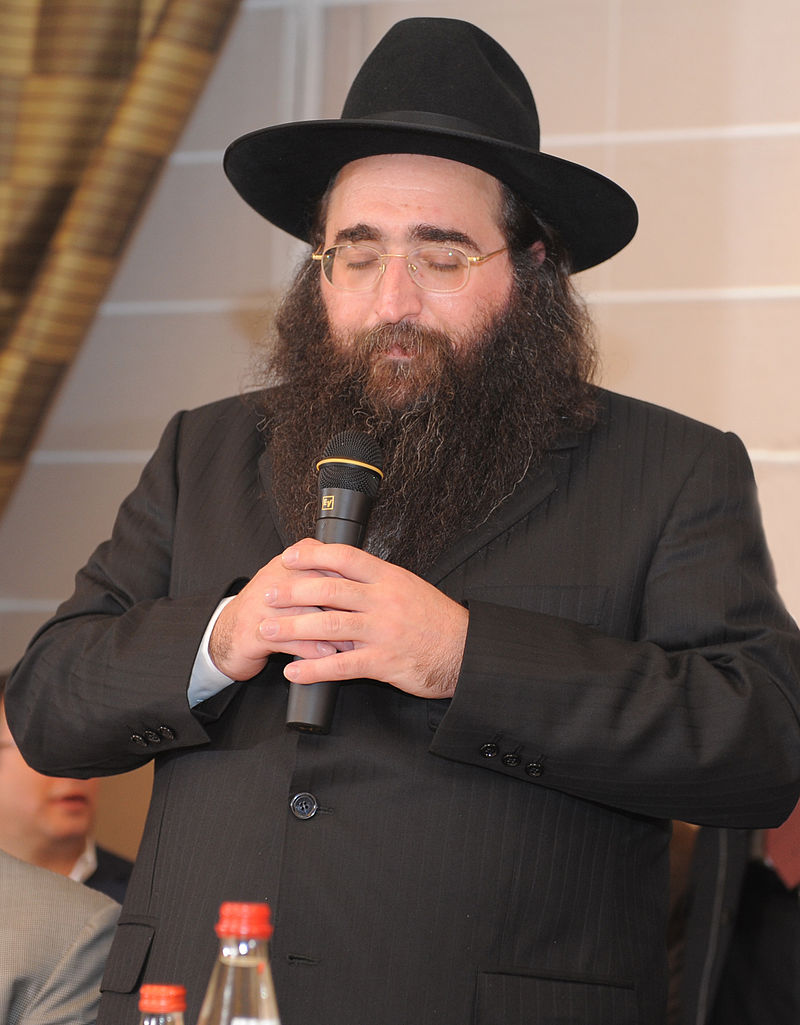 Yishayahu Yosef Pinto
In another twist, a New York businessman Pinto tried to fleece, was pushed to suicide, in deeds people blamed on the evil rabbi. A private investigator was hired to investigated the money grubbing rabbi Pinto, regarding the wealthy businessman's strange death, after the two had a public falling out. For a man that is supposed to be holy and bring peace, people mysteriously keep being driven to suicide around him after being hounded, threatened, terrorized and assaulted by his insane followers, who are nothing more than deranged thugs.
This further affirms what the Judiciary Report has repeatedly stated about the Kabbalah cult for years - they are deranged, violent, evil stalkers, who demonically hound innocent people they become obsessed with like insane lunatics. Rabbi Pinto's story is more proof of what I have stated about them all along, they like to issue bribes to the government to get away with criminal behavior. They are a scourge on humanity, who need to be locked away for public safety. Criminally insane, evil people like those in Kabbalah should not be free.
Pinto was also hit with a lawsuit in New York for threatening a businessman with physical harm and trying to orchestrate his fraudulent arrest. Pinto and his assistant illegally benefited from a $10,500,000 real estate investment loan from an Israeli company. Tomer Shohat, an Israeli businessman who is a representative of the corporation that issued the loan, came to America to check on the real estate investment, only to discover Rabbi Pinto and his associates had misappropriated the funds and refused to show him the business' financial books.
Sensing they were in trouble, Rabbi Pinto and his assistant threatened to have Shohat physically injured and locked up in an American prison by New York Police Officer, Eric Patino, which is completely illegal. Rabbi Pinto and police officer Eric Patino, threatened the foreign businessman that if he did not give them his laptop with information he had collected on crimes, regarding them misappropriating millions of dollars in loan money, he would be locked up (it's clear the Kabbalah cult has a sick obsession with trying to criminally take people's laptops).
When Shohat would not give them his laptop, they made a fraudulent claim through police officer, Eric Patino, that Shohat had stolen $15,000 in petty cash and had him arrested. The New York State Attorney dropped the charges against Shohat 2-months later. However, it is the Judiciary Report's opinion, Patino should be indicted and arrested for his role in the corrupt scheme to extort, blackmail and arrest an innocent foreign businessman. It doesn't look good that a crooked cop was able to pull off such a scam with a sick cult. Pinto is an outright thug and criminal.
Once again, I refer you back to the photo posted above of Lebron James. Take a good look at the photo. Lebron looks angry, uneasy, resentful and afraid. I have never seen Lebron look like that in a photo. It was shocking. He is usually tranquil and smiling. And it has nothing to do with the rabbi being Jewish, as there are many Jews in the sports world who are loved by athletes. This is about the Kabbalah cult, a sect denounced by many Jews, as it is destructive and nefarious. They sought Lebron out to exploit him and thanks to an introduction by Jay Z, the cult's resident house negro, a slew of young black athletes are being fleeced and terrorized by the Kabbalah Center, having not realized what they were truly getting involved in.
Kabbalah cultists keep targeting high profile people with money or unknowns with money and other assets, as they seek to fleece others out of cash and other property, in conduct that is completely criminal.
STORY SOURCE
The World's Leading Kabbalist, Guru to Billionaires, Is Going to Jail
01.07.16 12:01 AM ET - Rabbi Yoshiyahu Yosef Pinto was once the powerful head of a multimillion-dollar empire and spiritual adviser to the likes of LeBron James. Now he's going to prison for bribery. The leading Kabbalist in the world is going to jail. Rabbi Yoshiyahu Yosef Pinto is a celebrity in Israel and among financial and real estate elites in New York. A sage whose followers include the leaders of Israel's business elite, Pinto is the descendant of Moroccan Jewish saints, a Sephardic hero, and a master of Kabbalah, the ancient tradition of Jewish mysticism and magic. His net worth has been estimated at $19 million, not including the vast sums under the control of his various nonprofit organizations.
He is also a felon, convicted of bribing an Israeli police general. This week, after exhausting what is probably his last appeal—a last-ditch effort to avoid jail for health reasons—it appears he is finally headed for prison. Adding insult to injury, a $30 million defamation suit the rabbi's organization filed against a reporter was dismissed by a New York court this week for lack of jurisdiction....
But for a holy man, Pinto is surrounded by shady criminal elements, including outright crooks. In Israel, these include Yossi Harari, the head of the Ramat Amidar underworld gang, and mobster Shalom Domrani. In the United States, they include Michael Grimm, the former Staten Island congressman convicted of tax evasion and perjury. Pinto was not directly implicated in Grimm's crimes, but his close associates were; allegedly, they solicited donations for Grimm's election campaign from Pinto's network of followers in excess of legally allowable amounts...
There were also dubious characters within Pinto's own organization. In 2011, The Jewish Daily Forward discovered that a top aide, Ben Zion Suky, had been a pornographer. Then they broke the news that Pinto's Israeli charity "had spent tens of thousands on a high-end hotel, fine men's clothing and jewelry, among other luxuries."
But as described in a 2014 expose by New York Magazine, the empire really began falling apart in 2011, when Pinto's former aide, Ofer Biton, began to turn against him, with the help of high-flying publicist Ronn Torossian. Torossian threatened Pinto's organization with a negative PR blitz, and then began to carry it out. Biton extorted cash. Eventually, both Pinto and Biton were working as informants.
Meanwhile, Israeli authorities started investigating Pinto's charities for misappropriation of funds, eventually arresting 10 employees. That's when Pinto's wife passed envelopes full of cash to the wife of police Brig. Gen. Ephraim Bracha, who had been a follower, in the hopes that Bracha would block the investigation. Unbeknownst to Pinto, Bracha was actually part of it.
Facing years in prison, Pinto took a plea deal last spring, and on May 12, he received the lightest sentence permissible under law: one year plus a fine. One month later, Bracha, who had been hounded by Pinto's followers, committed suicide.
But Pinto fled to New York, pleading ill health. At the end of October, his organization proffered a weird, error-filled letter from a urologist, urging that the rabbi not fly back to Israel, even though the rabbi "insists" upon doing so. Followers assaulted reporters covering the case, and made threats to witnesses who had testified. But Pinto was sent back. And now his last appeal to the Israeli Supreme Court has been rejected; the Court said that Israeli prisons can provide whatever medical care the 43-year-old rabbi needs...
Rabbi Yoshiyahu Pinto Ordered NYPD Detective to Arrest Aide's Rival: Lawsuit
February 21, 2014 - Rabbi Yoshiyahu Yosef Pinto ordered a New York City police officer to arrest his top aide's business rival, according to allegations in a civil complaint filed in New York State Supreme Court on February 19. The officer, Detective Eric Patino, allegedly said he would release the rival, an Israeli businessman named Tomer Shohat, if Shohat gave him a computer containing information he had gathered on alleged misconduct by Ben Zion Suky, Pinto's right-hand man...
The New York civil suit stems from a conflict over a Manhattan apartment building at 440 West 41st Street that was owned, in part, by a company controlled by Suky. The Forward reported in 2011 that Suky was a former pornography distributor with multiple legal entanglements related to his real estate investments.
The defendants have yet to file a response to the allegations. They do not appear to have obtained representation in the matter. Ben Zion Suky did not respond to a message left on his voicemail. Eric Patino could not be reached at a listed number. The phone at Pinto's New York synagogue appeared to be off the hook. The NYPD also did not respond to a request for comment on the lawsuit.
Shohat's attorney, David Jaroslawicz, said that Shohat, 31, is a former Israel hedge fund manager tasked with recovering a $10.5 million investment that he and others had made in the 440 West 41st Street building. According to Shohat's complaint, the company that owned the building, Metro Apartments, had failed to make payments on loans extended by Shohat's group. Shohat suspected that funds were being misappropriated, so he traveled to the United States from Israel to inspect Metro's books. Upon arrival, Shohat allegedly discovered that Suky was misappropriating company funds and mismanaging the property.
Shohat allegedly brought his findings to Pinto, who asked Shohat not to report them to the police. Later, according to the complaint, Pinto and Suky threatened to have Shohat injured or to have him arrested by Patino if he continued to investigate irregularities at the building. When Shohat continued his investigation and reported his findings to the Metro board, he was allegedly threatened again, this time by Pinto's brother, Menachem Pinto, who is also a defendant in the suit. Suky then accused Shohat of theft and, according to complaint, Pinto and Suky "arranged for…Patino to arrest [Shohat] and charge him with crimes he had not committed."
Shohat was arrested February 21, 2013. According to the complaint, Patino first told Shohat he would be let go if they could eat lunch together and talk. Later, after Shohat's attorney had come and gone, Patino allegedly told Shohat that he would let him go if he gave Patino his computer, which contained data about the Metro Apartments investigation. Following the arrest, Patino filed a felony complaint against Shohat accusing him of stealing $15,000 from a locked petty cash container at 440 West 41st Street. The D.A.'s office filed a motion to dismiss the charges in April...
RELATED ARTICLES
Obama Administration Wastes Huge Sums Of American Taxpayer Money Breaking The Law In America, Britain And Jamaica On Behalf Of Madonna's Kabbalah Center In Committing Egregious Human Rights Abuses
Madonna, Jay Z, Beyonce, Rihanna, Rita Ora And Jessie J Sued Over Copyright Infringement, Invasion Of Privacy, Commissioned Criminal Harassment And Assault Via The Kabbalah Center
Obama Administration Wastes Huge Sums Of American Taxpayer Money Breaking The Law In America, Britain And Jamaica On Behalf Of Madonna's Kabbalah Center In Committing Egregious Human Rights Abuses
Guy Ritchie Filed Court Request For Custody Case To Be Heard In London Due To Madonna's Penchant For Bribing American Judges
Obama's FBI Is Engaging In A Vicious Criminal Pattern Of Abuse And Brutalization Against Innocent Jamaicans - Part 2 (MURDER)
Madonna's Son Does Not Want To Spend Christmas With Her Fleeing To His Dad's House In London In Defiance Of Court Order
Obama's FBI Is Engaging In A Vicious Criminal Pattern Of Abuse And Brutalization Against Innocent Jamaicans
Madonna's Underage Son Arrested In London On Drug Charge