Kevin Hart Cheating And $10,000,000 Extortion Scandal Is Ruining His Brand (Video)
September 21. 2017
This week Los Angeles attorney Lisa Bloom held a press conference with her client, Montia Sabbag, who is one of the mistresses of comedian and actor, Kevin Hart. Sabbag is caught up in a criminal investigation regarding Hart being the subject of a $10,000,000 extortion bid. Hart, who is married, had a sexual encounter with Sabbag in August in Las Vegas, Nevada. They had sex in Hart's hotel suite. However, someone secretly and illegally recorded the graphic sex acts using a hidden mobile phone.
Hart was then sent extortion threats by a woman, demanding $10,000,000 or the sex tape would be made public. The same woman also shopped the sex tape to outlets for $15,000,000. Hart decided to go to the police about the matter and publicly confess on his Instagram social networking page, to having an extramarital affair. Sabbag is now concerned about going to prison and is denying any involvement in the scandal that is being investigated. Sabbag is also claiming that contrary to credible public reports, she is not a stripper, but an singer/actress (aren't they all).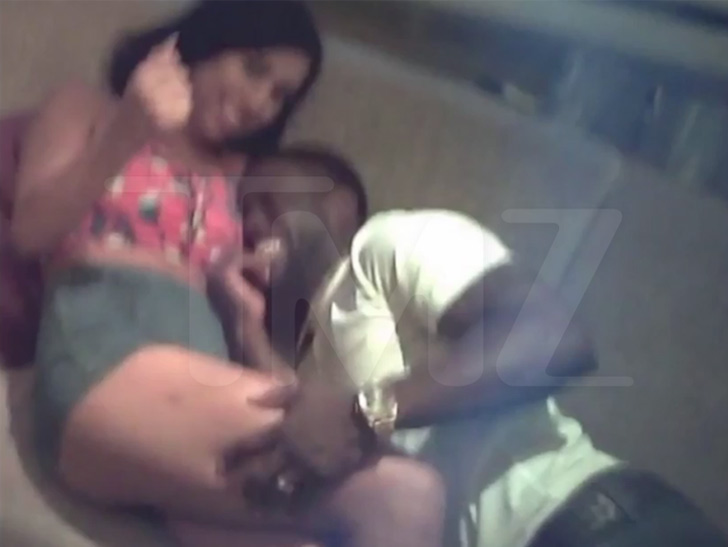 A still from the sex tape with Kevin Hart and Montia Sabbag
Sabbag stated she would sit for the lie detector test Hart's lawyers demanded, if he paid her $420,000. Those are not the words of an innocent person or an individual seeking to help law enforcement catch a criminal. Sabbag's request is extortion. Her conduct is greedy and alarming. I don't believe her in this case. Sabbag's body language at the press conference was not confidence inspiring either. She looked shifty and jumpy.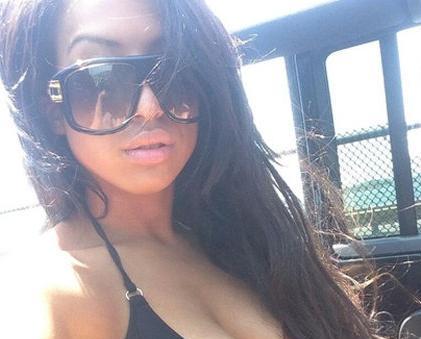 Montia Sabbag
Hart cheated on his first wife, Torrei Hart with Eniko Parrish, who became his second bride. Hart has been cheating on Parrish with several women as well, which has devastated pregnant Parrish. However, the public is not displaying much sympathy for Hart or Parrish, labeling them two adulterers who are getting back the bad they put out there in what they did to Torrei.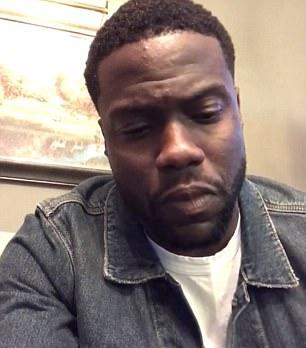 Kevin Hart apologized to his wife and kids on Instagram
I have nothing against Hart. He's a funny guy. However, this scandal is not good for Hart's family, especially his kids. Additionally, from an industry standpoint, these cheating scandals are not good for Hart business brand. They have officially overshadowed his career. Some online are calling him a fake. This will impact his sales and future work, as it is never a good thing when negative events in an actor, singer or athlete's personal life overshadows their career.
STORY SOURCE
Kevin Hart Woman in Extortion Video Traveling Stripper
9/19/2017 1:00 AM PDT - Kevin Hart partied with a woman -- who is now at the center of the sexually explicit video -- for an entire weekend last month, and we've learned she's a stripper who hits up whatever clubs she can book. Her name is Montia Sabbag, although she sometimes spells it Montiah Sabagg. She's 27, lives in Long Beach, CA and met Kevin during a pretty wild weekend in Vegas back in August.
The first frames of the 4 minute and 47 second video are a pic of Kevin and Montia. You can't see who's on the bed during the most explicit portion of the tape, but after the bed scene 2 people who look like Kevin and Montia are walking around in various stages of undress. We're told Kevin had never met her before and has not had any encounters with her since.
As we reported, she denies she had anything to do with shooting the video, but authorities are not so sure. We're told there were other people present during the weekend and investigators are tracking them all down, with the intent of serving search warrants as quickly as possible. The brass ring for law enforcement is decoding the encrypted emails the extortionist sent to Kevin's people and figuring out the sender's identity.
As we reported, Montia lawyered up almost immediately after Kevin's team contacted her, and her lawyer said she would sit for a lie detector test if Kevin paid her $420,000. Our sources say before making a multi-million dollar demand to Kevin in return for keeping the video a secret, the extortionist tried to get at least one media outlet to pay $15 million for the highly produced video...
RELATED ARTICLES
Kevin Hart's Wife Eniko Parrish Slips Up And Unmasks Herself As His Former Mistress Who Destroyed His Marriage To Torrei Hart (Video)
Kevin Hart The Subject Of A $10,000,000 Extortion Attempt Over Graphic Sex Tape Made While Cheating On His Pregnant Wife (Video)
Kevin Hart Trolled On Social Networking As Video And Pictures Surface Of Him Cheating On His Pregnant Wife (Video)
Kevin Hart's Mistress Identified As Aspiring Singer Monique Gonzalez