Las Vegas Police Department Sends Out Order To All Strip Clubs To Ban Floyd Mayweather Over Sexual Harassment
November 1. 2014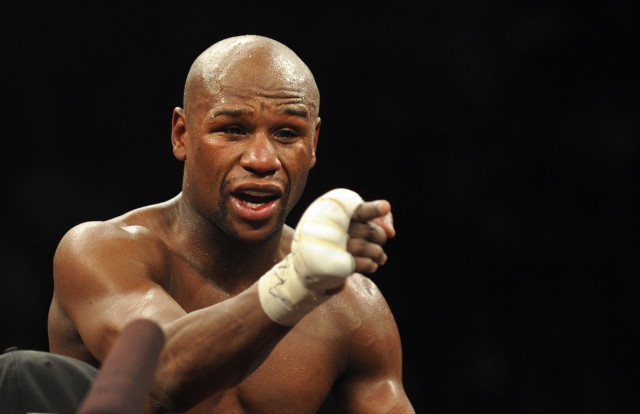 Floyd Mayweather
The Las Vegas Metro Police Department is watching and investigating boxer Floyd Mayweather, which spells trouble for the star. The website TMZ released a report stating they've obtained information contained in an internal report from the Las Vegas Metro Police Department, who have been ordering all local strip clubs to ban Mayweather from their premises. Some have refused to do so, due to the money he spends in said seedy businesses.
Mayweather is being accused of sexually harassing strippers and engaging in illegal and inappropriate behavior strip clubs are not sanctioned for. TMZ wrote, "As one law enforcement source put it, 'He [Floyd] goes in and pulls a 'Do you know who I am' and does inappropriate things with some of the women.'"
That was a warning shot from the police, but the question is will Mayweather heed it. Just two weeks ago in the October 20, 2014 article "Floyd Mayweather Sued Over Sparring Session And Admits To Boxing Commission His 'All Access' Documentary Series Is Fake" the Judiciary Report stated regarding Mayweather, "Find yourself a decent woman and settle with her and leave the loose women alone before they destroy everything you've worked to build your whole adult life." That's exactly what he is headed for. It sounds like the police want to arrest Mayweather over his conduct regarding women.
In the same aforementioned article, the Judiciary Report also stated Mayweather's conduct is not setting a positive example for other athletes and he is not being candid regarding the self-inflicted damage it has brought to his own life. There are up and coming as well as established younger athletes, who are trying to emulate Mayweather and it is going to cost them their health, freedom, career and money if they are not careful. Trouble is brewing.
STORY SOURCE
Floyd Mayweather - Cops Warning Vegas Strip Clubs Don't Let Him In!
11/1/2014 12:45 AM PDT - Las Vegas strip clubs are getting a stern warning from cops -- DON'T LET FLOYD MAYWEATHER INSIDE ... because he sexually harasses strippers ... something Floyd denies. TMZ Sports has learned ... the Vice unit of the Las Vegas Metro Police Department contacted multiple strip clubs in Sin City ... telling them Floyd and his crew have run roughshod in various clubs, manhandling the girls.
As one law enforcement source put it, "He [Floyd] goes in and pulls a 'Do you know who I am' and does inappropriate things with some of the women." We spoke with honchos from multiple strip clubs who tell us they will NOT heed the warnings, because they've never had a problem with Floyd. Plus, everyone knows he spends a TON of cash.
Sources close to Floyd tell us the boxer is adamant he has NEVER done anything wrong at a strip club -- particularly with women -- and has no idea why cops would have him in their crosshairs.