Lawsuits Filed Over Mayweather McGregor Fight Due To Pay Per View Network Outages
August 30. 2017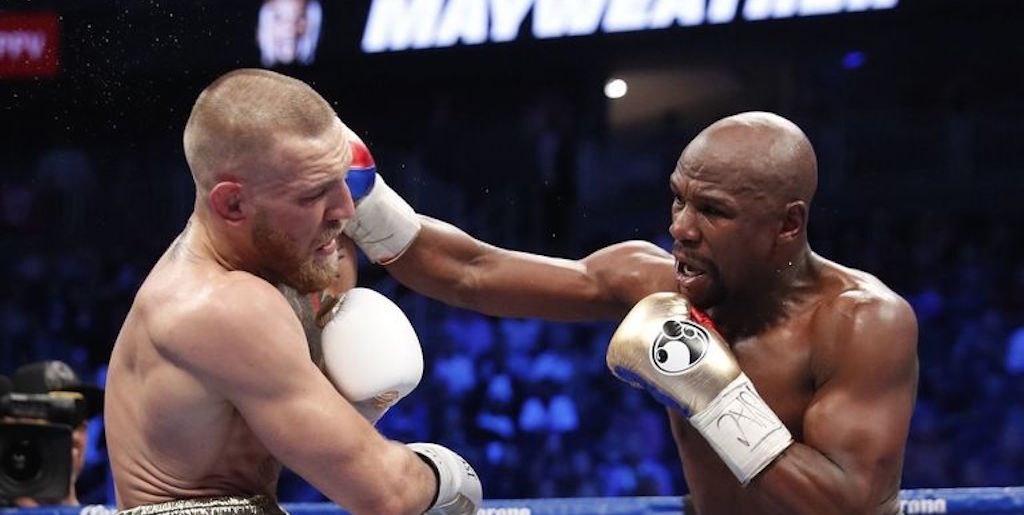 Conor McGregor and Floyd Mayweather
Two lawsuits have been filed over the Floyd Mayweather vs. Conor McGregor boxing match that was held this past Saturday, due to television streaming issues, which includes poor playback and blackouts. Due to the poor service some experienced, lawsuit have been filed against Showtime seeking refunds and additional damages.
Boxing champion Mayweather, defeated MMA's top star, McGregor, via a TKO in the 10th round. The fight could have continued, as McGregor was not on the canvas. McGregor was on the ropes. Referees are understandably being more cautious due to the long-term effects of head injuries. However, I like a fight that ends with someone on the canvas (but not seriously injured).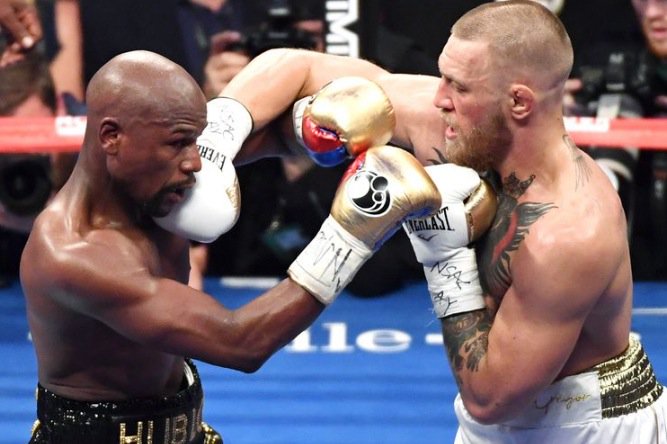 Conor McGregor (right) gassed out in the 10th round against Floyd Mayweather (left), indicating like some professional boxers, he needs greater conditioning. When a fighter grows weary during the fight, trainers usually recommends a greater focus on conditioning workouts to remedy the fighting fatigue. Mayweather is the type of boxer who will provoke an opponent into overworking himself, while he quickly lands punches and then evades them in the ring. It's a tactical and mind game.
Mayweather clearly won the fight in rounds (points), punches landed and aggression. McGregor, a boxing novice, held his own landing 111 punches on Mayweather. 99 percent of the public would have been knocked out in round one. Therefore, McGregor can fight to have lasted 10 rounds with Mayweather, especially in his debut fight.
Despite the pre-fight animosity and insults hurled from both men via public trash talk, Mayweather and McGregor are actually friends. The trash talk was all for TV and the internet to sell the fight. Off camera they grinned at and greeted each other with hugs, delirious at how much money they would and now have made (LOL).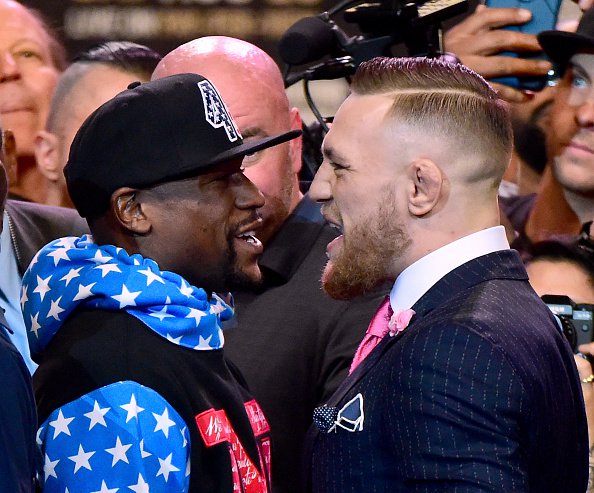 Before the fight
It is estimated 3,000,000 people watched the fight online via illegal streams, which is not to be encouraged. This can occur when someone places a video camera in front of the fight on pay-per-view (PPV) television then illegally streams it online for others to watch. This is completely illegal and constitutes copyright infringement.
Ticket sales for the fight were poor. There were over 5,000 unsold tickets. Ticket prices ranged from $500 to $100,000. It priced many boxing fans out of purchasing a ticket, which is not good for the sport. Much of the floor seats were purchased by celebrities who are not really boxing fans, but wanted to be seen and photographed at the event. Holding it in a larger venue with lower ticket prices would have been the better idea.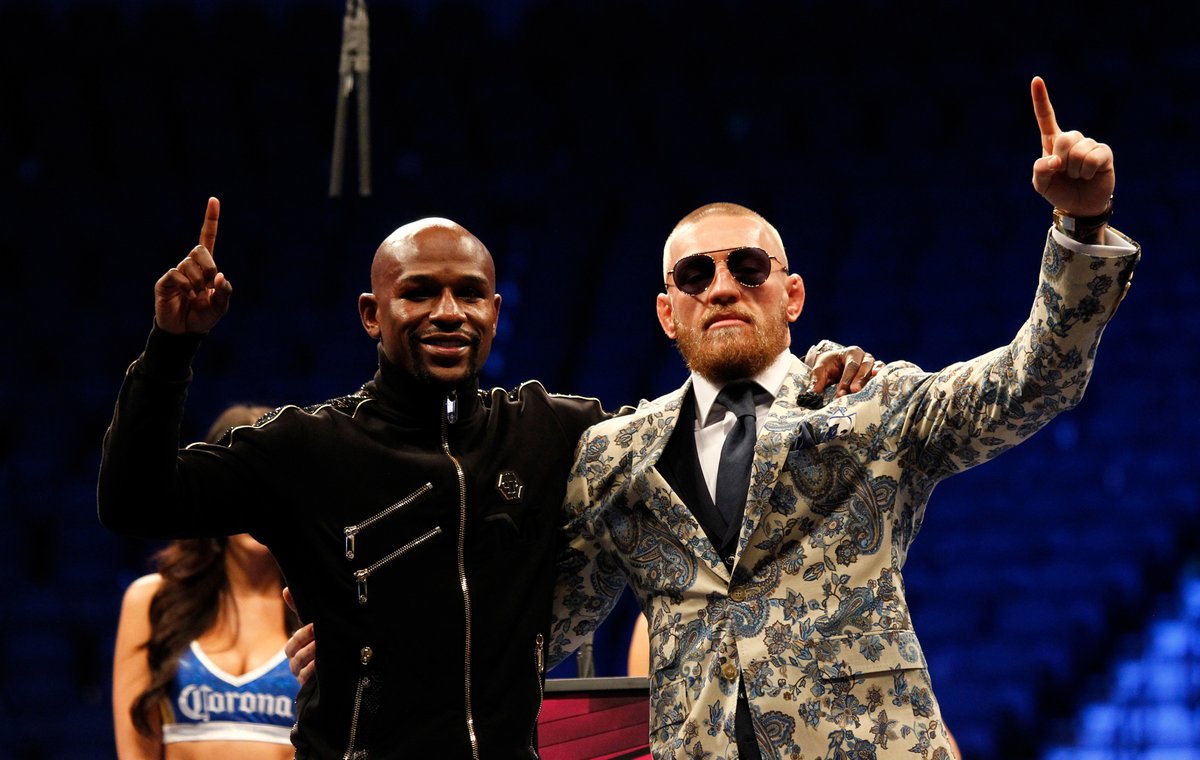 The tickets sales were poor due to overcharging which excluded much of the population, but promoters are hoping PPV numbers will be better. No receipts have been released yet regarding PPV numbers for the fight. However, it will clearly and naturally outstrip ticket sales.
Mayweather owes the IRS $22,000,000 from the lucrative Manny Pacquiao fight. He will also owe the IRS for 2016 and their tax share of the McGregor bout. Mayweather needs to put the tax money aside, as he states the McGregor match was his last fight.
STORY SOURCE
Showtime hit with lawsuits over Mayweather fight pay per view
August 28, 2017 / 7:10 PM - LOS ANGELES (Reuters) - Two U.S. boxing fans have filed lawsuits against cable TV provider Showtime over the quality of the livestream for the much-hyped weekend fight between Floyd Mayweather and Conor McGregor. Two separate lawsuits, filed in Oregon federal court by Portland resident Zack Bartel and by Victor Mallh in New York federal court, seek class-action status for what they allege were failures in Showtime's pay-per-view livestream of the match in Las Vegas.
Bartel and Mallh said they had paid $99.95 to Showtime to watch the match. Bartel's unlawful trade practices lawsuit said that instead of being a "witness to history" as promotions for the fight had promised, all he saw was "grainy video, error screens, buffer events, and stalls." Mallh's breach-of-contract lawsuit said his service continually logged out and when he was able to watch, "the pictures were delayed, cutting out, or otherwise incomplete." Both are seeking jury trials. Showtime, a unit of CBS Corp, said it could not comment on ongoing litigation...
RELATED ARTICLES
Floyd Mayweather Is Having Money Problems And Is In Financial Trouble With The IRS As Predicted Previously On This Site
Floyd Mayweather Owes The IRS $22,000,000 In Taxes From 2015 Manny Pacquiao Fight