Lil Boosie Outrages Online Public Stating He Will Get Someone To Perform Oral Sex On His Underage Son For His Birthday
August 9. 2017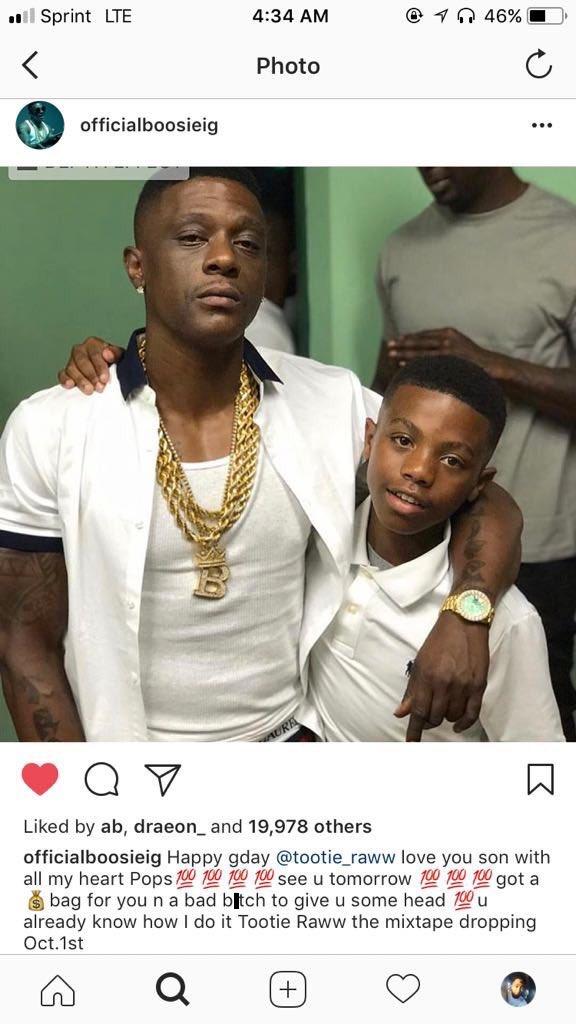 Lil Boosie's post on Instagram infuriated the public
Felonious rapper Lil Boosie, real name Torrence Hatch, was released from prison a drug charge after serving 8-years. The murder charge against him was dismissed. Shortly after his release, Boosie disclosed the fact he is suffering from cancer. Since his release, Boosie has been experiencing financial problems in attempting to resume his rap career. Lil Boosie was also in the middle of other controversies, which were written about online.
Lil Boosie had a confrontation with a Delta Airlines employee, where he angrily stated she is "a big black lady with that big a*s" and "you're a real ignorant, selfish b*tch and did not try to help somebody who spends over a million dollars on Delta a year. F**k you!" For the record, Boosie does not spend over a million dollars per year on airplane tickets with Delta or any other airline. He was probably high when he made that statement. Boosie also slammed the New Orleans Saints football team, regarding his athlete cousin, Cameron Sutton, who was featured in the NFL the draft.
This week Lil Boosie enraged the public with an item he posted on the social networking website Instagram. Lil Boosie stated of his son who was just about to turn 14-years-old, "Happy gday @tootie_raww love you son with all my heart Pops. See you tomorrow. Got a money bag for you n a bad b*tch to give u some head. U already know how I do it. Tootie Raww the mixtape dropping Oct. 1st."
The public labeled Lil Boosie's post on Instagram child molestation. There is no state in America that it is lawful for a 14-year-old to have sex. It is strictly forbidden by law. If Lil Boosie procures a minor for his son to have sex with, that is the molestation of two minors, endangerment and exploitation of children. If Lil Boosie procures an adult female to perform a sex act on his son, he and the woman are guilty of criminal misconduct and would be prosecuted as child molesters and sex offenders. Lil Boosie is also wrongly teaching his son via example that women are prostitutes to be paid, used for sex and discarded.
This is one of the things that is so terribly wrong with Hollywood. Lil Boosie is not the only one who encouraged his offspring to engage in underage sexual activity. A number of celebrity kids in Hollywood have been molested when their parents negligently left them with people they knew to be questionable or knowingly permitted their children to engage in unlawful sex at an early age.
It is one thing when a minor defies their parents and secretly engages in sexual activity behind their backs. You can't blame the parents in that situation, as they did not know of or encourage said unlawful behavior. However, in Hollywood a number of parents (not all) encourage their children to engage in underage sex, unlawful alcohol consumption and illegal drug use - all things children are not permitted to do under existing laws.
That is setting your children up for addiction and the destruction of their lives (if no intervention in staged to save them). The issue is compounded when such conduct is made public and impressionable people think it is acceptable behavior, when it is criminal and detrimental in every way.
RELATED ARTICLES
FBI Accuses Warner Music Rapper Of Murder
Rapper Lil Boosie Gets Off Murder Charge