Lindsay Lohan Booed And Panned
October 5. 2009
"Linsday Lohan booed at F1 Rocks, Singapore"
Lindsay Lohan is having a rough year life. First, she destroyed her seven-figure acting career with illicit sex, drugs, debauchery, lawbreaking and a mind numbingly sick cult, Kabbalah, rendering her uninsurable in Hollywood.
Then, she decided to become a lesbian, to kiss up to gay Hollywood, but it finished off her career with family audiences. She briefly shacked up with lesbian DJ, Samantha Ronson, who she routinely gets into fist fights with. Next, she moved out into a rented abode in the Hollywood Hills that she could not afford.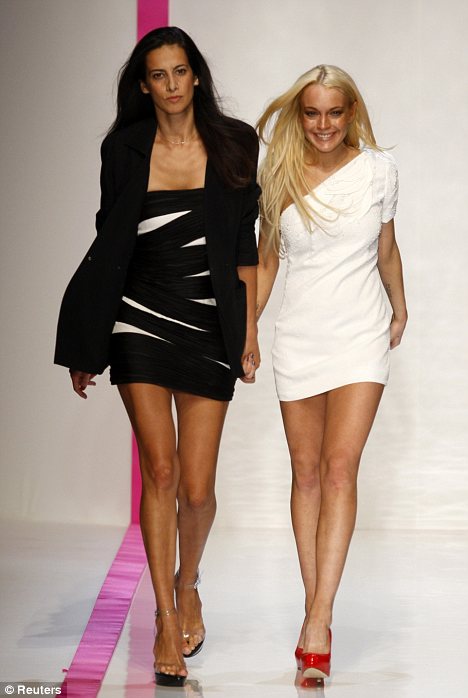 You'd never guess the one on the right, Lindsay Lohan, is 23, looking decades older due to self-inflicted abuse. How come Jennifer Lopez at 40 can stroll down the runway and look 23, but when you try it, Lindsay, you look well over 40. "Freaky Friday" indeed. You need to sue your drug dealer for premature aging.
She ended up fleeing the rented home and skipping on the lease, after having to sell her home and condo she once owned, but could no longer afford. That's all while stealing millions in borrowed jewelry from a jeweler in Beverly Hills and separately an Elle magazine photo shoot, to support her drug habit and lavish lifestyle.
Failing at every turn, due to the mind twisting rubbish Kabbalah taught her, massive drug use, excessive alcohol consumption and constant partying, Lohan began a career as a so-called businesswoman.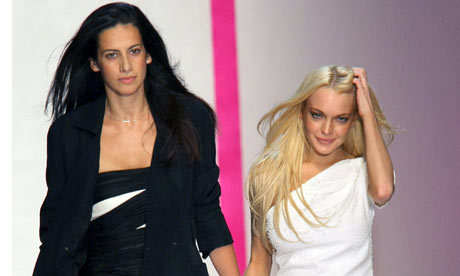 First, she stole a tanning cream formula from a chemist and criminally sold it to a manufacturer as he own product, when she knows nothing about chemistry.
Then, the unethical Lohan decided to become a party host and fashion designer, getting booed and panned at both jobs, all within the space of one week. Critics are horrified at the clothes, rendering negative reviews across the board.
People would have sympathy for her if she wasn't such a mean, cruel, vicious, wasteful person that targets, lives off and abuses others.
Fashion critics rip Lindsay Lohan's Ungaro collection to shreds!
Lindsay Lohan and Spanish designer Estrella Archs showed off their new hot mess of a Spring 2010 Ungaro collection today in Paris.
And the Fashion World's Mean Girls could simply not stop ragging on how bad it was. One Twitter trendoid was appalled at the lack of gowns.
Another from WSJ tweeted that the clothes featured "hearts on butts." Oh, dear. Always a mistake.
And then there were the heart-shaped pasties...
WWD...called the collection "an "embarrassment," among other things.
"As for the clothes, they looked cheesy and dated, as has often been the case chez Ungaro during the post-Emanuel revolving door of designers...
Nor in a million years would one guess that the lineup was designed by one young woman and "creative directed" by another...
Backstage, Lindsay admitted the brightly colored collection was a rush job...
Well, now wait. We could see this stuff at Forever 21. But will there even be a next season for Lindsay and Ungaro?