Lindsay Lohan Cancels Interview After Website Exposed Her Secret Deals
November 9. 2012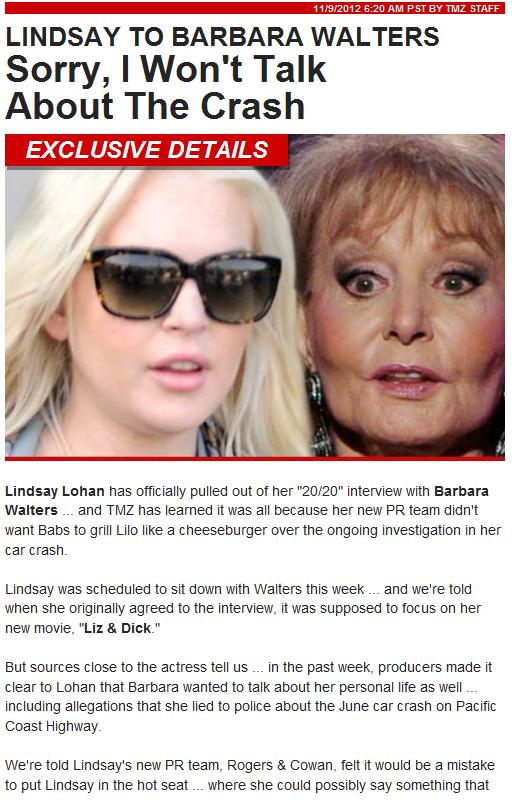 Former hit actress and one time child star, Lindsay Lohan, today abruptly cancelled a scheduled interview with talk show host and journalist Barbara Walters. Trouble prone, attention seeking, money hungry Lohan, gave no real reason for the cancellation.
If you remember correctly, yesterday I spilled the beans on Lohan and her penchant for deliberately getting into legal trouble, to grab headlines then immediately secure paid interviewed and paparazzi pics with photo agencies, as it is her main source of income since her career went bust, due to erratic behavior and cocaine (Lindsay Lying About Not Lying To Cops Fearing News Of New Criminal Charges Violating Her Probation).
Today all of a sudden, Lohan she is pretending to be innocent, media shy and not one to do such interviews. Ironically, in the TMZ interview, they poached my joke about an entertainer getting "grilled like cheese" (sandwich) and change it to "grilled like a cheese burger" (Robert Pattinson Has Rough Moment With Interviewer Asking About Kristin Stewart's Cheating).
Again TMZ keeps repurposing items on this site (TMZ Confirms Karrueche Tran Is Staying With Chris Brown For The Fame And Money). They done this repeatedly to the point I've lost count.
Side Bar: you guys ever notice how TMZ's Harvey Levin stares longingly at the young blond dude with the long hair. What is that about. Is he his boy toy or something (*vengeful smirk*). Yea, dig your way out of that one.
RELATED ARTICLES
Lindsay Lohan Being Branded A Liar Over Hotel Assault Claims Regarding Politically Connected Man She Targeted
Lindsay Lohan Arrested Again For Driving Offenses That Left A Bystander Injured
Lindsay Lohanís Constant Thefts And Reckless Car Accidents Is A Blight On The Legal Systemís Name And Image
Amanda Bynes Denial About The Drug And Alcohol Problems Destroying Her Life And Career