'Lord Of The Rings' Director Sir Peter Jackson Exposes Harvey Weinstein As Having Blacklisted Actresses Ashley Judd And Mira Sorvino For Not Allowing Him To Rape And Sexual Assault Them
December 16. 2017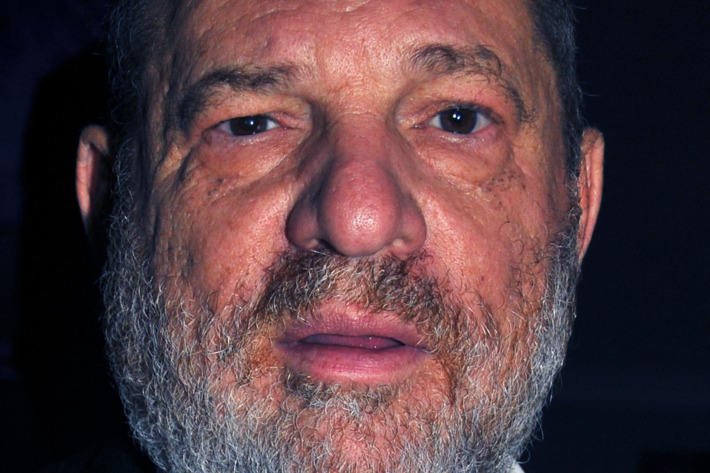 Harvey Weinstein
"Lord Of The Rings" film series director, Sir Peter Jackson, went on record confirming the fact disgraced Hollywood movie producer, Harvey Weinstein, who is in the middle of a rape and sexual assault scandal, blacklisted award winning actresses Ashley Judd and Mira Sorvino, for refusing his sexual advances, after he tried to assault them in separate incidents. Over 100 famous and non-famous women have come forward stating Weinstein sexually harassed, sexually assaulted or raped them.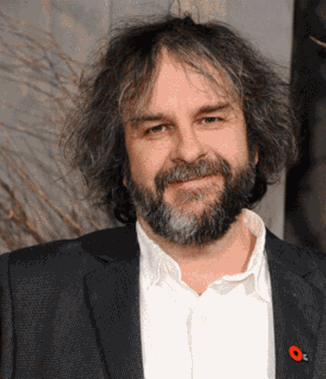 Peter Jackson
Weinstein, who ironically looks like one of the creatures from "Lord Of The Rings" and his brother, Bob Weinstein, demanded Jackson blacklist the aforementioned actresses from his films. This nasty, mean-spirited, pathetic, deranged blacklisting practice by evil Hollywood cultists like Weinstein, is well known in the industry, but this is the first time a director has come forward speaking about it on record.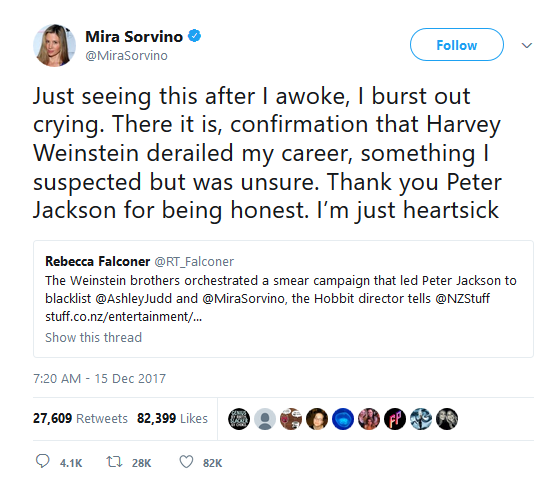 Jackson stated in an interview this week, "I recall Miramax telling us they were a nightmare to work with and we should avoid them at all costs. This was probably in 1998. At the time, we had no reason to question what these guys were telling us - but in hindsight, I realise that this was very likely the...I now suspect we were fed false information about both of these talented women - and as a direct result their names were removed from our casting list."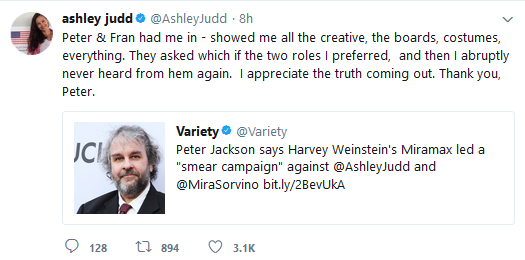 Jackson also stated the Weinstein brothers, "Behaved like second-rate Mafia bosses." Well, that's because as I have stated all along, the Weinsteins are criminals in Madonna's Kabbalah/"Illuminati", which is connected to the Italian-American mafia via private investigators, such as mafioso Anthony Pellicano, whom I went to the FBI about and they secured a criminal indictment and conviction against him. Madonna also has other ties to the mafia via business associates and a family member. I have repeatedly written articles stating mafia tactics are being used against innocent people in the entertainment industry who refuse to be abused by them (cultists). Hollywood/music industry is being run by violent criminals.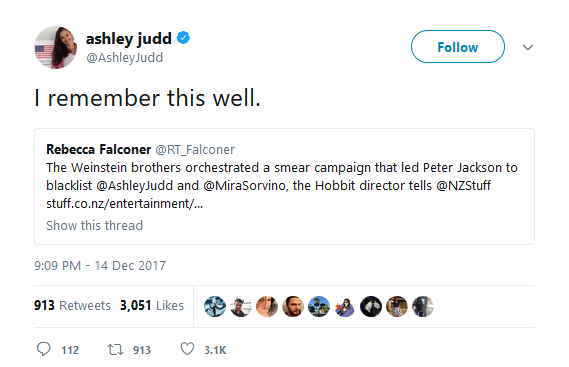 For years the Judiciary Report has written about the blacklisting that goes on in Hollywood (music industry included), having experienced it firsthand, when these sick, deranged Kabbalah/"Illuminati" cultists form cabals and start attacking the personal lives, finances and careers of innocent people who refuse to be criminally exploited by them. Jackson's statements constitutes more proof of what I have stated all along.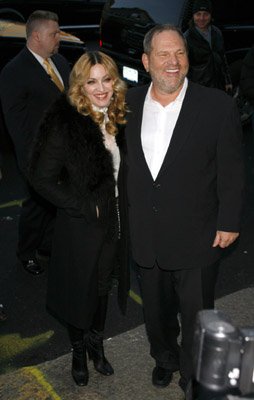 Madonna and Harvey Weinstein
They are such evil, ugly people to resort to such low brow, disgusting behavior. You really have to be pathetic losers in life to stoop to such debased lows. While most people are out there living their lives and going about their business, these lunatic cultists sit in dark corners, knuckles dragging on the ground, obsessing over people who won't let them rape them off and exploit them in other ways as well, while plotting their revenge against innocent people for daring to reject their ugly backsides. There is something very wrong with them.
STORY SOURCE
'Thank you Peter Jackson': Actresses respond to Kiwi director's allegations
Saturday, 16 December 2017, 8:08AM - Mira Sorvino was left "heartbroken" by Sir Peter Jackson's confirmation on Thursday that she and Ashley Judd were blacklisted by Harvey Weinstein because they fought back when he sexually harassed them. The actress responded on Twitter to Jackson's revelation, telling fans that she "burst out crying" when he confirmed her fears this week according to DailyMail.
"Just seeing this after I awoke, I burst out crying. There it is, confirmation that Harvey Weinstein derailed my career, something I suspected but was unsure. "Thank you Peter Jackson for being honest. I'm just heartsick," she said. Judd responded in her own tweet but was less surprised, saying: "I remember this well." On Thursday, Jackson told how Weinstein vetoed Judd and Sorvino from his Lord of the Rings Trilogy in the late 1990s. Jackson was eager for them to be involved in the Miramax production but said that Weinstein put a stop to it....
She refused but the pair went on to work together in several films to come. The bathrobe incident took place a year before Lord of the Rings went into production. Sorvino's accusations against Weinstein take a similar shape. Sorvino said Weinstein had confronted her in 1995 in a hotel room and that he 'chased' her 'around' while trying to get her to have sex with him.
Her claims were published for the first time in a New Yorker article which mirrored the Times piece. In it, author Ronan Farrow said: 'Four actresses, including Mira Sorvino and Rosanna Arquette, told me they suspected that, after they rejected Weinstein's advances or complained about them to company representatives, Weinstein had them removed from projects or dissuaded people from hiring them.'...
RELATED ARTICLES
Harvey Weinstein Disgustingly Raped Defenseless Actress Annabella Sciorra And Aggressively Pursued Daryl Hannah In A Predatory Manner Outside Her Hotel Room
Harvey Weinstein Has Been Envious Of The Good Looking Actors He Worked With And Forcefully Sought The Same Female Attention For Himself (Video)
Lindsay Lohan Defends Fellow Kabbalah Member Harvey Weinstein Over Raping And Sexually Assaulting Actresses As His Wife Changes Her Mind And Leaves Him
Obama Administration Wastes Huge Sums Of American Taxpayer Money Breaking The Law In America, Britain And Jamaica On Behalf Of Madonna's Kabbalah Center
Hollywood Director Brett Ratner Slammed For Raping And Sexually Assaulting Women In The Fallout From The Harvey Weinstein Rape Scandal
Barack Obama, Michelle Obama And Hillary Clinton Slammed For Their 'No Comment' On Harvey Weinstein Finally Issues Statements
Rapist Harvey Weinstein Has 91 People Under Surveillance By Private Investigators In Trying To Bully And Silence His Victims
Harvey Weinstein Removed A Woman's Tampon And Sexually Assaulted Her During Her Period Via Oral Sex
Madonna Has Sexually Harassed And Groped People Without Permission Much Like Harvey Weinstein
Harvey Weinstein's Fall From Grace As Sexual Harassment And Charity Fraud Claims Surface
Harvey Weinstein Sued In New York For Raping An Aspiring British Actress
Harvey Weinstein Labeled A Rapist Confirming Previous Site Claims