Madonna Dumps 27-Year-Old Man She Paid To Date Her For Publicity And Is Using Stolen Copyright Regarding New Boyfriend
June 24. 2017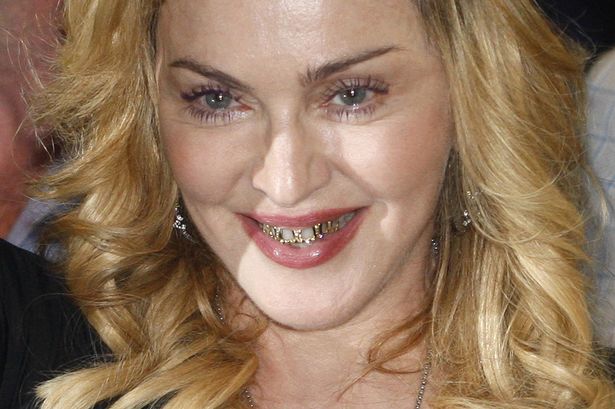 Madonna looking like Gollum
The Daily Mail is reporting that desperate, washed up pop singer, Madonna, has dumped 26-year-old, Aboubaker Soumahoro, whom she paid to date her. She is now paying 31-year-old Kevin Sampaio to date her. The newspaper states 58-year-old Madonna wants him to move with her to Portugal. These are two of several young men Madonna has paid money to date her for publicity, in trying to endear herself to young audiences who do not like her. She was outed for this desperate behavior by publications such as the New York Post.
The illogical, publicity based line of reasoning behind it is if a young man likes Madonna she must be hot, but she is not. Read social networking for 5-minutes and you'll quickly grasp the fact men find Madonna "ugly" "weird" and "haggard." Yet, other famous female stars in her age group, such as Halle Berry and Christie Brinkley, are considered beautiful and attractive. And at least they don't have to pay men to date them (LOL).
As my readers know, Madonna, who has stolen copyrights from many, has been criminally stealing copyrights from me and invaded my privacy in a matter I went to the FBI about, which landed her private investigator, Anthony Pellicano, in prison for 15-years. However, Madonna continues her insane madness against others through new private eyes, such as Gavin De Becker, who she got sued in an unrelated case for invasion of privacy and harassment against a man in America.
The Daily Mail is reporting Madonna is moving to Portugal, so her 11-year-old adopted son can somehow play for football team, Benfica, which is highly improbable under the circumstances, for a number of reasons. This is ironic, as I have a preexisting copyright about the very same thing, regarding a young footballer wanting to move to a Latin country to play football and it also contains an item about his mother's views and input on the matter.
Madonna is such a sick loser. However, she has repeatedly mimicked items in my private, preexisting copyrights and has done so in very disturbing ways. Criminal cases with input from psychologists reveal, it is mental illness for a person to mimic the works of a writer in a sick, detrimental or harmful way.
I shall include this incident regarding the football copyright that has been infringed by her, in my forthcoming documentary on Madonna's Kabbalah cult, along with time stamped, irrefutable data regarding the authorship date of the story regarding the young footballer. I want you guys to see it for yourselves, as Madonna is sick in the head.
Not Madonna or anyone else has ever been granted permission to view or use any of my copyrights or emails with items related to it, as they are private and belong to me for use as I see fit. It is a serious crime that she been committing and one that is going to land her under indictment.
Madonna is an idiot. Professional footballers, especially in Britain and Europe, generally start when they are between the ages of 5-7 and in respectable football academies formally or informally attached to reputable teams. They don't just pop up at age 11 and decide to be footballers. It doesn't work that way. Vital years are missing at that point and is makes it more difficult.
My dad was a professional football player and coach. He told me years ago that a coach knows by the time the young footballer is between the ages of 5-7 whether they will be able to play football professionally, as it will show by then if they have grasped the basics and have potential. On average, all the top football stars around the world, who dominate the sport, started when the were approximately 5-years-old. There are pictures and videos of them in football academies as small children.
Madonna is a madwoman to mimic a copyright she has stolen and trying to bring it to life in such a crazy way. You can't bribe your way through football. If the ability is not there, the managers and especially the fans, will not tolerate it. Those types of situations turn ugly and very fast, as fans get upset. She really is a fool to be doing this.
STORY SOURCE
Madonna the soccer mom: In her oddest reinvention yet, pop Queen moves to Portugal to help her son become a football star (and show the world she is a good mother)
Published: 20:02 EDT, 17 June 2017 | Updated: 13:35 EDT, 18 June 2017 - She prides herself on being the Queen of Reinvention, a style and pop icon who has morphed effortlessly over the decades from slick Material Girl, to sex goddess in a bullet-bra, to Kabbalah-chanting yogi.
At one point she even became Lady of the Manor complete with country estate and an 'English' accent during her ill-fated marriage to Lock, Stock And Two Smoking Barrels director Guy Ritchie. Now it seems Madonna is embarking on her most radical, and unexpected, shift to date. It's the wholescale yet decidedly unglamorous transformation into a 'soccer mom' – a T-shirt-wearing symbol of suburban America, who spends her life shouting encouragement from the sidelines.
The Mail on Sunday has established that the 58-year-old singer is planning to uproot her family from their New York home and relocate 3,300 miles to Portugal so that her adopted son David Banda can play in the junior squad of the famous Portuguese club Benfica. It is said that Madonna has already bought a spectacular £5 million palace in the rolling hills outside Lisbon and is planning to enroll her younger children at the city's exclusive £30,000-a-year French Lycée...
RELATED ARTICLES
Wikileaks Releases Hacked U.S. Federal Government Documents Showing The CIA And FBI Are Spying On People In Their Homes Via Hacking Smart TVs And Backdoors In Computer And Phone Operating System Confirming Previous Judiciary Report Site Claims
Obama Administration Wastes Huge Sums Of American Taxpayer Money Breaking The Law In America, Britain And Jamaica On Behalf Of Madonna's Kabbalah Center In Committing Egregious Human Rights Abuses
Madonna, Jay Z, Beyonce, Rihanna, Rita Ora And Jessie J Sued Over Copyright Infringement, Invasion Of Privacy, Commissioned Criminal Harassment And Assault Via The Kabbalah Center
Congress And Homeland Security Investigating Hackers Attacking Electric Company Power Grids To Cause Surges And Outages
Madonna Illegally Borrowing Money From Banks To Fund Kabbalah Center Cult's Criminal Invasion Of Privacy
Madonna Slammed On Social Networking For Exposing 4-Year-Old Twins To Profanity And Cocaine Reference
Madonna Slammed By The Public For Self-Centered Statement On The Manchester Arena Terrorist Bombing
Hollywood, FBI And CIA Holding Up Life Saving Pharmaceutical Drug Patents Out Of Financial Greed
Madonna Slammed By Young Stars As 'The Old Lady Who Keeps Tagging Along'