Madonna's MDNA Album Only Sold 19,000 Copies In Week Two And Tour Sales Have Bombed Damaging Live Nation
April 20. 2012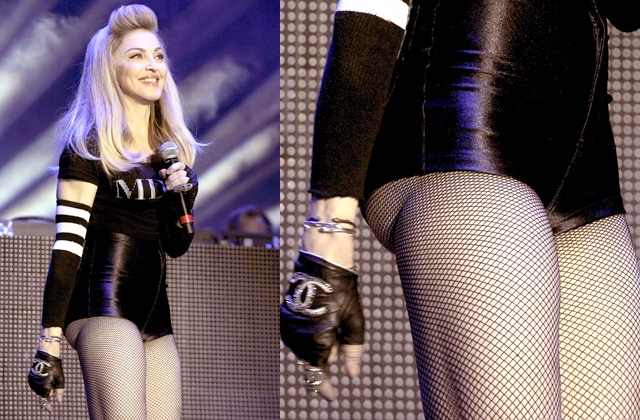 Madonna

As the Judiciary Report exclusively reported on April 18, 2012, Madonna's record label Interscope is,

"So concerned about her inability to sell, having no faith in the raggedy, tired, trite album and singer, they decided in advance to pull a scam as a cover-up"

and "

word is Interscope wants to drop her."

Two days later on April 20, 2012, Gigwise wrote about it in detail, as it pertains to Live Nation, a company that is also involved in the Interscope deal, "Madonna signed a $120million deal with Live Nation in 2007, and the company looks unlikely to see a return on their investment from her current project."

Upon the announcement of deal in 2007, the Judiciary Report predicted Live Nation would suffer losses for signing such a stupid, costly contract with Madonna, whose career is all smoke and mirrors - not to mention serious financial fraud and criminal copyright infringement. At the time the Judiciary Report published the article online, Live Nation didn't listen and signed the deal anyway. Months later Live Nation's stock plunged.

Now it has been revealed, Live Nation will not see any profit from the $120,000,000 deal they gave Madonna, as her new album "MDNA" has bombed and her tour tickets are selling very poorly. Then there's the criminal liability from Madonna's reckless actions, which will expose Live Nation to serious problems. They, like many STD saddled men around the world, have learned a hard lesson - they should not have touched her.

Madonna richly deserves what has happened, as she is a greedy, vile thief who has destroyed many people's careers via stealing their copyrighted music, videos, photographs and films, which are crimes under domestic and international law. It is just that she loses her career as well and more people than ever know she is a complete fraud. You reap what you sow. Madonna's past four albums over the last 11 years have flopped ("American Life" "Confessions On A Dance Floor" "Hard Candy" and "MDNA").

Live Nation did no real due diligence in signing Madonna. They did not do their homework. However, they can sue her for fraud and SEC violations, in supplying them with falsified and inflated sales data to procure a financial deal she was not worthy of in any measure.

STORY SOURCE

Poor Madonna sales to spell financial disaster for Live Nation

April 20, 2012 - Music promoter unlikely to make money on either 'MDNA' tour or album. Poor Madonna sales to spell financial disaster for Live Nation. Music promoter Live Nation is said to be concerned about poor sales of Madonna's current album and tour. Madonna has failed to sell out shows for her 2012 MDNA tour, with rival Lady Gaga selling out dates on her 'Born This Way' ball in less than ten minutes when they went on sale last week.

Added to this, sales of Madonna's new album, 'MDNA' have fallen sharply since its release three weeks ago...the contract, described as a '360 deal' covers sales of Madonna's albums, tours and merchandise. Unfortunately for Live Nation, they will only make money from sales of 'MDNA' if the album sells over 15 million copies. Despite opening to sales in the US of 359,000 in the album's first week on sale, it sold just 19,000 copies last week.